One of the big offseason stories was the enormous contract extension for winger Jakub Voracek. He was coming off the best season of his career where he netted 81 points in 82 games played. The Philadelphia Flyers liked what they saw from Voracek and decided to offer him an extension before his current deal, that counted for $4.25 million against the cap.
His new contract almost doubled his expiring one, as he was given an eight-year/$66 million contract. That deal will count for $8.25 million against the cap when it begins next season.
However, the 2015-16 season has not been easy for Voracek. In 22 games played, he's scored just one goal and has 11 assists. His lone goal was a tip-in against the Carolina Hurricanes. But it's not just the statistics that have been poor for Voracek, his overall play has been poor.
Take a look at his corsi for percentage of total.
Graphic courtesy of war-on-ice.com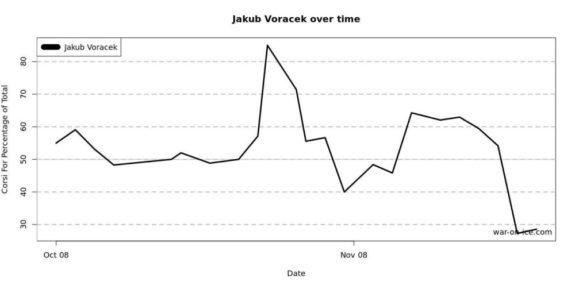 It's been so poor that head coach Dave Hakstol first decided to separate Voracek and Flyers leading scorer Claude Giroux, then he was moved down to the fourth line.
During the Flyers 3-2 overtime win over the Nashville Predators last night, Voracek was actually worse than previous games. His on ice shot differential was -13 and he took a penalty.
But let's move on beyond his poor performance and try and discuss why he was demoted because it was more than just his poor play.
When Voracek was asked about his demotion from the top line here's what he had to say.
The purpose is to score some goals for the team. If we don't score for over two games, you gotta spread it out. That's the idea. Last year, when I played a couple shifts with Belly we had some momentum.
While it's a noble thought that he was dropped from the top line to spread out scoring chances, that's not why it happened. Hakstol has not commented on the subject and by not doing so, you can read between the lines.
Voracek was sent from playing with Giroux on the top line to the fourth line to send a message. Hakstol might not have said it, and he might never, but this is why Jake is playing on the fourth line alongside players who have a tenth of his talent. If Hakstol was truly concerned with fixing Voracek's scoring slump, he'd keep him with Giroux or drop him to the second line. This is a message to Voracek that just because he signed a giant new contract, does not mean he's any different than any of the other players.
It's a message and it's giving him a chance to mentally prepare for what's going to be expected of him. Voracek is overthinking his play, he's not trusting his instincts and that's what has always made him an effective scorer. Don't believe me? Last season, he shot the puck 2.69 times per game and this season he's actually shooting it 3.1 times per contest. The difference is that a lot of his shots have not been of great quality and unsurprisingly he's shooting at rate of 1.5%, which is the lowest of his career by a wide margin.
The mental aspect of professional sports is probably harder than the physical and Voracek is a prime example of that. He's the exact same player from last season, but he's not playing like it. He keeps getting scoring chances, but can't bury them.
Voracek isn't playing with a lot of confidence and this is Hakstol's way of trying to give him some. You can look at his demotion and be upset that he's playing with a lower quality of teammate. But when he's on the fourth line, he's also playing against a lower caliber of competition.
Hakstol's demotion of Voracek is a message and a way to try and inspire confidence in his All-Star forward. He shouldn't stay down there long, but right now he's there for a very good reason.
Thanks for reading! Feel free to leave your comments below or tweet me anytime @MPityk_PHI
Michael Pityk is an analyst who has written for numerous sites since beginning his professional career. He's acted as a credentialed member of the media for the Philadelphia Phillies, Philadelphia Flyers, Pittsburgh Pirates and the Pittsburgh Penguins. His work has been featured in Sports Illustrated, The Sports Journal, MSN, PensLabyrinth, Montreal Hockey Talk, ESPN Pittsburgh, The Hockey Writers, Todays SlapShot and The Bleacher Report. He formerly was the editor of Pens Labyrinth and an analyst for The Sports Journal. Michael presently acts as an NHL Analyst for The Hockey Writers