Following their 2-1 shootout loss to the Tampa Bay Lightning on Wednesday, the Kings are now 13-8-1 after 22 games, one point ahead of San Jose (13-9-0) and three in front of Vancouver (9-8-6) with one game in hand. Although just 5-4-1 in their last 10 games, Los Angeles is nevertheless in good shape just past the quarter pole. Last year, the Kings were a wobbly 11-6-5 after 22 games.
The five overtime losses were an ominous sign of things to come, but at least so far, that pattern is not repeating itself. The Kings are 3-1 after 60 minutes this season.
First quarter grades
As expected on a team winning nearly two out of every three games, a number of Kings players have been performing well. Determining how well requires healthy doses of science and subjectivity. Being both healthy and subjective, I'm up to the task.
In the first of a three-part series, the following are performance grades for the 2015-16 Los Angeles Kings forwards after the first quarter of the season.
Jeff Carter: With 21 points (9G, 12A) in 22 games, Carter has been perhaps the Kings most potent offensive threat so far this year. He's also been their second best puck possession player as measured by iCorsi/60 (18.74) and fourth via iFenwick/60 (12.20). He doesn't hit (20) or block shots (13) all that much, but that's not expected of him, either.
Grade: A+
Tyler Toffoli: I said "perhaps" regarding Carter's offensive superiority in deference to Toffoli (11G, 9A) since a strong case can be made for Toffoli as well. He's a hair below Carter in both advanced stats metrics (16.34, 12.09) and uses his body defensively even less (16, 4), but since he evokes fond memories of Ziggy Palffy, we don't care.
Grade: A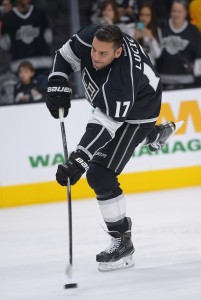 Milan Lucic: Lucic has been an interesting addition to the Kings. He's been hot and cold all season long, the likely net result of adjusting to a new team and new system. With seven goals and six assists through 22 games, he's on pace for 48 points, which would be a minor disappointment even with a cap hit of just $3.25 million. His advanced stats are among the lowest of all Kings players, but he sure adds the physicality (78 hits) L.A. loves.
Grade: C+
Tanner Pearson: Maybe this is the year Pearson (3G, 9A) finally stays healthy. With 12 goals in 42 games last season, Pearson gave us all a glimpse of what he can do, and with nine points in his last 11 games, we remain optimistic. His possession numbers (13.14, 10.52) are pretty strong as well.
Grade: B
Anze Kopitar: Kopitar's offensive production (7G, 4A) is starting to become a little worrisome. His numbers last year were the lowest since his rookie campaign, and he's on pace to set a new personal low in points this season. That said, he does have seven goals and has registered four points in his past four games, so maybe the pace argument is unfounded. His advanced stats are even lower than Lucic's, although his defense remains top drawer.
Grade: B
Dustin Brown: Unquestionably the biggest conundrum on the team now that Mike Richards has departed, Brown (2G, 5A) went from perennial 50+ point top-sixer to struggling offensive performer shortly after signing a $47 million contract extension in 2013. He's the Kings' top player with respect to iCorsi/60 (22.63) and iFenwick/60 (18.37) by a country mile, which probably serves as fodder for advanced metrics doubters even further. He still throws his body fairly often (59 hits) but isn't the intimidating force he once was.
Grade: D-
Marian Gaborik: Both Brown and Gaborik are examples of the riskiness of general manager Dean Lombardi's strategy of signing key players to long deals. It's far too early to say Gaborik (3G, 2A) won't turn things around, but with five years remaining after this season, the soon-to-be 34 year old's contract may well end up being yet another albatross. At least his puck possession numbers (15.0, 13.36) are solid.
Grade: D
Trevor Lewis: When Trevor Lewis (2G, 2A) scores, parties are thrown across the land; thus, nobody is surprised at his limited production so far this year. What the Kings do expect is a defensively responsible game, and to that extent, he's been acceptable. His -6 (yes, I realize that measurement is imperfect) is third lowest on the team, but he's a key contributor on the league's sixth-best (84.9%) penalty-killing corps. He's also surprisingly good (14.74, 12.29) in iCorsi/60 and iFenwick/60, although terrible (32%) at the dot. All in all, he gets a passing grade with room for improvement.
Grade: C
Kyle Clifford: Kyle Clifford (0G, 3A) is the quintessential fourth-liner. He hits (38), fights (one so far this season) and occasionally chips in offensively (a career-high 15 points last year). He's not very adept at puck possession, but how many fourth line players really are? Measured with expectations in mind, he's been okay.
Grade: B
Jordan Nolan: What was just said about Clifford pretty much applies to Jordan Nolan as well. He just doesn't play, hit or fight quite as often (although both have one so far this year), and he's a bit better at holding the puck in the offensive zone.
Grade: B-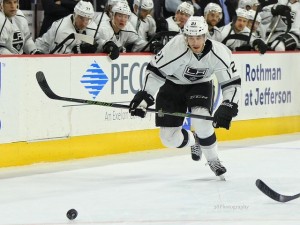 Nick Shore: Shore has been getting a solid amount of ice time per game (13:06), in large part because he's statistically the Kings best man on at the faceoff circle (54.3%) in the post-Jarret Stoll era. He's not strong with the puck and rarely puts it on net, but his ice time indicates the value of specialists in today's NHL. Still just 23, Shore is slowly finding his way.
Grade: C-
Andy Andreoff: Most of what was said above applies to Andreoff, except for the fact that he's not a faceoff specialist. As a result, he gets about 60% of the playing time. His grade may seem harsh and is mitigated by his youth and lack of ice time, but it's hard to assign him anything higher at this point.
Grade: D
Jordan Weal: With just three games played, there's just not enough of a body of work to make a judgment here.
Grade: Incomplete.
Next up: the defense.
Do you see anything you agree or disagree with? If so, feel free to post your thoughts below or send a message to @McLaughlinWalt.
Walter McLaughlin is a Los Angeles Kings correspondent for The Hockey Writers. He is an avid sports fan, having followed the Kings since living in L.A. in the mid-1970's, as well as suffering through Seattle sports teams' general futility. He has a Bachelor's degree in Finance and has worked in community banking for over 25 years, specializing in SBA loans. He is married and has two daughters.