After six months, the fantasy hockey season is over. There were 26 weeks of battles and wars that had probably more subplots than "War And Peace". I saw quite a few of these myself. The injuries and unexpected events of this season made it unlike just about any other.
Players came out of nowhere and then there were some that just hit the skids this year. During the season there was no time to wonder why certain events occurred and certain ones did not.
It was even more intriguing to see the "Chutes And Ladders" columns throughout the year and all the changes. The best thing we can do is dole out our season awards. We guarantee some controversy almost because a fantasy version of an honor can be different from the actual NHL Awards.
The nominees were all very deserving for these honors but in the end we could only pick one winner for each award. Apparently there needed to be a creative name for these awards but the reality is we could not come up with one. For the sake of argument, here are the first annual THW Fantasy Slammers.
The award list is as follows…….
Fantasy Gretzky — MVP
Fantasy Andreychuk — Best special teams player.
Fantasy Orr — Best Offensive Defenseman
Fantasy Vezina — Best Goaltender
Fantasy Richard — Best goal scorer.
Fantasy Selanne — Best rookie
Fantasy Masterton — Best comeback.
Fantasy Howe — Lifetime achievement award.
========================================
Fantasy Gretzky: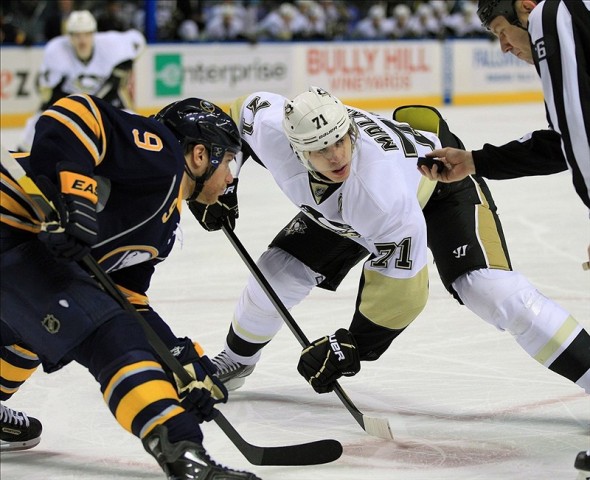 Evgeni Malkin was probably the easiest choice for this year's Fantasy Gretzky winner. The Pittsburgh Penguins Center led the NHL with 109 points, including 50 goals and 59 assists. Malkin had 34 power play points and turned James Neal into an 80+ point (40+ goal) machine. There was this almost amazing clutch ability that Malkin could almost will at the right time. That meant Saturdays and Sundays in fantasy leagues. In those two days, #71 tallied a whopping 52 points in 29 combined contests (31 Saturday, 21 Sunday). When you add in four five point performances, 300+ shots, and 9 game winning goals and this award was a total lock.
Fantasy Andreychuk:
Claude Giroux was the leading special teams man for your fantasy team this year with 38 points on the man advantage. His 32 assists were quite impressive as he set up Jaromir Jagr and Scotty Hartnell with frequency. This may just be the beginning of a run from Giroux of 35+ power play points over the next several seasons, with or without the likes of a Jagr. That potentially translates to 100 point seasons as well. The reality is Giroux is on the cusp and his fantasy owners know it. This is the type of fantasy player that has potential to still improve on all major categories. Talk about a scary thought for the opposition.
Fantasy Orr:
Erik Karlsson was the easy choice with a huge breakout season for the Ottawa Senators. He had 78 points in 81 games including 19 goals and five game winning goals. Nobody else even comes within 25 points and that is an exclamation point if I have ever seen one. The only question is does Karlsson continue down this path or does he end up like Mike Green? The answer is a bit unknown but one thing is for certain. Karlsson is an alpha type of player that can command 60+ point seasons for the next 3-5 years. The smooth skating ability and finish does lead us to believe that Karlsson could actually score 20 to 25 goals easily next season with another solid plus/minus.
Fantasy Vezina:
Now here comes the controversy. This is the award that literally does not have a straight answer. Does one go with the brilliant five months that Henrik Lundqvist had (.939 save % thru Mar 1 but .895 after)? Then there was Jonathan Quick who was probably more consistent but lost a lot of games late. Finally there is Mike Smith, who made a daring run over the last two months that helped him get into the conversation. Lundqvist only had 62 starts while Smith had 67 and Quick led the way with 69. Smith was the hottest goalie during the fantasy playoffs and Quick was second while Lundqvist was third. Lundqvist was the tops during the regular fantasy season. What do you do?
Better yet, what do we do here? Smith went 20-4-3 when it counted the most and although the pedigree dictates more Lundqvist or Quick, we take the road less traveled and give the award to Mike Smith. Stopping 190 of 192 shots might have cemented this along with the five straight wins to close the year. The 38-18-10 record with a 2.21 GAA, .930 save percentage and eight shutouts is enough for us. Sometimes one has to make that against the grain decision.
Fantasy Richard:
This was another one of those easy awards because Steven Stamkos ran away with it. His 60 goals in 82 games truly was impressive because he did not really have that elongated slump. What may be frightening for opposing goalies is that Stamkos is so young ladies and gentlemen. He is only going to get better. With the new CBA potentially changing a few rules, Stamkos may easily surpass 60 goals for the next few years. He has that kind of talent and a one timer that is akin to Brett Hull's laser. Stamkos has "The Rocket" in him needless to say.
Fantasy Selanne:
People often remember that 76 goal, 132 point season that Teemu Selanne had two decades ago and we asked ourselves who was that top rookie that best took the fantasy world by notice? It was a tough decision but again Ryan Nugent-Hopkins was up there until the injuries and questions surfaced a bit. Yes Nugent-Hopkins likely will be the best player to come from last year's draft class but it was Gabriel Landeskog who takes home this piece of hardware. He is a player who did a 20-20-20-200-200 which is unheard of. What is it? Well he had at least 20 points, 20 assists, a +20, 200 hits, and 200 shots (22,30,20.219,270). If that is not worthy of the honors, I do not know what is.
Fantasy Masterton:
The best comeback was made this year by Daniel Alfredsson, who was given up for dead by many but had a resurgence. Yes his role on the man advantage was significantly lessened but his 59 points were made all the more impressive considering he only had 31 points last year and was coming off nerve injuries that were thought to be first big nail in his career. Ottawa was not expected to do much and neither was Alfredsson. Now they are in the playoffs and the Captain is still playing. That speaks some considerable volumes.
Fantasy Howe:
The lifetime achievement award goes to the player that just seems to get better with age. This year we gave it to Teemu Selanne, who produced 66 points despite being on a very moribund Anaheim team. Selanne could still play another year or two as he approaches the age of 42. The reality is nothing could be better said about a guy who just loves playing the game and that is why over the last two decades, few have been better than "Team Teemu".
Well that does it for the season ending awards. Next week we start taking a look at what is going on for the fantasy playoff poolies. Hopefully your season was a good one and just think we are far from done yet.