Fantasy Hockey Mailbag is a weekly column, answering your questions every Tuesday. No question is too big or too small, so if you want advice or feedback on any topic related to fantasy hockey, just ask away in the comments below.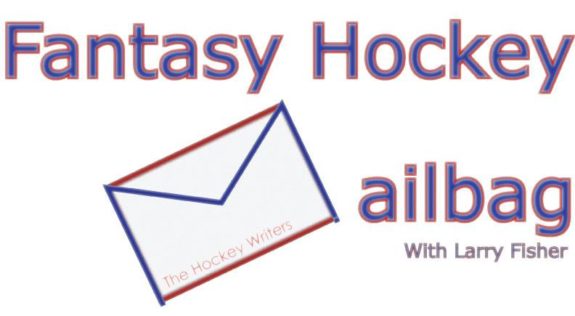 There is a definite correlation between action in the NHL and action in fantasy leagues.
When things are going down in real life — like the recent run of trades — the Mailbag reaps the benefits. This past week, no fewer than three newcomers reached out for advice and feedback on a variety of fronts.
Before getting to that, Mailbag regular Mike Hall was among the unfortunate Ryan Nugent-Hopkins owners who lost the Edmonton Oilers centre to a "long-term" hand injury from blocking a shot against the Florida Panthers on Monday night. I can feel Mike's pain because I also own the Nuge in one of my keepers, but at least Mike has some decent waiver-wire options to choose from, including the likes of Nazem Kadri, Jori Lehtera and Bo Horvat or potentially Jaden Schwartz if he's back after the All-Star Game. My keeper is deeper, so my pick of the litter is limited to Sergey Kalinin, who I had just dropped earlier Monday, Erik Haula and Andrew Desjardins. Fortunately, I'm a seller anyway, so losing Nugent-Hopkins won't cost me any prize money, but it's still a big blow considering those slim pickings for replacements.
There was another injury Monday — to Ottawa's Mike Hoffman — that could impact a trade made last week by one of those Mailbag newbies. Jason Carkner tracked me down for feedback on a deal he struck that included a funny-but-crazy clause. Jason's team name is "The Seoul of Kariya" and his rival GM demanded he change his avatar from a studio close-up of Paul Kariya to a photo of Steve Yzerman for two weeks. Naturally, Jason was taken aback by the stipulation but, turns out, the deal was too good to turn down.
INCOMING: Claude Giroux and Max Pacioretty
OUTGOING: Jason Spezza and Mike Hoffman
BACKGROUND: Jason was already in first place in his 12-team league. His priority needs were assists, power-play points, plus-minus, hits and penalty minutes. He felt that if he could address three of the five, it would put his team "over the top."
Jason asked via email: Given the needs I outlined above, and reasonable projections for all guys involved for the second half of the season, I figured this was a huge win for me. Do you agree? Have an alternative analysis?
ANSWER: I definitely agree. Even before Hoffman got hurt, this was a steal of a deal that no avatar change could possibly offset. Well, unless Jason had to rock a Richard Simmons photo for the rest of the season, then I might have renegotiated. In all seriousness, I would have done any combination of those players as a 1-for-1 from Jason's perspective — be it Giroux for Spezza or Giroux for Hoffman, Pacioretty for Spezza or Pacioretty for Hoffman — so it's a no-brainer as a 2-for-2. This really was robbery times two. Here's hoping Jason had a ticket in the Powerball lottery with luck like that. Besides, Stevie Y isn't that hard on the eyes . . . unless you're an Avs fan.
Jason wasn't done there. You see, the impetus for that trade was to clear up a centre spot for the return of Connor McDavid following the All-Star Game. But in Jason's words: "I'd be lying if I said I wasn't a bit worried that McDavid will come back and be less than stellar, and that my window to move him for a huge return could quickly close. He's coming off a major injury, after all."
Jason also asked: What's your advice on managing McDavid? Where would you peg his trade value? Should fantasy owners consider moving him in single-season leagues?
ANSWER: This is a great question, but I might not be the most impartial guy to be asking. I, admittedly, follow the Oilers closer than any other team, so there could be a bit of bias here. Just last week, I predicted that they could still push for a playoff spot based on the McDavid factor. So, to me, you've waited this long for the kid to return, you almost owe it to him and to yourself to see what he's capable of. Don't forget that through 12 games, McDavid was a point-per-game player — ranking among the league's top-10 scorers at that time — and seemingly getting better by the game.
McDavid's been raring to go for a month already and, if it was up to him, he probably would have returned right after Christmas if not before. Of course, the pace and intensity of a game situation is on another level from practice, but I wouldn't be shocked if McDavid basically picked up where he left off. So for those like Jason, who held onto him for the past three months, I certainly wouldn't be in a rush to move McDavid now.
It never hurts to listen to offers and there will be a lot of hype surrounding his return, so maybe Jason will get blown away by another proposal that he just can't pass up. Jason mentioned potentially adding one or two well-rounded players like Corey Perry, Drew Doughty, Gabriel Landeskog and David Backes. I honestly wouldn't trade McDavid straight up for any of them. Nor would I trade him for his Oilers teammate Taylor Hall, which is pretty telling in itself considering the year that Hall is having. Once McDavid is back — and back up to speed, assuming that does take a few games — I think there's a decent chance he could outpoint Hall the rest of the way. Now, if somebody offered Jason a struggling star like John Tavares straight up, that's a move I would probably make. I'd take Steven Stamkos too, but not Ryan Getzlaf. Nor Artemi Panarin, the frontrunner for the Calder Trophy that likely would have went to McDavid had he stayed healthy. Yes, I believe McDavid is capable of outpointing Panarin over the final 30-some games from Feb. 2 to April 9 providing he doesn't re-aggravate that collarbone injury. I wouldn't bet on that, but I wouldn't bet against it either.
I could definitely count on two hands the amount of players that I would trade McDavid straight up for, even in a single-season league. In a keeper, I don't think you move McDavid no matter what. Not even for Patrick Kane or Sidney Crosby. So I guess my advice to Jason — as homerish as it might be — is to keep McDavid unless somebody is offering a legitimate superstar for him.
Robert Khalulian asked via email: I'm currently in last place, my record is 0-11-2, and I need to start the fire-sale. It's my first keeper. Teams keep six players from one season to the next. Which players should be my six keepers? What can I get for the others (I'm having trouble gauging draft pick value)?
BACKGROUND: Robert is in a standard Yahoo head-to-head 10-team keeper league with the following stat categories: goals, assists, points, power-play points, shorthanded points, game-winning goals, shots on goal, penalty minutes, hits, face-off wins and plus-minus for skaters, wins, goals against, goals-against average, saves, save percentage and shutouts for goaltenders.
ROBERT'S ROSTER: Forwards — Sean Monahan, Tyler Johnson, Taylor Hall, Dylan Larkin, Vladimir Tarasenko, Nikita Kucherov, Patric Hornqvist, Andrew Ladd and Brandon Dubinsky. Defencemen — John Carlson (IR), Torey Krug, T.J. Brodie, Dion Phaneuf and Radko Gudas. Goaltenders — Carey Price (IR), Sergei Bobrovsky (IR), Mike Condon, Karri Ramo and Steve Mason.
ANSWER: This is another fun one. Starting with the six keepers, mine would be, in order — Price, Tarasenko and Hall for sure, plus three of Larkin, Carlson Johnson and Bobrovsky. The reason Robert's team is in last place is obviously the injuries to his goaltenders. If Price and Bobrovsky stayed healthy, he's likely a buyer not a seller at this point. Keeping both of them might be smart, especially if Robert believes the Blue Jackets will bounce back next season. I personally wouldn't bet on that, not if John Tortorella is still coaching them. So I'd probably keep Larkin, who is looking like the real deal, Carlson, to anchor your future blue-line, and Johnson, who has been playing hurt all season and thus hasn't lived up to the expectations of his playoff heroics last spring. I think Johnson could be a top-10 point-producer in the future, providing he stays healthy, which hasn't been a problem for him until this year. So, to recap, my keepers would be Price, Tarasenko, Hall, Larkin, Carlson and Johnson.
Now, to trade away the rest. When I heard "fire-sale" and "draft picks", I assumed Robert meant rookie draft picks to be used on prospects. But, in fact, this league drafts its entire roster beyond those six keepers, so these picks would be used on actual NHL players. Still, if you're not keeping them and you're not trying to win for this season, you may as well move as many bodies as possible. Based on who I didn't keep, Robert's best trade chips would be Kucherov, Monahan, Krug, Brodie and Bobrovsky. I would think those five guys could fetch draft picks in the top-five rounds, especially with buyers looking to load up regardless of whether they plan on keeping them. Asking for a first-rounder might be a stretch, considering it's only a 10-team league and thus only 60 total keepers. I wouldn't rank any of Robert's leftovers among the top-70 players in the NHL, which would account for the first-rounders. But the fifth round would take us to 110 players and I think all five would certainly get mentions within that range. Factoring in the buyer's incentive and possible bidding wars, Robert could ask for seconds and settle for thirds. If Robert is happy with those six keepers I've selected for him, then there is no real reason to ask for players back in any trade because they wouldn't be retained for next season anyway.
My strategy would be to load up on picks and flesh out your roster with waiver claims. So beyond those five guys, I would literally take whatever you could get for the other eight — Hornqvist, Ladd, Dubinsky, Phaneuf, Gudas, Condon, Ramo and Mason. Unless my math is wrong, Robert's draft is 15 rounds. If you can get a 15th rounder for Gudas or Condon, you do it without thinking twice. Hornqvist is probably in that sixth- to 10th-round range and the right buyer may go that high for the rest of Robert's extras too. Don't be afraid to package a few of them for a higher pick. If you can get into the top-five rounds by trading both Hornqvist and Phaneuf, go ahead and make that move too. Get creative and try to get as many high picks as possible because that's how you'll build a dynasty going forward. Good luck, Robert.
Robert also asked: I'm thinking of offering Larkin (want to sell high on him) and Carlson for Erik Karlsson (other GM owns Alex Ovechkin)?
ANSWER: Hmm, I know first-hand how valuable Karlsson can be. I've owned him for the last six years in my main keeper league and have turned down better offers than this. So, if Robert can get Karlsson for Larkin and Carlson, I'd endorse that deal. Go for it. Karlsson would obviously become a keeper for Robert. The updated list would be Price, Karlsson, Tarasenko, Hall, Johnson and one of Bobrovsky, Kucherov or Monahan. Again, I'd be tempted to pass on Bobrovsky in favour of an extra forward and I'd probably keep Kucherov over Monahan because I think Kucherov has the higher ceiling, especially if that Triplets line gets going again.
Jim Vanderby asked via email: With Finland's success in the World Juniors and specifically Patrik Laine and Jesse Puljujarvi's dominance, where do they rank in the upcoming draft and against Auston Matthews as well?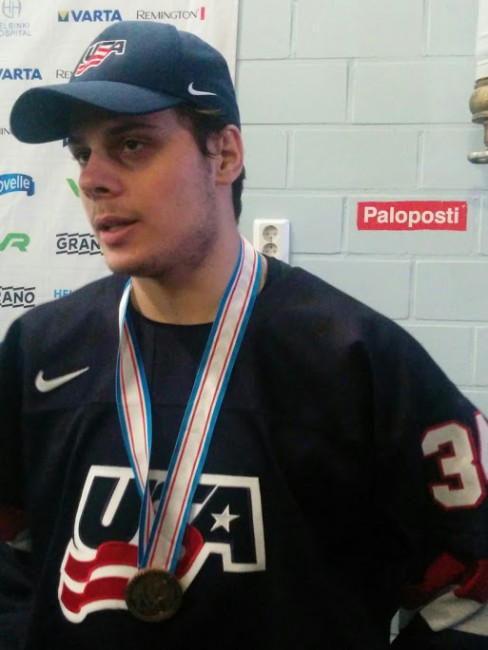 ANSWER: First off, this is another great question. I always pay close attention to the world juniors — it's in our blood as Canadians to be obsessed with that tournament — and I tend to focus on the draft-eligibles in preparation for my annual mock draft, as well as any already-drafted or free-agent prospects that aren't currently owned in my keeper leagues. From what I saw, Matthews had a solid showing and didn't do anything to hinder his draft stock as the consensus top prospect. Matthews is producing at more than a point-per-game pace playing professionally against men in Switzerland — he has 19 goals and 32 points in 26 games — so most, if not all 30 NHL teams would probably still pick him first overall if the draft was tomorrow. With that said, we could definitely see a run of Finns following Matthews, possibly even three in a row from second to fourth overall with Puljujarvi, Laine and offensive defenceman Olli Juolevi.
Jakob Chychrun, who was cut from Team Canada, was widely believed to be the top defence prospect for the 2016 draft, but I could see several teams ranking Juolevi ahead of Chychrun coming out of the world juniors. Juolevi was that impressive and he certainly has the better fantasy upside in terms of point potential.
Flip a coin between Puljujarvi and Laine for second overall right now, the scouts seem pretty split on them. Puljujarvi has been the household name among prospect junkies for longer, but Laine has been a fast-riser over the last year and his game could translate better or quicker to the NHL. Laine has drawn comparisons to Corey Perry, Bobby Ryan and Blake Wheeler, but I've likened him to a more explosive Tyler Toffoli. It's all over the map with Puljujarvi, but a young Ilya Kovalchuk is a name that gets thrown out there quite often. Puljujarvi probably has the higher ceiling — at least from a fantasy perspective — but he's also said to be a bit more enigmatic, although I only saw electric from him at the world juniors.
As of today, my top five are probably Matthews, Puljujarvi, Laine, Juolevi and Matthew Tkachuk, with Chychrun falling to sixth overall. For fantasy, I might take Juolevi over Laine at third overall just because stud blue-liners are so hard to acquire and he could be the next John Klingberg. I'd definitely lean that way for leagues with separate scoring categories for defencemen.
Sweden's Alexander Nylander had a heck of a tournament too and could climb as high as fifth based on that performance. Some teams probably have Nylander ahead of Tkachuk and Chychrun, and the Leafs might want to reunite the brothers in Toronto, which means he could overtake a couple Finns too. I really liked Julien Gauthier's efforts for Canada as well, and he might be next on my list at eighth overall. Gauthier did enough to crack my top 10, but I don't know how effective he'll be for fantasy teams. I could go on for days, but I'll leave it at that and hope this answer was somewhat helpful for Jim.
Ryan Stewart asked via email: I'd like your opinion once again. I have a lot of interest for Tyler Toffoli — one in a blockbuster and the other two smaller trades. Which one should I take?
TRADE 1
INCOMING = Vladimir Tarasenko, Nathan MacKinnon, Gabriel Landeskog and Matt Duchene
OUTGOING = Nicklas Backstrom, Evgeni Malkin, Ryan O'Reilly and Tyler Toffoli
TRADE 2
INCOMING = Dustin Byfuglien and Logan Couture
OUTGOING = Tyler Toffoli
TRADE 3
INCOMING = Zach Parise and Ryan McDonagh
OUTGOING = Tyler Toffoli
BACKGROUND: Ryan is in a single-season, nine-team rotisserie league with goals, assists, points, power-play points, hits, shots on goal and plus-minus as scoring categories. He would need to drop someone to accommodate Trades 2 and 3, but he currently has one roster spot that is constantly changing. At the time of Ryan's question, that extra body to be dropped was Mark Borowiecki, whom he had just picked up hoping for a boost in hits. There is no limit on the number of weekly transactions in Ryan's league, so he had been rotating that spot depending on his needs any given night and having success with that method.
ANSWER: I wouldn't do the blockbuster, tempting as it might be. That's just too many Avalanche players coming back. Tarasenko is probably the best player in the deal, but Malkin is a close second and Backstrom is definitely third followed by MacKinnon, Toffoli, Duchene, O'Reilly and Landeskog in my opinion. So Ryan would be giving up 2-3-5-7 for 1-4-6-8. I guess that's reasonably fair, but I prefer Ryan's current group.
Moving on to Trades 2 and 3, these are equally enticing, especially considering Byfuglien is still a two-position player in this league despite the fact he hasn't played forward in at least a calendar year. I prefer the Parise-McDonagh package to Byfuglien-Couture at face value, but that two-position factor almost balances it out. Byfuglien hasn't been the fantasy beast of years past — he only has three more points than McDonagh, albeit with six more goals — but I would bet on Big Buff having the better stretch run considering he's also playing for a big payday as a pending unrestricted free agent. Byfuglien might be the most valuable player of the four, and if Ryan covets him as a swingman, that might sway his preference.
However, I believe the difference between Parise and Couture is greater than the difference between Byfuglien and McDonagh even with that two-position factor. Couture only scored his second goal of the season in Monday's shootout loss to Ottawa — he also missed in his attempt to extend that shootout — whereas Parise is a consistent offensive force with 16 goals and 27 points in 36 games on a low-scoring Minnesota team. Parise is the go-to guy for the Wild, while Couture is part of San Jose's supporting cast right now. Parise should be close to Toffoli in production the rest of the way (possibly even ahead of him) and McDonagh is a nice throw-in.
I'll take Trade 3, but I wouldn't be too critical of Ryan for accepting Trade 2 if he feels it better suits his needs. Don't get me wrong, I'm a big Toffoli fan, but I'd definitely move him for either of those packages. Besides, a 2-for-1 would bolster Ryan's depth and put an end to that revolving door. So long, Borowiecki, don't let that door hit you on the way out!
---
My Fantasy World
Keeper 1
I had one of those good-but-bad weeks here. My team came to play and only ended up losing 5-4-1 to our current standings leader. Problem is, I'm a seller and that was a much better fight than I wanted to put up. I'm unintentionally trying to trend down, not up the standings, so that result was counterproductive, albeit encouraging for the future.
Losing Nugent-Hopkins should halt any positive momentum, but I'm somehow leading my current opponent 6-2-2 after last night's opening action. Fortunately, it's a long week with plenty of time for him to catch up.
I made several minor moves such as adding two Devils youngsters in Joseph Blandisi and Reid Boucher for demoted Buffalo goalie Linus Ullmark and Edmonton defender Brad Hunt. I'll miss Ullmark, he actually stole me the save percentage category last week, but he wasn't going to do me any good in the minors and I couldn't keep him for next season. I was down to Columbus rookie call-up Joonas Korpisalo as my only active goaltender with Carey Price still on the Injured Reserve, which made it unlikely that I would get the mandatory two starts this period. So I swung a trade that backfired immediately:
INCOMING = Jeff Zatkoff
OUTGOING = Patrik Elias
ANALYSIS: Zatkoff got me a much-needed start on Monday night, but he also got lit up by the Blues for an .833 save percentage in a 5-2 loss. My opponent pretty much secured the goaltending categories on opening night when Ottawa's Craig Anderson and Buffalo's Chad Johnson both won, combining for a .935 Save %. That's fine by me, though, I'm not trying to win anyway. And I won't likely miss Elias too much, as he was simply hanging out on my IR for most of the season to date.
I also made this trade last week, which has been paying immediate dividends:
INCOMING = Zach Bogosian
OUTGOING = Free-Agent Signing
ANALYSIS: I've long had a fantasy infatuation with Bogosian, so it was only a matter of time until I welcomed him back into the fold. He rewarded me with a two-assist performance in his debut for my team and followed it up with 17 penalty minutes on Monday night. Not bad for a guy who has only totaled one goal, seven points and 27 penalty minutes in 29 games this season. Unfortunately, Bogosian got bid up in our auction this year — he was too rich for my liking there — and isn't worth keeping at his current salary. This was a deal between sellers, so he had no use for Bogosian going forward either. I had no use for my free-agent signing, with my current options consisting of forwards Jesper Fast, Patrik Berglund, Tomas Jurco, Landon Ferraro, Jonathan Marchessault, Justin Fontaine, Phillip Danault, Vincent Lecavalier, Zack Kassian, Matt Hendricks, Blandisi and Boucher, plus Zatkoff but not likely Korpisalo because he won't reach the minimum 26 games played to be eligible. I didn't feel any of those guys warranted an entry-level contract and most of them should sell for cheaper on fresh contracts when the auction rolls around this fall. The other GM has yet to announce who he plans on signing ahead of our Jan. 27 deadline, but his top options are Frank Vatrano or Erik Gustafsson (15) assuming he reaches 26 games by the end of the NHL regular season. Seth Griffith, Joel Edmundson and Jaccob Slavin could also be in consideration for him.
Here are the other trades from that league over the last week:
INCOMING = Hampus Lindholm, Ilya Samsonov, Emile Poirier and J.T. Compher
OUTGOING = Ryan Murray and Chris Wideman
ANALYSIS: This was an intriguing deal and should be a fun one to follow going forward. To me, it hinges on Samsonov and whether he becomes an NHL starter down the road. I prefer Murray to Lindholm but only by the slightest of margins. I also see more value in Wideman than both Poirier and Compher, at least for the next couple seasons. I don't know what exactly Wideman will become, but he has the highest ceiling of those three as a point-producing defenceman. But Samsonov has the potential to be the best player in this deal somewhere down the road. He's not supplanting Braden Holtby in Washington any time soon and Samsonov probably isn't leaving the KHL for at least two more years. So it'll be a wait-and-see on him to determine the actual outcome of this deal.
---
INCOMING = Craig Smith
OUTGOING = Brian Dumoulin and Jonas Gustavsson
ANALYSIS: Smith is on an expiring extension, so this seemed like a strange buy from a seller. But, in saying that, he didn't give up much because neither Dumoulin nor Gustavsson should be keepers. Smith is still the best player in the deal and he could help this seller stand a better chance of winning our draft lottery tournament to decide the top-four picks in our 2016 rookie draft. Smart move from that standpoint.
---
Keeper 2
As anticipated, I got spanked here by a far superior roster. In fact, I nearly got doubled at 237.7-115.7, which dropped my overall record to 6-9. That record flatters my current roster considering the amount of talent I have traded away in recent weeks. Chalk up another loss this week, as I'm up against friend of the Mailbag, Luc Grenier, and he's already off to the races with a 25.9-4.0 lead after the opening night. Go ahead Luc, lay the boots to my boys!
Our trade deadline in this 28-team league is this coming Sunday, so I'll try to cook up a couple more deals between now and then or at least put some irons in the fire.
Here are the trades that went down over the last week:
INCOMING = Travis Hamonic and a second-round pick (currently 47th overall)
OUTGOING = Loui Eriksson
ANALYSIS: Speaking of Luc, I really like how he bought low on Hamonic here and got a decent pick thrown in too. Defencemen have more value than forwards in this dynasty league, so I personally wouldn't have traded Hamonic straight up for Eriksson. That said, the other team's strength was on the blue-line and he could certainly use the extra offence from Eriksson. As a 1-for-1, it could have been a win-win, but that pick probably tilts it in Luc's favour even though Hamonic is currently hurt.
INCOMING = Alec Martinez
OUTGOING = Jonas Brodin, Brendan Shinnimin and a third-round pick (currently 70th overall)
ANALYSIS: To me, that's an overpayment for Martinez, but he's the most productive player in the deal in terms of a win-now mentality. Long-term, I prefer Brodin to Martinez and wouldn't have made that swap as a 1-for-1. Shinnimin is more likely going to be a career minor-leaguer than the next Tyler Johnson, but that pick could turn into another keeper. Then again, at 70th, you're selecting a real boom-bust type. Maybe it's a fair deal, but I'd still be happier getting Brodin.
---
Do you have a question for the Fantasy Hockey Mailbag? You can reach out to me in the comments section below, by email at larry.fisher31@gmail.com, or on Twitter: @LarryFisher_KDC.
Larry Fisher is a sports reporter at The Daily Courier in Kelowna, British Columbia, Canada, and has been an at-large contributor for The Hockey Writers since August 2014.