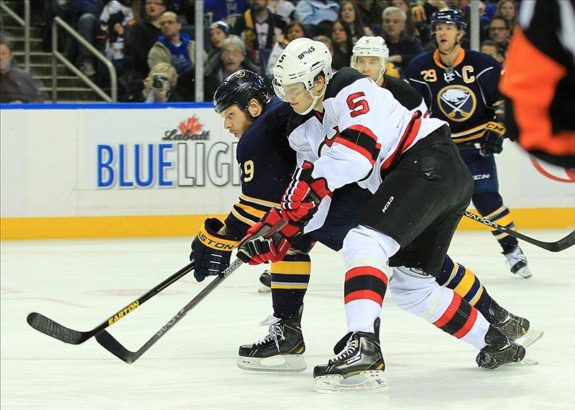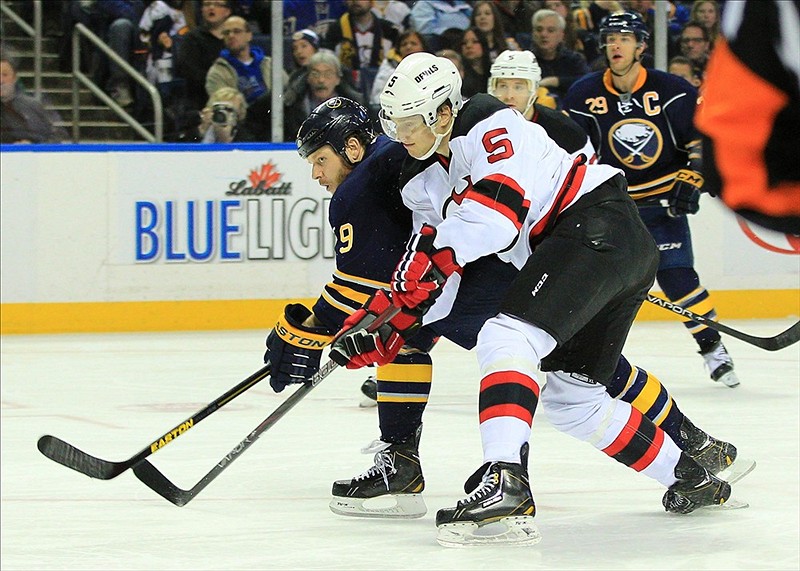 This is going to be fun. It is almost that time of season where we have to actually start doing work, writing, getting in players' faces, etc. The fantasy hockey season got going in earnest earlier in the summer but now with Yahoo and ESPN getting in gear among others, it is now time to start getting down to work. Others will touch on this throughout the next 40 days or less as the regular season approaches.
Why are these rankings different? That is because they are not necessarily fantasy rankings of a conventional nature. Some will even ask do you even want any defensemen from New Jersey on your fantasy team.
Fantasy Hockey Criteria:
Here at The Hockey Writers, it seemed like a good idea to approach fantasy hockey a little different this year. Instead of doing the same old article time after time, we are going to change it up some. Like I said above, this installment focuses on the New Jersey Devils and their defensive corps. Advanced stats need not quite apply here though we may use some from time to time on occasion. Don't worry. We'll try to explain as best as we can.
Are you ready? Time is wasting after all and is of the essence. Therefore, let's do this in tiers because value is value right? Exactly!
Fantasy Option Status GO:
Adam Larsson — Some will have questions here but I am sticking my neck out here and going for it. Larsson has really paid his dues and is still not old enough to enjoy a beer legally in the United States. Gradually, working with the likes of Scott Stevens and Ken Daneyko is starting to pay off. The shortened season may have hurt development a bit but should be a long term lesson. He may not pass Andy Greene in points but I think he might pass Marek Zidlicky in a bit of a surprise. Larsson continued to bulk up a bit in the offseason and the offensive skills are there. Let's face it, New Jersey was rather unlucky over the final two thirds of last year as they were number one in the league in scoring chances and scoring chance differential. Expect Larsson to enjoy a bump into the high 20's as far as points.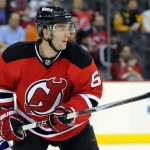 Andy Greene — Greene is still the most fantasy viable option in the New Jersey defensive corps. He had a tough year considering all that transpired but talking to Coach DeBoer, you got the sense that last season's troubles are behind him. Greene also had some bad luck that I think will somewhat right itself. Granted, the forwards may not be quite as prolific but maybe now they will play more as a team which a team guy like Greene thrives on. Greene is deceptively high on blocked shot charts and ATOI is obvious. He is a player who could up his production into the lower to mid thirties. Hey, the +/- and power play numbers should also be rather solid as New Jersey is likely to have three forwards and two defensemen on every power play. Greene should be considered a must draft in fantasy leagues, just not at the level of top tiered defensemen. Think more the middle and you should be good to go.
Fantasy Option Status QUO:
Marek Zidlicky — What you see with Zidlicky is what you get. There is the ability to be very good offensively only to be a disaster defensively. The numerous short handed opportunities and odd man rushes that go the other way are a product of his high risk, not always high reward style of play. The problems are mounting for Zidlicky owners. He is over 35, came off a sub-par season, and now has a one year deal that could a fantasy end so to speak. While he can rack up assists, his on ice decision making can cause significant problems and hurt his +/- which was an awful -12. If he is around 30 points and a -10, consider yourself a very lucky fantasy owner. Part of me would not be shocked if Zidlicky gets traded at or before the trade deadline.
Peter Harrold — Harrold can move the puck but as a 6th/7th defenseman, one should not expect too much more. His +/- is not very good but partly a reflection on who he was paired with along with some suspect goaltending. Offensively, one expects a few points here and there and defensively he is a stopgap in the purest form. If Harrold does see significant time, it is because there were some injuries. Needless to say, you probably do not want to draft him in your league.
Fantasy Option Status HELL NO:
Bryce Salvador — NO! NO! NO! It is rather clear that though he is a captain and a steadying influence, Salvador's fantasy value is kaput. That is the nice version. He had two points, was a -12, and it seemed was on the ice for every single backbreaking goal. The 2012 playoff outburst was just a blip and though no one expected what became a disaster on the defensive side of the ice. Blocked shots might be the only somewhat useful stat as with age, the hits become less and less. The phrase "he looks like he's 40" fits.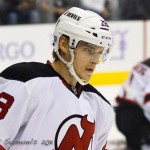 Anton Volchenkov — It is unfortunate but Volchenkov needs a speedy defender paired with him to make this work. The fact that he was a healthy scratch spoke volumes and as Henrik Tallinder was made expendable, Volchenkov could meet the same fate. If he plays, Anton Volchenkov will get you some hits and blocks. After that, you have a better chance of finding water in a desert. Maybe and I emphasize maybe, this 31 year old (who looks 40 at times) can be serviceable in IDP leagues. Reality dictates that expectations should not only be kept low offensively but watch out for possible injuries due to how he plays the game. Ice time could take a hit and even he has a potential of being moved at the trade deadline. Other than that, that is a wrap.
Mark Fayne — Fayne is a nice enough guy off the ice and steady at times on it. That is the problem. There is that whole "at times" part. Unfortunately, Mark Fayne can be a walking mistake on the ice at the worst possible time. He is young at 26, for a defenseman, but makes too many errors in judgment. It did not help that the margin for said error decreased over the last 30 games of the Devils season in 2013. Fayne will have to improve and might have trade value if one of the younger defensemen impress enough in training camp. He is on notice in a bad way.
Fantasy Option Status On The Cusp?:
Jon Merrill — He may not be ready quite this year but he is going to be awfully close. Merrill came into the AHL and made an immediate impact tallying eight poin in twelve games. His above average shot and on ice presence were abundantly clear. That was a trial run and New Jersey may opt to keep him in Albany for awhile longer to work on his all around game. Merrill is a can't miss.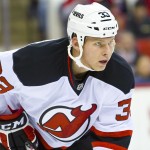 Alexander Urbom — Urbom is probably the most NHL ready if you will. He filled in nicely when New Jersey had some injury issues in 2013. Though Alexander is still 22, the defenseman has shown some flashes and a pretty good two way game that has caught the eye of assistant coach Scott Stevens. Stevens did say Urbom has to bulk up a bit upper body wise but it is clear that Urbom can hit when needed. No one should be surprised if he is carried as a sixth or seventh defenseman. He has a big shot and an ability to block shots. Expect him possibly to make the team out of camp or be called up rather quickly. Fantasy production? Honestly, that may need a little time.
Eric Gelinas — This is the last of the three players who could see time in New Jersey this year. Gelinas showed promise in his limited call-up. The offensive promise is obvious but the defense still needs work. There was an injury to recover from and he adapted well. Do not be surprised to see Gelinas up with the big squad. He could be up in short order depending on who New Jersey thinks as expendable. Eric Gelinas could be a nice replacement for Marek Zidlicky perhaps and a little better defensively.
Fantasy Hockey Projects:
Damon Severson is a long term project who has shown good upside in the WHL for Kelowna. He may ultimately have the most potential among the long term projects. Though only 19, he displays a patience that few his age can. Dwayne Hamm had this to say about the prospect.
@TPort80 Damon "Dan" Severson. A steal. Longterm project will be a 2nd pairing 2-way PP specialist with seasoned hockey IQ via Scott Stevens

— Dwayne Hamm (@jahlion247) August 19, 2013
Brandon Burlon has some work to do but his second AHL season was more successful. His two way game looked much better over the last third of the season for Albany. The guy that has my eye is not Steve Santini (he will in time) but Seth Helgeson plays like he's a 240-250 pound tank but he is only about 220. Helgeson has a longer reach than the average 6'5″ defenseman. He has the look of a future shutdown specialist. 

Simply a hockey writer who is a jack of all trades. No question is too big or too small and in fantasy hockey there is no such thing as a stupid question. Now a proud, accredited member of the FSWA. I am also a New Jersey Devils lead writer, prospects writer, humorist, and so much more. You can find me on Twitter at @ChrisWasselDFS