In one of the more enjoyable off-season home page features in recent memory, this summer the Texas Stars have been publishing extended audio interviews with various players conducted by team broadcaster Owen Newkirk. Below are some extended passages for several players, along with links to their interview. To listen to the extended interview, click on the player's name; that will take you to the Stars' interview page for that player.
"I'm done with the whole rushing to get anywhere. I'm just really excited to play hockey and I can honestly say for the first time in a while I have a clear head and just want to go out there and compete and stop as many pucks as I can. … The NHL is an amazing league, but right now I'm having fun competing in the American league. I have a lot of work to do to get [to the NHL] and I'm just excited to play hockey and get better and win hockey games."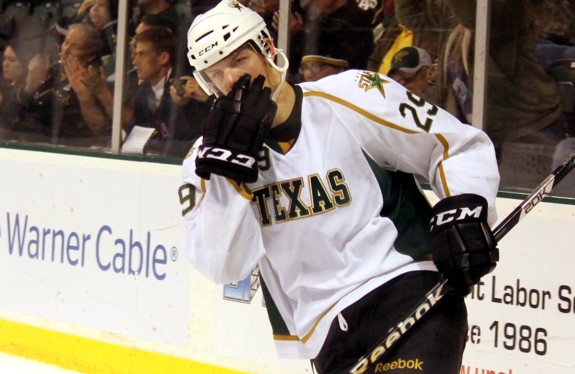 "Seven [NHL] games doesn't make a career … When I spent my month in the NHL I really understood why some players are still playing when they are 40. There's a reason for that and you see it right away."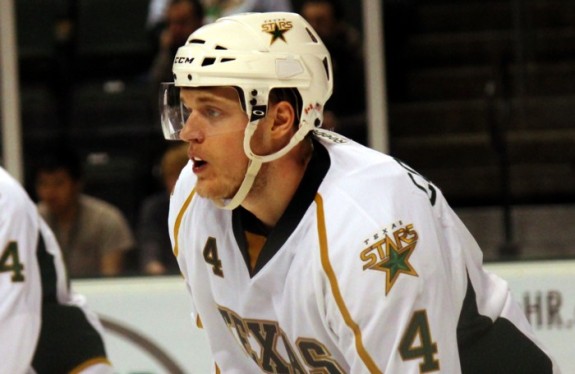 "Never having played a game in the NHL makes me pretty grateful for [my] contract. I understand that all they had to do … is give me that one-year qualifying offer and the fact that they reached out and gave me more than that is something I was very happy about and very thankful for."
"If I ever had to play against [Antoine] Roussel, I'd hate him."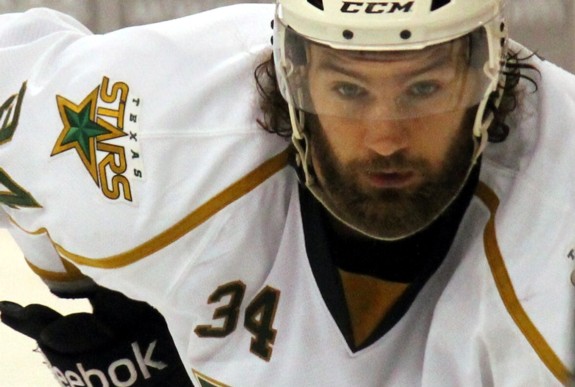 "I've grown up with this organization. I was drafted when I was 17. I know fans in Austin and Cedar Park won't want to hear this but I'm not looking to go back and play [in the AHL]. As brutal as that sounds, there's no other mindset. If I don't have that mindset going into camp with Dallas then why go at all? I want to have a shot to play in the NHL."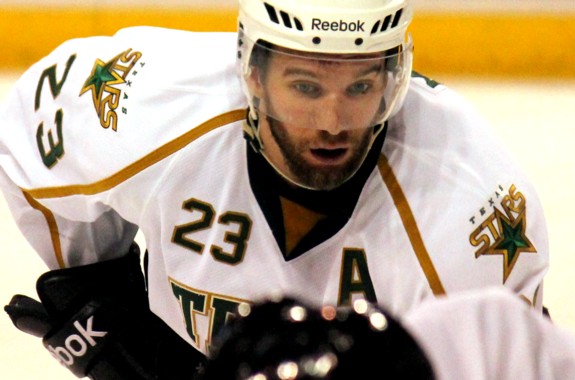 "I'm pretty loyal when it comes to [teams]. Even when I was in South Carolina my second year, I wasn't really getting any chances to go up to Hershey and my agent called and said, 'We could get you loaned out to an AHL team.' I'd been in South Carolina for maybe half a season and I was like, I don't think I want to, this is my team.
 "Now I feel like [Texas] is my home and it would take a lot to pry me away from that. So when you talk about the contracts and things, there may be an opportunity elsewhere, but there's still an opportunity here … It's hard to leave that when you've been here as long as I have and kind of set yourself in the club's history there and you've been there from the beginning."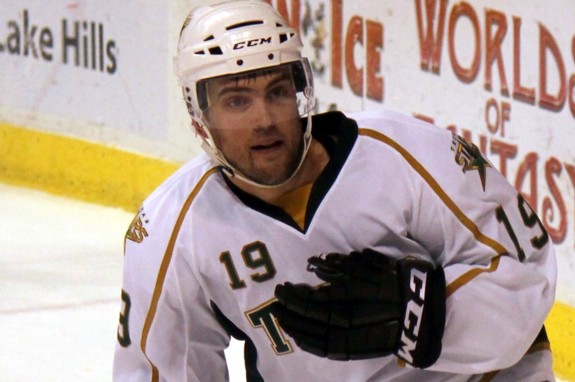 "I have a lot of loyalty to this organization. I'm watching the current draft very closely because I'm tied up in what they're doing. I'm not thinking 'Well, whoever they draft won't be here for a couple years so what do I care,' I'm thinking, I really want this organization to do well. I'm pulling for everyone to do well."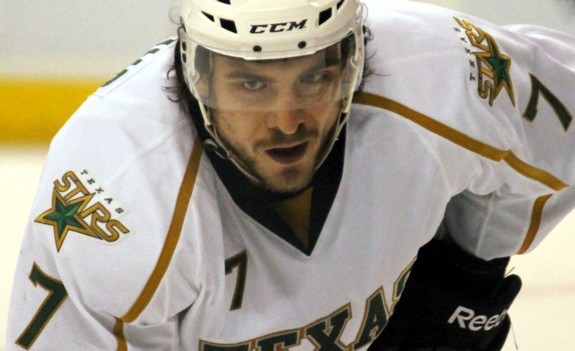 "[Holding so many Texas records] is going to look that way considering I've played there since the organization existed … But obviously it's cool. It's the only team I've played for in my pro career. I've had two games in Dallas, but other than that every other game I've played pro has been in a Texas Stars uniform. It's kind of cool, it's definitely something that is an honor to have, but at the same time as nice as that is, you always want to be wearing Dallas Stars at the end, that's the ultimate goal."
"So many guys take [playing in the NHL] for granted, but guys like us that bounce around the American league for a long time, when you get there you're so happy.  You want to do anything to stay there."
Ross Bonander is a freelance health writer and book editor. He is the editor of 13 quotation collections– six of them hockey-related, including his most recent, Modern Hockey Quotations. His homepage is RossBonander.com.