– written by Ross Bonander
Despondent Chicago Wolves play-by-play announcer Jason Shaver summed up the attitude of much of the American Hockey League in 2010 in his call of Jamie Benn's game 7 overtime winner for the Texas Stars against Chicago:
"He shoots, he scores. The Stars will advance. Jamie Benn, who spent the entire year in the NHL, gets the overtime game winner …"
English grammar refers to the underlined portion as a nonrestrictive relative clause. Its use means that both Jamie Benn gets the overtime game winner and Jamie Benn spent the entire year in the NHL are regarded by the speaker as being of equivalent value.
Point? When Jamie Benn came to Cedar Park in 2010 for the Calder Cup playoffs after playing all 82 games in the NHL and not one in the AHL, some people were upset.
The 2009-2010 Season
At the conclusion of the inaugural American Hockey League regular season for the Texas Stars, nobody could dispute its success. Tenth in the league in attendance, the team finished the season with 46 wins and 99 points, good enough for second in the West division. At the time, the AHL split its 29 teams into two conferences of two divisions each. With the second seed in their division, the Stars would play the third-seeded Rockford Icehogs in the first round of the playoffs.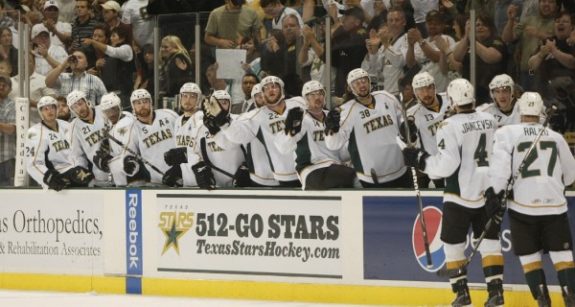 The Stars had been built to win low scoring games by way of a veteran blue line: Andrew Hutchinson, Dan Jancevski, Garrett Stafford and Max Fortunus each had between four and six full pro seasons of hockey under their belts, and Dallas was paying them handsomely: according to Capgeek, together they were earning over $1.2 million to play in Cedar Park– a lot of money in the AHL. Either way, they did their job: the Stars tied with the Hershey Bears for second in the AHL with just 198 goals allowed on the season.
Up front was different; Texas scored by committee, with ten players scoring at least 30 points, and at the top, Aaron Gagnon, with 27-31-58 points in 78 games. Those 27 goals were good enough for #19 in the league, while Perttu Lindgren's team-leading 33 assists were good enough for #55 in the league.
In short, heading into the playoffs Texas lacked a big gun on offense.
Or at least it seemed that way.
Back on 11 March, AHL teams had submitted their Clear Day Rosters. These 22-player rosters worked accordingly:
Only those players listed on a team's Clear Day roster are eligible to compete in the remainder of the 2009-10 AHL regular season and in the 2010 Calder Cup Playoffs, unless emergency conditions arise as a result of recall, injury or suspension.
Thus, teams putting together their clear day rosters needed to make some tough decisions. Do you waste a roster spot on a player who might be up in the NHL for the post-season in the chance his team will be eliminated and he could be sent down? For teams like Dallas this wasn't an issue; at the Clear Day deadline they were in 11th place with 16 games to go; they finished in 12th. Dallas GM Joe Nieuwendyk and Texas GM Scott White added Dallas rookie Jamie Benn to the Stars' Clear Day Roster, despite Benn's not having played a single game for Texas during the season. In fact he'd played all 82 games in Dallas, scoring 22-19-41 as a 20 year old and having the good fortune to play on a line with Mike Modano and Jere Lehtinen during the latter portion of the season.
In 2008-09, he'd played 56 games for the Kelowna Rockets and another 19 playoff games en route to capturing the Ed Chynoweth Cup. The Rockets came within a game of winning the Memorial Cup. Benn then had a little over three months before Dallas' training camp.
As a 19 year-old rookie, he had not been expected to make the Dallas roster, and in fact was included in the Texas Stars' yearbook published at the beginning of the 09-10 season: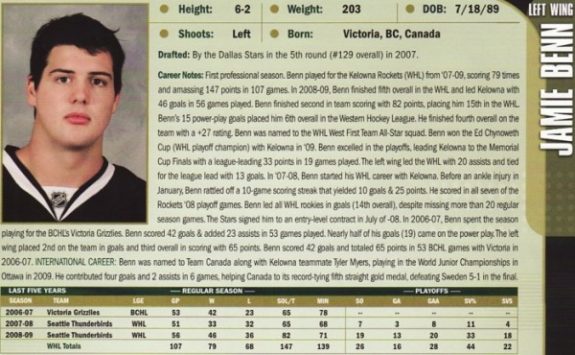 (The yearbook incorrectly credits Benn with two seasons in Seattle–he played in Kelowna)
Despite having played so much hockey and being asked to play more in the AHL, Benn said,
Joe Nieuwendyk came to me and told me I was coming down and I was happy with it. It was a chance to play more hockey and make a good run with this team. 
Division Semifinal v Rockford
Despite taking 6 of 8 during the regular season, few gave Texas a chance in this series. Hindsight being 20/20, we can look back on that Rockford team and find just one player currently doing good things for parent club the Chicago Black Hawks: goalie Corey Crawford. Forward Brian Bickell spent much of the season in the AHL but was called up to Chicago for their Stanley Cup run.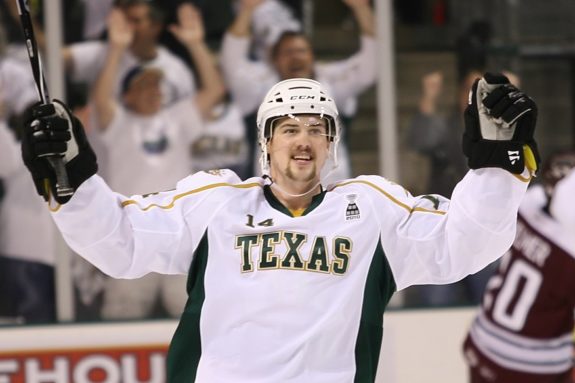 Regardless, before the end of the first period of game 1, Jamie Benn took a home-run pass from Travis Morin and scored on a breakaway, going five-hole while some Dallas teammates watched from a luxury box. Benn's four points (2,2) in game 3 led the way to an eventual sweep in which Texas outscored Rockford 15-5 and prevented the IceHogs from scoring in any period other than the last.
From 100 Degree Hockey, referring to game one: Benn had a target on his back all night, despite having no history with the IceHogs. Benn commented, "That's part of the playoffs, and you've got to battle through that. It's definitely fun to meet a challenge like that."
Division Final v Chicago
The Chicago Wolves held the top seed in the division along with a well-earned if youthful winning tradition. In just their ninth season in the AHL, the team had been to the Calder Cup Finals three times, winning in their inaugural season (2001-02), losing in 2004-05, and winning again in 2007-08.
While some Chicago fans cried foul about Benn's appearance on the roster, others kept it in perspective, like this poster to Wolfkeeper.org:
For the record, I have no problem with Dallas sending Benn to Austin. The Wolves have done the same in the past. In addition to Bowmeester and Weiss, we did a similar move with Dumont and Leroux. All four had nice playoff runs with us, but no CUP. Its up to our entire team to play a strong overall defensive game and shut down any offensive mojo that Austin will have, with or without Benn.
In the 2009-10 playoffs, their power play was terrifying, operating at just under 31 percent. Anthony Stewart alone had six power play goals in just 13 games.
For Chicago, that season's chief distraction was 48 year old Chris Chelios who, during the regular season, appeared to be on a goodwill, farewell tour, soaking up the accolades at every arena. He managed to put up good numbers (5-17-22 in 46 games and a plus 36), but he all but disappeared in the playoffs, appearing in all 14 games without registering a single point.
On more than a few occasions, Chelios and the 20 year old Benn clashed.
In game one, Benn 's third period goal gave the Stars a 3-2 lead but Joey Crabb would send the game into overtime. Following a high-sticking call on Jason Krog, Benn fed defenseman Garrett Stafford, who won the game with a slap shot from the point.
Stafford was named the first star of game one, so for an encore, he began game two with one of the dirtiest and most blatant elbows I have ever seen. Referee Kyle Rehman appears to be looking right at it, and yet there was no call. Ultimately Stafford was suspended for three games, but victim Kevin Doell did not return to the series (it occurs in the initial sequence and is repeated in slow motion).
The Wolves won that game in double OT. Chicago took a 2-1 series lead by winning game three and the Stars answered in game four. The latter game featured the second obscenely dirty hit by Texas, this time Warren Peters on Spencer Mahacek. Peters steamrolls him at about the :57 second mark:
After registering two points in game one, Jamie Benn had gone pointless for the next three games. He would break out in record-setting fashion in game five. There, he tallied the first ever hat trick by the home team at the Cedar Park Center. His third goal, complete with a hard deke on Chelios and a ping off the iron, is a beauty:
As is not surprising in the AHL, when the teams flew to Chicago for games six and seven, the early flight consisted of the Wolves staff, their scratches, and the entire Texas Stars. Stars goalie Brent Krahn sat next to enforcer Reid Simpson, making for unlikely rowmates.
The Wolves knotted the series in game six. Game seven was a predictably crazy affair that saw the Wolves surrender two 2-goal leads. The game went into overtime and it marked the first time all season that many Stars fans could recall coach Glen Gulutzan ever employing an aggressive two-man forecheck. He went for broke and it paid off. Then-rookie Colton Sceviour forced Arturs Kulda to make a poor clearing attempt around the net, then hounded Patrice Cormier who dished it to Chelios. Benn pressured Chelios to dump the puck up the boards, where both Sceviour and Benn outworked the elder statesman until the puck popped loose. Benn didn't hesitate, scoring what surely ranks as the most thrilling goal in the Stars' short history.
In characteristic blase fashion, Benn told ESPNDallas:
Whenever you have a chance to put a team out and go on to the next round, it's pretty special. It was a pretty big goal for me in my career.
Conference Final v Hamilton
In the Conference Finals the Stars traveled to Hamilton to face the Bulldogs, Montreal Canadiens' AHL affiliate. Hamilton was a traditionally strong club, having won the Calder Cup in 2007. In 2010 they were the top seed in the West, having lost just 17 games in regulation all season.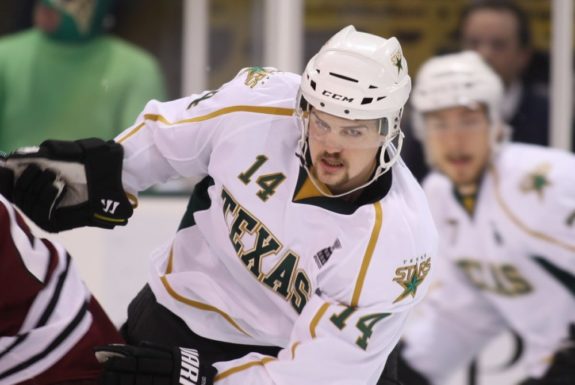 On offense they were led by David Desharnais. The undersized center had 27-51-78 points in 60 games and was a plus 30. Brock Trotter wasn't far behind, with 36-41-77 in 75 games. But the most eye-popping stats came from defenseman PK Subban, who had 18-35-53 points in 77 games and was a phenomenal plus 46. Subban was unstoppable in the quarterfinals against Manitoba, compiling 3-6-9 points, including two game winning goals, in just 6 games. Unfortunately for Hamilton, he was recalled by Montreal and would not return until game 7.
The Bulldogs outshot Texas 38-20 in game one, but regulation ended in a tie. Jamie Benn had both goals for Texas, but it was Brock Trotter in overtime for Hamilton.
It only got worse for Texas when the teams met two nights later, as Hamilton won 3-1 with relative ease. Tensions overflowed at game's end, as referee David Banfield handed out six ten minute misconduct penalties, including one to Benn and Colton Sceviour.
Back on home ice and down 2-0 in the series, game three was a must-win for Texas. Hamilton knew it too. Up 4-3 with two minutes to go on the strength of three power play goals, including Benn's 11th of the playoffs, Aaron Gagnon was called for tripping and Hamilton tied the game, setting the stage for the unlikeliest of heroes.
If Jamie Benn's game seven overtime winner is the biggest goal in the short history of the franchise, the next two spaces on the list of biggest goals belong to journeyman defenseman Ethan Graham. Graham's slap shot barely two minutes into overtime kept Texas from falling into the 0-3 hole in that series.  Graham was a late addition to the team.
Game four also required overtime, and this time Benn would be the hero, pouncing on a poorly controlled rebound by goalie Curtis Sanford. But Sanford got his revenge in game five, shutting out Texas 3-0 and sending the Bulldogs home with a 3-2 series lead.
In game six, Aaron Gagnon's OT wraparound forced a second consecutive road game seven for Texas. For two periods, Hamilton dominated the game, but thanks to a spectacular game by goalie Matt Climie, the Stars were only down 2-0. With little time remaining in the second period, journeyman Ethan Graham scored on a fluky dump-in from the blue line, giving Texas the momentum they needed to take the game 4-2.
Following that game and before the Calder Cup Finals got underway, the Hockey News produced a short video feature on Jamie Benn, featuring remarks from linemate Colton Sceviour and coach Glen Gulutzan. The footage shows Benn scoring what would be the game seven insurance goal:
Calder Cup Final v Hershey
Texas stunned the heavy favorite Hershey Bears by taking games one and two at the Giant Center, where the Bears had won 34 of 40 during the regular season. In fact, these would be the only two playoff games Hershey would lose at home, finishing the playoffs 9-2. The Bears' astonishing regular season record of 60-17-0-3 remains the second-highest point total (123) in AHL history, and their 60 wins and 34 home wins remain AHL records as well.
By now, as one might expect, Cup fever had struck Cedar Park Center. At capacity, the CPC holds 6,863 but for games three, four and five of the Calder Cup Finals, Texas had to sell SRO tickets and wound up consecutively breaking attendance records each night, with 7,014, 7,032 and 7,054 respectively.
Not to be outdone, for game six 11,002 fans packed the Giant Center in Hershey, setting an attendance record for the Bears that holds to this day. Unfortunately for Texas, after taking the first two games, they dropped four straight, allowing Hershey to win its second consecutive Calder Cup.
Benn finished the playoffs with 14-12-26 points in 24 games, finishing third overall to Hershey's Alexandre Giroux (14-13-27 in 21 games) and eventual Calder Cup MVP Chris Bourque (7-20-27 in 21 games).  Per series, Benn's offensive contribution was as follows:
Against Rockford, Benn tallied 3-3-6 including a four point night;
Against Chicago, he tallied 5-4-9 including a five point night;
Against Hamilton, he tallied 6-3-9 including four multi-point games;
Against Hershey, he tallied 0-2-2 in the six game series.
To date, these 24 games represent Jamie Benn's career post-season numbers as a professional hockey player. Season ticket holders who renewed their seats by a certain date that summer received an autographed Jamie Benn Texas Stars jersey, making it the most frequently seen jersey in Cedar Park Center to this day. Considering the impact he had on both the team and the fans, that would probably be the case whether it had been a gift or not.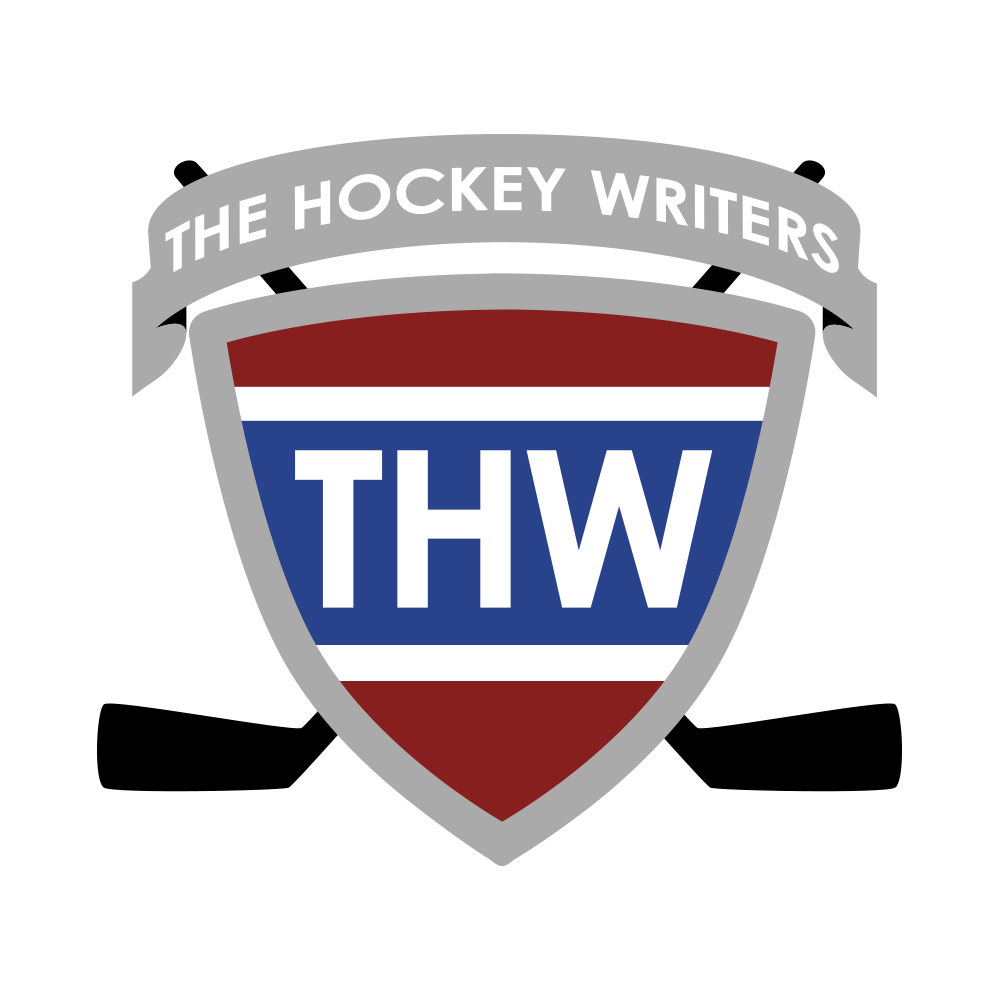 The Hockey Writers is:
1) A top-tier hockey media company delivering a top-notch, in-depth look at the NHL
2) A collective of some of the best hockey writers anywhere
3) A multimedia provider with daily podcasts and YouTube shows
4) Well-respected and widely-cited NHL prospect and draft resource