With registration for the 2013 Canadian Women's Hockey League Draft officially closed, and the draft set to take place on Monday, August 26th, it's time to take a closer look at the players entering the draft. The following is a list ranking the top 20 NCAA Division I players who have entered the 2013 CWHL Draft.
1. Lauriane Rougeau, Defense, Cornell
133 GP, 27 G, 90 A, 117 P
She's the most dominant defenseman on the board and projects to be the most impactful player overall, earning her the top spot here. It should be noted, however, that Rougeau is centralizing with the Canadian national team this season, making her entry in the draft a bit puzzling.
2. Jillian Dempsey, Forward, Harvard
129 GP, 76 G, 72 A, 148 P
If fantastic accents had any actual hockey value, the Winthrop, Mass. native would easily be ranked first overall. There's plenty else to like about Dempsey, though; she's a pretty skilled forward with a good two-way game, and tons of grit and heart.
3. Jessica Wong, Defense, Minnesota-Duluth
143 GP, 48 G, 74 A, 122 P
She's been a real threat from the blue line throughout her career with the Bulldogs, and her above-average puck-moving abilities will be invaluable to any team.
4. Jess Jones, Forward, Mercyhurst
135 GP, 61 G, 93 A, 154 P
She may have graduated in 2012 but she scored the most career points out of all NCAA players registered for this year's draft. She should be more than capable of filling a top-six role.
5. Casey Pickett, Forward, Northeastern
139 GP, 59 G, 66 A, 125 P
She really showed what she can do in her junior and senior seasons; her vision and hands give her legitimate offensive upside.
6. Camille Dumais, Forward, Dartmouth
121 GP, 58 G, 70 A, 128 P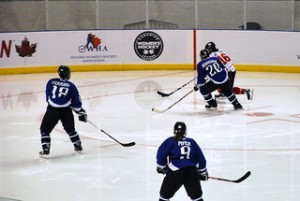 She's been a very reliable scorer all four years at Dartmouth; her skill and production will make her a nice fit on a scoring line.
7. Blake Bolden, Defense, Boston College
138 GP, 27 G, 56 A, 83 P
Most teams could use a defender with size and puck-handling abilities, and that's exactly what Bolden provides.
8. Reagan Fischer, Forward, Dartmouth
129 GP, 51 G, 62 A, 113 P
She developed into a productive forward at Dartmouth and brings a physical presence up front along with a very solid two-way game.
9. Rachel Llanes, Forward, Northeastern
139 GP, 41 G, 61 A, 102 P
She really grew into a reliable scorer for the Huskies and could likely fill a secondary scoring role on a CWHL team.
10. Dru Burns, Defense, Boston College
145 GP, 4 G, 41 A, 45 P
She's a bit of an under-the-radar defenseman but she was an integral part of Boston College's defensive corps, and her all-around game should make her a great fit in any team's top-four.
11. Katie Wilson, Forward, Minnesota-Duluth
143 GP, 38 G, 64 A, 102 P
She had a down year at Minnesota-Duluth, but then again, it was a down year overall for the Bulldogs. If she can return to the form she showed in her first three years, she'll be a solid offensive pick-up.
12. Danielle Skirrow, Forward, Clarkson
151 GP, 43 G, 37 A, 80 P
Her offensive ceiling may not be insanely high, but she's proven that she can put the puck in the net. Combined with her high-energy style, she'll be a welcome addition on a scoring line.
13. Sasha Nanji, Defense, Dartmouth
120 GP, 39 G, 51 A, 90 P
With her skillset, she'll definitely add some flair to the back-end and should find a spot in a team's top-four.
14. Saige Pacholok, Defense, Wisconsin
147 GP, 8 G, 38 A, 46 P
She won't wow anyone points-wise but she's a very steady defender and should be a decent mid-level addition.
15. Ashley Cottrell, Forward, Providence
133 GP, 46 G, 48 A, 94 P
She logged important minutes during her time at Providence and that, combined with some offensive upside, gives her some nice value.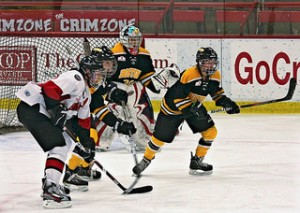 16. Jill Cardella, Forward, Boston University
151 GP, 31 G, 57 A, 88 P
Her goal total was way down this year but there's legitimate skill here, and she could be a nice complement to other top-six players.
17. Holly Carrie-Mattimoe, Forward, Syracuse
141 GP, 39 G, 56 A, 95 P
She's definitely a talented player, though she may not be as high-end as others in the draft; still, she'd be a nice depth option for most teams to have.
18. Jessica Vella, Forward, Providence
128 GP, 30 G, 33 A, 63 P
She took a big step forward production-wise with the Friars this year, but that may not fully translate to the CWHL.
19. Kelly Cooke, Forward, Princeton
122 GP, 26 G, 23 A, 49 P
She's not much of a scorer but she should be a good fit as an energy player in more of a checking role.
20. Brittany Ott, Goaltender, Maine
107 GP, 32-53-13, .915 save %, 2.74 GAA
Ott's got the ability to be a decent starter and with so many CWHL goaltenders centralizing with the U.S. and Canada this year, she could be a big help to a team.
For more information on the  CWHL Draft and its specifics, click here.