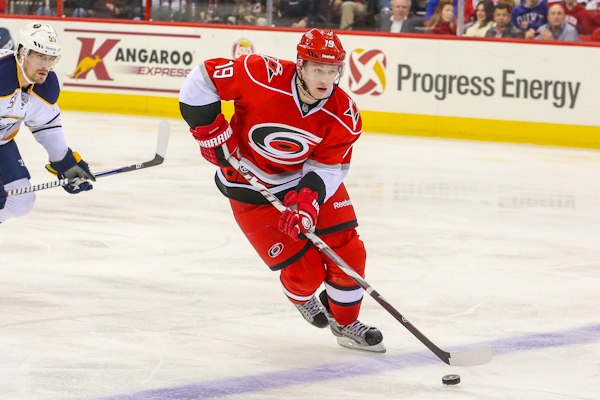 Last year, Jiri Tlusty had the best statistical season of his still-young hockey career, leading the team in both goals (23) and plus/minus (+15). He broke both his previous personal bests for goals (17) and points (36), doubly impressive due to the fact that he did it in almost half the number of games (79 GP in '11-'12, 48 GP in '12-'13). Pro-rated over a full season, Tlusty would have scored 39 goals and 65 points. Playing on the undisputed top-line with captain Eric Staal and newly resigned Alexander Semin, Tlusty seems to have finally fulfilled the potential that made the Toronto Maple Leafs draft the Czech forward 13th overall in 2006. Entering the final year of his 2-year contract (a measly $1.7M cap hit per year), Tlusty will be looking to build off his big season and earn a big, long-term contract from GM Jim Rutherford.
So has Jiri finally blossomed into a legitimate top-6 forward? Watching his play this season, he certainly has the intangibles and skill set necessary to play against the best competition in the league. While I would not describe any of his skill set as "elite", the one thing that really stuck out to me was Tlusty's ability to be in the real place at the right time. I believe Tlusty's strong positional play was one of the main reasons Alex Semin recently gained the "playmaker" moniker. Semin, though a very adept passer, would not have been able to rack up as many assists without Tlusty's nose for the net. Several of Tlusty's 23 goals this season were not particularly "hard-to-score" goals, and much of his success still has to attributed to playing with Semin and Staal. The goal below is a good example of how Tlusty was able to score just being in the right place at the right time. Absolutely dirty pass from Semin, by the way.
With that said, what can fans expect from Tlusty in the '13-'14 season? Obviously, anything can happen in sport, but my opinion is that Jiri Tlusty will regress from last season's numbers. There are several reasons as to why I believe this.
1) The new Metro division is very tough
It may have been relatively easily for Tlusty to score against the leaky Tampa Bay Lightning and the injury-riddled Florida Panthers, but the new Metropolitan Division may be the most competitive division in the NHL.
The New York Rangers boast one of the strongest defenses in the league, along with Henrik Lundqvist, arguably the world's best goaltender. Even with a coaching change to the more free-flowing Alain Vigneault, the Blueshirts will still be a defensive juggernaut.
The Philadelphia Flyers are looking to prove their last season was an anamoly, and the team has changed drastically in the off-season. Ray Emery was reacquired after winning the Jennings Trophy as Corey Crawford's 1B.
The young Islanders will only improve as their stars mature, and will be looking to repeat last year's successful run to the playoffs.
The Pittsburgh Penguins are a consistent Cup contender, and while the team's defensive meltdowns in the playoffs is well-documented, their regular season success is undisputed.
Throw in the Columbus Blue Jackets and their Vezina-winning goaltender Sergei Bobrovsky, along with perennial playoff contenders Washington and New Jersey, and I don't see Tlusty succeeding to the same extent as last season.
2) No one is going to take this line lightly – everyone is awake now

When coaches were drawing up their game plans against the Canes at the start of last year, I guarantee that no one was circling Jiri Tlusty's name. With big offensive stars like the Staal brothers, Semin and Skinner, there really wasn't much sense in trying to focus in on a player like Tlusty that had never secured a spot in the top-6.
Fast forward to the present, and I believe everyone is aware of the offensive threat that Tlusty poses. The defensemen assigned to cover his line should remain the same – after all, his linemates are Staal and Semin. However, those same top defensemen being assigned to cover this line will no longer make the mistake of underestimating Tlusty. Whereas defenders would have probably been more focused on locking down on Semin and Staal before, make no mistake – Tlusty is now dead set on their radars.
3) Tlusty's unsustainable high shooting percentage will regress

Jiri finished last year with a 19.7 shooting percentage last, which is both impressive and quite lucky. His career average sits at 13.8%, even including the inflated stats for last season. During a full 82-game season, almost all veterans eventually regress to their career numbers in shooting percentage, and Tlusty would likely be no exception. In fact, all but a few players own a shooting percentage relatively close to Tlusty's number (See Tanguay, Alex). This likely means he will not score at 40-goal pace, though increased goal-scoring from his line mates could actually increase his assist and point totals over last season. Semin, in particular, had only 8.7% last year (13.5% career).
So overall, my prediction would be that Tlusty could maintain a 50-60 point season, but it will likely not be with 40 goals. This guy tore it up for me in fantasy as a free agent pick up last year, would be a great mid-round pick.
The NHL regular season schedule was released on Friday. Check out our partners at TiqIQ for the best deals on Carolina Hurricanes tickets for all 2013-14 games.