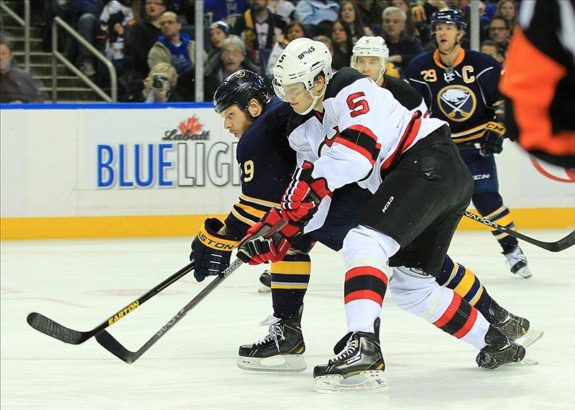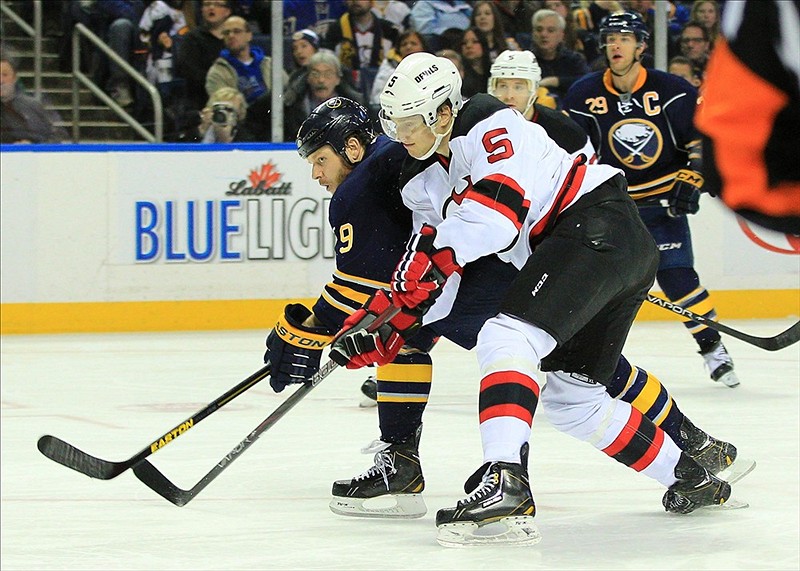 As an 18-year-old it's tough to earn a regular role in the NHL as it is, but as a defenseman it's even tougher as Adam Larsson found out with the New Jersey Devils last season. Having said that, he did have a productive rookie season and now in year two he is showing even more improvement on the Devils' blueline.
NHL 2011-12: 65 games played, 18 points (2g-16a), -7
AHL 2012-13: 33 games played, 19 points (4g-15a), -1 (lockout)
NHL 2013: 22 games played, 4 points (0g-4a), +3
Imagine you are hired for a job and two of the best ever at that particular job will help you improve your skills to excel at that job. Now imagine you are a defenseman drafted to the NHL and two of the best ever to play at that position, Hall-of-Famers even, will coach you and aid in your development. If you look to the rafters at the Prudential Center in Newark, New Jersey you will notice there are three retired numbers: 3, 4 and 27. All defensemen, all legendary in their own right and oh by the way, two of the three are in the NHL Hall-of-Fame. No pressure kid, don't sweat it.
"I feel I'm improving everyday," Larsson told THW after a recent game. "Even being in the league a lot of years, you can always learn things. It's been a little bit up and down for me to this point, but overall I feel that I've played pretty good (for someone my age)."
During Larsson's rookie year he was coached mainly by legendary defenseman Larry Robinson who's resume speaks for itself: 2 Norris Trophies, Conn Smythe Trophy, 958 career points. "It (the NHL) was a different style when Larry played," said Larsson of his former mentor who is coaching in San Jose now, "but it has been great to have been coached by Larry." One of the main things that has stayed with Larsson is using his stick as a weapon to defend puck-carriers. The now 20-year-old Swede is tall and lanky and uses his stick very effectively in thwarting opposing scoring chances before they happen usually.
Now in year two, he is under the tutelage of longtime Devil and one of the most-feared defenseman ever — Scott Stevens. Stevens' resume is not too shabby either with him being a three-time Stanley Cup Champion as Devils captain and a Conn Smythe Trophy winner. "Scotty and Larry are so different types of persons and players and coaches. Scotty played not too long ago; he knows this game very well. I am enjoying being coached by Scotty."
This season, after being a healthy scratch the first few games he has formed a nice partnership with Andy Greene on the blueline as the Devils try to position themselves for another deep run in the playoffs. Larsson enjoys playing alongside Greene, as he told THW, "He's a very skilled player and the two of us make a pretty good pair out there."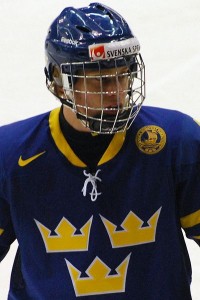 Not only has the help of Stevens and Robinson helped Larsson adjust to the life of an NHL defenseman, but also others have been instrumental in his maturity and growth as a person. Those would be fellow Swedes on the Devils' roster Johan Hedberg & Henrik Tallinder who Larsson looks up to a lot. "It's hard to find better guys than Hedberg and Tallinder to help me get adjusted to the NHL; I'm glad to have them on my side," the soft-spoken Larsson admitted. "It's a little out of my comfort zone over here (in North America) by myself, so it's really nice to have them on my team. I think everybody (on the team) loves them though, they are great guys."
During the NHL lockout, Larsson spent his time with the AHL's Albany Devils and was happy to keep in game shape in hopes that an NHL season could be salvaged. "It was great, I think for me — a young guy — to get to play all the different types of the game, five-on-five, power play, penalty kill. It was a learning process even there," he revealed. "It's a different league in the AHL and different players. It was a lot of fun, that's a good league; a little bit different from NHL, but still a good league."
It has been fun (and agonizing at times) for Devils fans to watch him develop and if he continues to improve, he could become a stud defenseman like so many have projected him to be, like our own Chris Ralph. "I feel like I'm a lot stronger and I have a little bit different role this year (in the NHL); focusing more on the defensive side of things. Last year I played a lot of PP time, this is a different year now. I just try to do my best and enjoy this as much as I can."
First playoff game, first goal. No problem for Larsson:
http://www.youtube.com/watch?v=6QFZmDJTcWU
He only saw action in five postseason games last year due to New Jersey's surplus of defensemen, but Larsson truly believes this team could make a return to the Stanley Cup Finals in hopes of avenging last June's defeat to the Los Angeles Kings. "We know the system very well, we trust the coaches. I think what we have done so far is good, but we still have a lot of improvements in our system. I think we will get there by the time the playoffs start."
Dan Rice can be reached via Twitter: @DRdiabloTHW or via Email: drdiablo321@yahoo.com