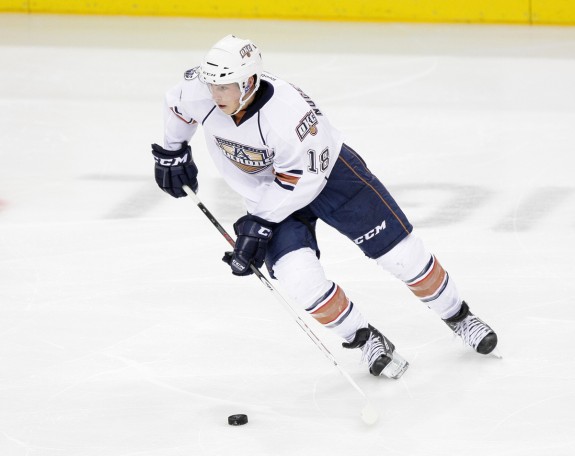 I may occasionally rail on the American Hockey League for its many shortcomings, but it's only because – this is the truth – it's only because I love it so.
I stopped writing top 10 lists several years ago but I'm going to revisit the form here and point out eleven things that make the AHL a great league. Although this is a top 11, they are in no particular order.
What happens here, stays here.
By that I mean that AHL games feel like they're happening in some remote place, not being broadcast to the world. So that what happens in the game, no matter how crazy or outrageous, wasn't on a national broadcast, wasn't seen by everyone, and won't likely wind up on Puck Daddy (Jim Playfair tantrums notwithstanding).
No great disparity in tax brackets.
I don't know what the average salary is in the A (the list of highest paid players is here at Capgeek), but for players on two-way contracts, it's common to see them earning around $65,000. For players on AHL-only contracts, their minimum is $40,500.  I would be surprised if too many AHL-only players were earning a whole lot more than that unless they had been around a little while. Wealth changes people, or so I've heard.

The league itself is miserly.
If you think an opposing player took out one of your guys with a hit that deserves a suspension, the onus is largely on you to bring this to the attention of the league. And you must put down a $250 deposit. If the league decides the opposing player did nothing wrong, you lose the $250. If they suspend him, you get your deposit back. This example of thrift is unique to the AHL. I celebrate it because you just can't make this stuff up.
No lead is ever safe.
One hallmark of NHL games going back to the 1990s is how tough it is to come back in the third period. Some teams were virtually impossible to defeat if they entered the third period with a lead. In the A? Unless you're up by enough goals to kick in a mercy rule in beer league, no lead is ever safe. This cuts both ways–I've seen third period four goal leads and four goal deficits overcome more than once–but that's half the fun.
Last season means nothing in October. 
Did your team suck last year? No worries. They could win it all this year. The Binghamton Senators missed the playoffs in 09-10, barely squeaked in the next year and won the Calder Cup, then dropped to last place the next season.
A fight is still a fight.
NHL fights haven't been any good for several years now. In the A, the players still take a fight seriously. Enforcers still have a role to play. And when two big boys throw down, look out. I remember a Matt Kassian v. Luke Gazdic fight from a few years ago that went on for over a minute (try throwing hard punches for just ten seconds) and featured almost no defensive measures. It's as much about how many shots you can take as it is about how many you can land.
Hershey and Chicago.
While I loathe to celebrate anything about the Chicago Wolves, I would be remiss if I didn't point out the fact that these are two AHL franchises who spend money each season to field a competitive team. Some say they create an unfair advantage for themselves but that's not true–every team can do it, most just don't.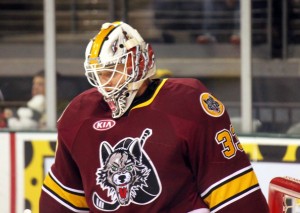 Player access.
I don't mean that the players are more accessible (even though they are), I mean that the players have fewer places to escape being noticed. During game 3 of the 2010 Calder Cup finals, Texas was up 2 games to none over heavily favored Hershey, and after one period were up 3-1. It was looking dire for the Bears. I was walking around the upper level at the Cedar Park Center and came upon some couches with six dour guys in suits and full beards looking like they were at a funeral. They were Hershey scratches. It was hilarious. They would have the last laugh, but for the moment, holy hell that was funny.
Anything goes.
It's not true that 'anything goes' at an AHL game, it just feels that way. Expect the unexpected. It took one game for me to understand why high scorer Alexander Giroux couldn't crack the NHL–a Texas fan at the glass had goaded him into mouthing off at her every chance he got. It's like dude be a professional. You're supposed to be above this.
Upward mobility.
Name another league where you can be hired into the league offices right out of college as an executive assistant and in three years be promoted to Director of Hockey Administrations. That's no disrespect to Melissa Caruso, just the opposite. Before her promotion she was a principle force behind creating the season schedule; a Herculean task in any league. People looking to land big jobs in the NHL's front office shouldn't overlook getting a start in the minors.
I can afford season tickets three rows from the glass.
I pay what amounts to $17 per game for a full season. In Dallas I would pay $60 per game.