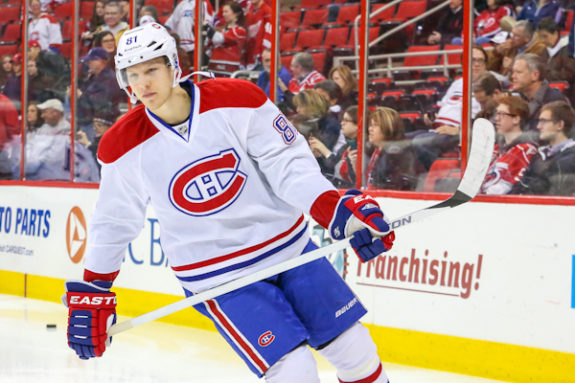 Universally panned at first, the Eller/Halak deal now looks like advantage Montreal
They traded Jaro for who?
Some guy named Lars Eller…              
Qui? Lars H-Eller? Never heard of him.
He's Danish.
I didn't even know they played hockey in Denmark.
Let's go back in time for a bit, shall we? It was the spring of 2010. Life was good. The weather was warm and hockey was still being played at Montreal's Bell Centre. And even after being eliminated by the Philadelphia Flyers in the Eastern Conference Final, Habs nation was basking in the glow of the unexpected playoff run, fuelled by sharp-shooter Michael Cammalleri and new savior Jaroslav "I'm going to save this with my tongue" Halak.
That spring saw the Canadiens knock off Alex Ovechkin and his number one seed Washington Capitals, overcoming a 3-1 series deficit in the process. Then they closed Sidney Crosby's old barn "The Igloo" for good, beating the Pittsburgh Penguins after being down 3-2 in that series.
Cammalleri and Halak were on a roll, yet both would never again recapture that glory in a Habs jersey. Both were eventually traded. Cammalleri? Well his end with the Canadiens was one for the ages – and we can revisit that some other time.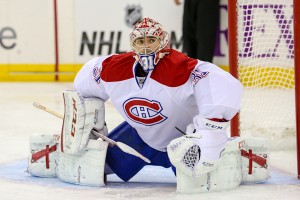 Halak's situation was entirely different. He earned the chance at being an NHL starting goalie and proved he could carry a team on his back. It's arguable that the Canadiens wouldn't have even made the playoffs if not for his strong play coming down the stretch.
But Carey Price came with the pedigree, the medals and the championships. And hockey experts agreed pretty much across the board that he would age like a fine wine and be the kind of goalie every NHL team covets. So it all came down to one key question – one that would have franchise ramifications for the Habs moving forward into the next decade:
Go with the guy who excels under pressure? Or go with the guy that hopefully will?
Carey Price is the Man
The Canadiens were in an enviable situation. Two young, viable starting goaltenders. It's the kind of problem the Philadelphia Flyers only wished they had. Yet both netminders were restricted free agents. Something had to give.
Now if you know me or my writing on the Montreal Canadiens, you know I've been a Carey Price supporter from day one. You know that although I loved rooting for Jaro and loved his can-do, team first attitude — I still always said "Carey Price is the man!"
History proved me right. Price carried the Habs on his back after his famous "Chill out!" comment the following season and hasn't looked back since. He may have had a few off nights this season, but he's nevertheless played his way into the conversation for the Vezina.
But most Habs fans didn't see it like this. That spring, they saw their playoff hero traded away to St. Louis for some no-name, lanky Danish forward named Lars Eller, along with right-winger Ian Schultz. Who cares if that Eller guy was a first round pick, 13th overall!? If he was so good, then why would St. Louis trade him?
Fans were irate. Then he shut out the Habs 3-0 in his return to Montreal!! Oh boy…
Halak made a solid first impression in his debut with the Blues in 2010-11, posting a 27-21-7 record with a 2.48 GAA. But in reality, that season started much better for him than it ended, putting enough doubt in the minds of St. Louis' brass to go out and sign journeyman goalie Brian Elliott for 2012.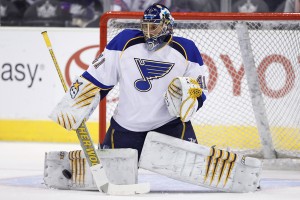 And the strategy worked. Halak thrived in the competitive crease situation – like he did in Montreal – and the two won the Jennings trophy last year. But Halak battled injuries by season's end and when the playoffs rolled around, Elliott suddenly started playing like the real Brian Elliott and the Blues were knocked out in the opening round.
And this year, both have struggled. Halak has been in and out of the lineup due to a wonky groin, posting an .881% save percentage, while Elliott hasn't been any better. Upstart rookie Jake Allen has taken over the starting job. For now at least.
Eller Helps Habs Nation Get Over Halak
So while Halak's future in St. Louis has become somewhat murky (he'll be UFA next season) that guy the Habs got, Lars Eller, has slowly turned himself into a solid two-way player, improving season over season much like Tomas Plekanec in his first few years. And all this within the pressure cooker that is the Montreal hockey scene. Even with all the disappointments of last year, there were a lot of encouraging signs in Eller's development and he provided fans with one of the season's few highlights, scoring 4 goals in a game against the Winnipeg Jets. He ended the year with 16 goals, a personal high that he should beat in the next full schedule.
Eller has shown a lot of determination, pride and maturity for a young man. He's the kind of player that new GM Marc Bergevin has to like, especially after the way he responded to Coach Therrien's kick to the rear earlier this season, famously saying in reference to sitting Eller "…there's no time to fool around." Eller re-entered the lineup with a sense of purpose and urgency and hasn't looked back, posting 15 points in 25 games this season.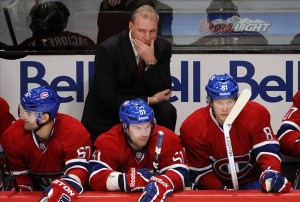 Eller benefited from playing under the guidance of Jacques Martin, improving his defensive zone coverage. But Therrien realizes now is the time for the "Great Dane" to take his game to the next level and has the ability to push the right buttons with his players (see Rene Bourque). Now that Eller's put on some mass, he's starting to gain more and more confidence in the offensive zone and using that large frame of his to win puck battles in the dirty areas.
Of course, Ian Schultz… ahem, may never make it doesn't seem to be exactly panning out. But with Lars Eller playing with more and more confidence, contributing offensively, playing strong in his zone and continuing to be hard on the puck, he may just be the league's best 3rd line center in the league. Meanwhile Jaro Halak sits in St. Louis, looking to rebuild his confidence.
Time will continue to tell which team ultimately did get the better deal, but one thing is for certain: Habs fans now know that some Danes can indeed play hockey.
Follow Ari Grief on Twitter: @HabsFanLeafLand