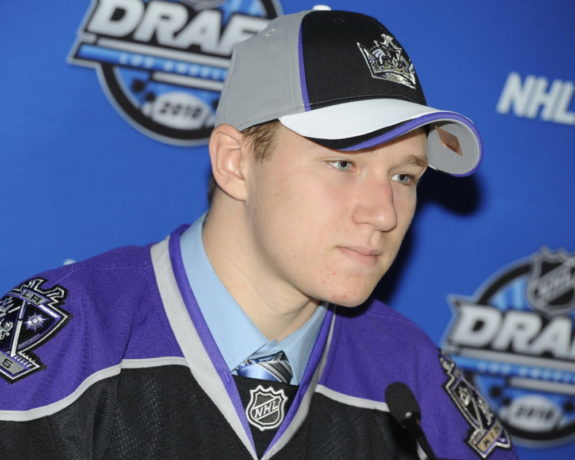 Thanks to the advent of social media, I've got a subject and title for my article this week.
A former classmate from high school posted a link on Facebook about top Kings' prospect Tyler Toffoli, who was called up from Manchester on March 8th. With the team facing ten games in a stretch of 17 days, adding forward depth in the wake of the Simon Gagne trade certainly makes sense. Her posted NHL.com link referencing General Manager Dean Lombardi's comparison of the 24-year old right winger to arguably the greatest left winger in NHL history was intriguing. So, it would seem, is Toffoli.
Robitaille/Toffoli Comparisons
Selected 47th overall in 2010, the 'young Luc Robitaille' was picked 124 slots sooner than Lucky Luc, who went in the 9th round of the 1984 entry draft. A right-handed shooter, he plays on the opposite wing from the former King and current Hall of Fame representative. However, there are a few legitimate threads of comparison, even at this early stage of Toffoli's career. They were both born in 'original six' hockey towns (Montreal and Toronto, respectively), and were 50+ goal scorers in the juniors ranks. According to sources, both are 6'1″, although Luc was 10-15 pounds heavier during his playing days. Both have had much of their success playing near the net. Perhaps the most striking comparison of all, and to put it gently: neither have ever been known for their skating prowess.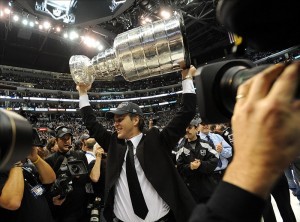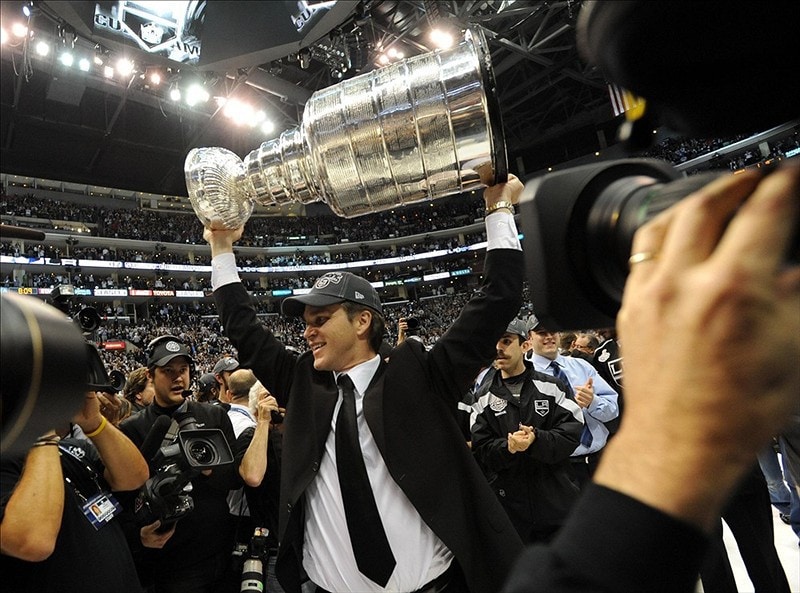 "I was warned by the scouts about Luc's skating," said former Kings' head coach Pat Quinn, discussing drafting him in 1984. "But with his marvelous intelligence for the game, skating never became a factor, even in the high-paced game of the 1980's. The puck seemed to follow him around and he seemed to know what to do with it." 668 goals and 1,394 points later, the Kings' prescience in drafting Robitaille will go down as one of the greatest late-round decisions in NHL history.
The Kings' Top Prospect's Strengths: Shooting and Scoring
Toffoli's story, of course, has yet to be written, but the skating issue is frequently brought up regarding his chances of success in the NHL. Naturally, he is well aware of the criticism. "I'm not the greatest skater," he admits, "but I have good edges and I'm kind of a tough guy to knock off the puck. I like to work hard and get a lot of points, just like any other player. I like to get into the areas where you can score."
Former director of the NHL Scouting Bureau E.J. McGuire agreed in 2010, stating that his game was "an equal mix of shooting and scoring ability, and the ability to dish the puck off to his teammates." At the time, he likened the young forward to Tim Connolley and Stephen Weiss, both whom reached the 60-point plateau in the NHL.
Sound familiar? Almost to a tee, the descriptions parallel those made about Luc Robitaille. Below is a quick profile of Toffoli:
After being a healthy scratch for his first three games, head coach Darryl Sutter has reportedly decided to dress the rookie forward for tonight's game against division-rival San Jose. Although unconfirmed as of this writing, it appears he will see time on the second line with veterans Mike Richards and Jeff Carter. Regarding his debut, Toffoli confessed, "Yeah, I'm excited. I'm nervous. There's a lot of mixed emotions right now, and I'm just really excited to get going, and we'll see how the game goes." When asked about his role, he said, "Just creating lots of offense, shooting, getting pucks to the net and just scoring goals and just trying to make plays and just [helping] the team put points on the board."
So far, Toffoli has been able to do just that at every level. After back-to-back 50+ goal seasons for the Ottawa 67's, he has potted 28 in 55 games for the AHL Manchester Monarchs — tied for 2nd in the league with the Texas Stars' Matt Fraser. Now, at the tender age of 20, he gets to play for the reigning Stanley Cup Champions on a line featuring two former NHL All Stars.
Maybe luck doesn't have that much to do with it, after all — for either Toffoli or his hoped-for archetype Luc Robitaille.