As one of the American Hockey League's more successful recent franchises appears ready to leave town, and as we approach the NHL trade deadline, I find myself questioning my status as an AHL fan.
It's a familiar theme for me. In fact, more than once.
Being a minor league sports fan … it's as though a girl smiled at you in the 10th grade and that smile launched a long relationship, and that smile profoundly changed your life and made you a happier person. But as the months and years pass, a part of you at times kinda wishes a little bit that maybe that smile never happened.
Because a guy who plays in college is a Gopher or a Redhawk or an Eagle for life. And a guy who plays Major Junior is a Blazer or a Bronco for life.
But a guy who plays in a minor league like the AHL is not supposed to be here for life. Nor does he want to be, nor does he imagine himself to be … and yet there we are, rooting for players that would leave us in a heartbeat if a better opportunity came up.
None of us would blame them if they did. This makes us minor league fans sound like doormats.
ROOT FOR THE TEAM, NOT THE PLAYERS
We've all heard this one. But while a team might be just a bunch of matching jerseys to some of the players, this is not the case to the fans. On top of that, teams sell personalities. And in the minor leagues, you are much more likely to meet and talk to the players, or run into them at the supermarket.
But even if you do root for the team, that likely won't end well.
FOR THE TEAM
Plenty of AHL fans hold their most visceral hatred for the Hershey Bears, and that's part of being a fan, but they should always remember that without a team like Hershey, a team that has a winning tradition and a team that has never relocated, this league wouldn't have what credibility it does have. AHL franchises switch cities and affiliations with shocking consistency: Whereas in NHL history there are 30 existing teams and an additional 19 defunct or relocated teams, the AHL has 30 existing teams and upwards of 90 defunct or relocated teams. The league is only 76 years old.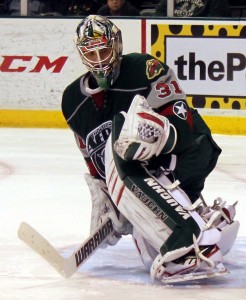 Houston is one of those active 30. It is the fourth largest city in the United States. It is a city of transplants, owing especially to the energy industry. It has a legacy of pro hockey dating back to Gordie Howe and the formation of the original Aeros of the WHA. The Aero name dropped out of sight when the WHA merged with the NHL, only to reappear in 1994 in the IHL. There, the team won a championship before coming over to the AHL in 2001, where they another championships shortly thereafter. They are among the top ten in attendance since at least 2005, and ranking as high as number five last season when they averaged over 7,300 fans per game.  Short of perennial big draws Hershey, Providence and Chicago, almost every AHL team would kill to draw crowds like that.
Their fans are hardcore. They know their hockey. Some of the team's current season ticket holders were WHA season ticket holders.
By all accounts a profitable and popular team, at season's end the Houston Aeros are said to be leaving for a location in the Midwest. One fan described it to me as "like having your heart ripped out."
The AHL's franchises move around so often that developing loyalty is dangerous. Encouraging it for financial gain is morally reprehensible.
FOR THE PLAYERS
This decision seems to make more sense. But the CBA that governs the AHL does not permit for AHL-only contracts to be for any longer than one year. Players signed by NHL teams and reassigned to their AHL affiliate tend to receive contracts for no longer than two years.
On top of that, an AHL player is looking for a potential path to the NHL, and is likely to sign with whichever team offers him the quickest route to the show. Take forward Matt Beaudoin: He is currently playing for his 11th AHL team in six seasons. He's landed a pair of two-way NHL contracts in that time. In one three season stretch, he went from Houston to Texas to San Antonio. My point isn't that Matt is a journeyman, it's that if he became your favorite player while in Houston, you could not have been thrilled that he would spend the next two seasons with your in-state rivals.
In Dallas so far this season we've seen 14 players called up, and first-career NHL points from Antoine Roussel, Brenden Dillon, Reilly Smith, and Matt Fraser (goals) and Colton Sceviour and Jamie Oleksiak (assists). Goalie Christopher Nilstorp has a win or two under his belt. Among the remaining roster, many have spent time with the Texas Stars, including Philip Larsen, Jordie Benn, Richard Bachman, Ryan Garbutt and Cody Eakin.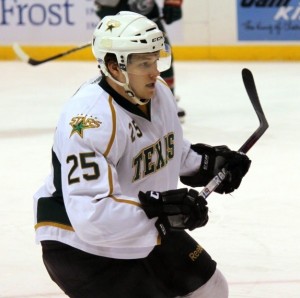 We watch them succeed and we feel pride. A sense of ownership. A ridiculous paternalism even.
It is hard not to, especially when a player like Brenden Dillon lands in Dallas and some of the NHL fans up there act like he fell from the sky or sprung from the head of Zeus. Those involved with hockey in Surrey, Seattle, or Cedar Park know otherwise. Those of us who witnessed his progress towards the NHL enjoy that special privilege of saying I knew him when … a conversation killer nearly as irrelevant as back in my day.
It's always a little sad to read posts by young Texas fans outraged over Dallas calling up this or that player. The fan hasn't realized that his favorite team functions with the true purpose of supplying the parent team. Its other purpose, generating income, is secondary and they are often independent of one another.
In one sense then we're lucky in the AHL because when Dallas calls a player up to the NHL, that player is rarely the player considered to be among the best players on the Texas Stars. Rather, it's generally a guy who fills a hole in the lineup. On the other hand, when Texas calls up a player from the ECHL's Idaho Steelheads, they pluck from the very top of the stats sheet. Richard Bachman, Mark Derlago, Kael Mouillierat and Justin Dowling are good examples.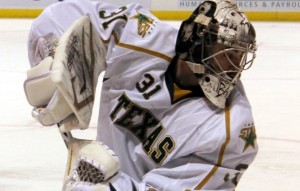 What many don't realize is that Idaho fans aren't necessarily Texas fans, just as Texas fans aren't necessarily Dallas fans. And by the way each robs the other on down the line, it's no wonder.
I wish I could change my allegiances but I can't. If loyalties were so easily swapped, believe me I would no longer be a fan of that merciless purple franchise of heartbreaking disappointments, the Minnesota Vikings. But I am, and every year they find a new way to let me down.
Following an AHL team means navigating your loyalty between minor league hockey's version of Scylla and Charybdis, the players or the team. Neither is wholly satisfying and each has its pitfalls. But the minor league fan endures because we can still watch good hockey without being reminded again and again that what we're seeing is more business than sport. We can look at the bench and see players who still have dreams of bigger things.
Despite everything, minor league hockey games still feel remote. Off the beaten path. And the teams have a timeless quality, found in the endless and ever-unpredictable prospect pool.
No, the hockey's not as good as it is in the NHL. It's not supposed to be.
And no, players aren't Texas Stars for life. But they're not supposed to be.