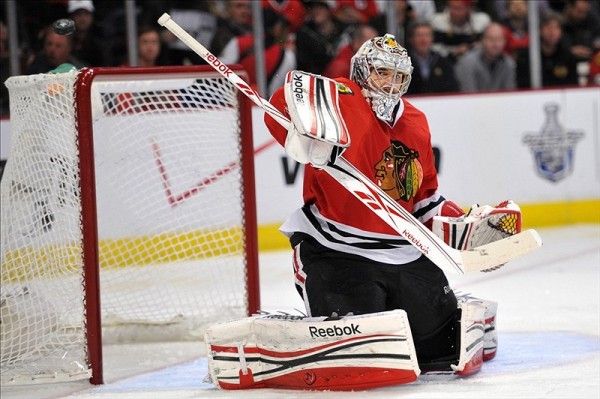 At the midway point of a remarkable run, the Chicago Blackhawks are still undefeated. Of course, this means nothing at the end of the day, as you do not get to rise the Stanley Cup over your head for winning regular season games. But impressive? Absolutely. And no matter where the rest of the season takes the Hawks, one thing is for sure, they will occupy the record books for quite some time.
I never liked many of my teachers in high school but after taking the time to compile my team mid-season report card, I definitely respect them! It certainly was not easy and you could probably argue that the entire team deserves an A but in reality there are always passengers on a train moving as fast as this one. So let's cut to the chase and get started. (Stats are GP-G-A)
THE FORWARDS
Patrick Kane                                                       B
Patrick has raised his game this season coming off two subpar offensive campaigns and rededicated himself to conditioning over the summer. The only thing holding me back from giving him the A (if you believe in hockey sabermetrics) is his -16.4 relative corsi rating. (24-12-15)
Jonathan Toews                                              A+
What has the captain not done for this club? Ultra serious night in and night out, you get the feeling that attitude is downright contagious in the Chicago locker room. In contrast to Kane, 14.8 relative corsi rating. (24-10-11)
Marian Hossa                                                   B+
Hossa played in his 1000th game last week and despite missing Wednesday's streak lengthening win over Colorado has provided secondary scoring at an impressive pace. Much better defensively than people give him credit for. (23-10-8)
Patrick Sharp                                                   B
Sharp was just starting to heat up before being derailed by a serious shoulder injury (more on that below) and was a fixture on Kane's wing. Do it all type winger and assistant captain. (24-5-13)
Viktor Stalberg                                                 B
Stalberg is one of the reasons the Hawks are at the top of the NHL mountain right now. Players like him are needed to supplement the top stars and provide quality minutes. Great on the backcheck. (24-6-7)
Bryan Bickell                                                    B-
Effective third line grinder, digs pucks out on the forecheck effectively and plays the body (leads team with 56 hits). Would be on pace for career offensive highs in 82 game season. (24-5-7)
Andrew Shaw                                                   B
What a pleasant surprise Shaw has turned into, playing his first full season as a Hawk after an impressive run last season over 37 games. Quality at both ends of the rink. Never a huge scorer at minor leavel. (24-6-4)
Marcus Kruger                                                 C
Swedish born Kruger needs to do a lot more with his small stature to be noticed. With slim offensive totals and a .452 faceoff percentage, he needs to be better in a supporting role, even with limited ice time. (24-3-6)
Dave Bolland                                                    B-
This grade is held back a little due to the fact Bolland just returned to the lineup after a two week absence. Putting up career pace numbers playing on a line with Kane and Sharp. (18-5-4)
Brandon Saad                                                  C+
Always a tough call with rookies like Saad. Inconsistency will abound and you really have to wait for them to mature into their game. At 21, he is in his first full professional season after a brief 2 game tryout last season. Playing with Toews will only help the 21 year old mature properly. (23-4-5)
Michael Frolik                                                  D-
Has outright disappointed since arriving in Chicago from the Florida Panthers. Averaging 18 goals per season in the Sunshine state, he has managed only 9 goals total in 3 years on the Hawks. (22-1-2)
Jamal Mayers, Daniel Carcillo, Brandon Bollig receive the incomplete grades.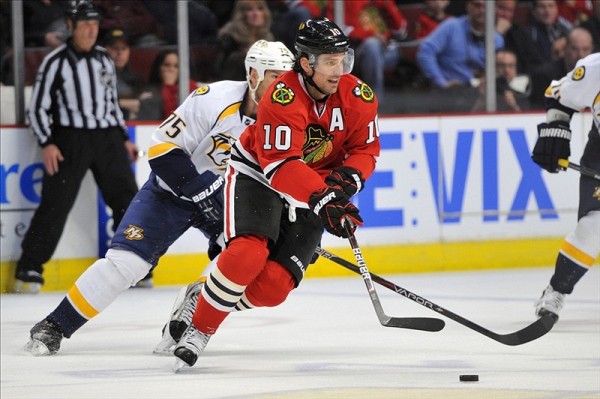 THE DEFENSE
Duncan Keith                                                   A
Leads team in average ice time at 23:43 and has the speed and transition skills to keep the puck out of the Chicago defensive zone. A threat on the power play. (24-1-11)
Brent Seabrook                                                B+
Brent has raised his offensive game each of the past two seasons and this year setting that bar even higher. A heavy hitter with a deceptive shot, he is second on team in hits with 50. (23-3-7)
Johnny Oduya                                                 B
What an acquisition by Stan Bowman, picking up the 31 year old in a trade with the Winnipeg Jets. While it did cost them a 2nd and 3rd round draft pick, he has become a valuable puck mover and consistent in his own end. (24-0-8)
Nick Leddy                                                       B-
The up and coming 22 year old defenseman comes off a career high 37 points last season and is on a similar pace. He is bookmarked to be the future of the Hawks blueline for years to come and potential future assistant captain. (24-2-6)
Niklas Hjalmarsson                                           B-
Not spectacular in any way, but an outstanding fluid skater who is rarely beaten on the rush. Only knock would be to develop his offensive game further. (24-1-4)
Michal Rosival gets the incomplete but playing exceptional and has added 7 helpers.
THE GOALTENDING
Corey Crawford                                               A+
What can you say that has not already been mentioned about the career year Crawford is having. Sure the defense gets credit for blocking shots, keeping shot totals down and clearing the slot but he has been there every time to make a clutch save when needed most.
Ray Emery                                                       A+
When Crawford went down with an upper body injury, Emery stepped in and has been perfect… literally, figuratively and statistically. Incredible that the team did not miss a beat losing their number 1 keeper for almost two weeks. His excellent play will allow Crawford to be rested for the playoffs.
INJURY NEWS
Sharp's shoulder injury has turned out to be slightly worse than originally feared. Coach Joel Quenneville initially thought he might be without his assistant captain 2-3 weeks has been informed it is going to be more like 3-5. The AC joint is severely separated. Silver lining is, with such a huge lead in the standings and the playoffs pretty much locked up at this point, he can take his time and be 100% for the postseason.
Marian Hossa and Andrew Shaw both made the trip to Colorado for Friday night's rematch and are expected to be in the lineup. Expect to see Corey Crawford in goal for the Hawks against Semyon Varlamov for the Avalanche.