It's not often that you see a 22-year old rookie defenceman lead an NHL team in time on ice over the course of a game.
It's especially rare when that defenceman is not only not a high-profile young prospect, but was also never drafted.
Yet that exact scenario occurred on Sunday evening when rookie defenceman Brenden Dillon of the Dallas Stars played a team-high 23:49, finishing with a +2 rating, in his team's 4-3 loss to the Calgary Flames.
As strange as it may seem, Dillon's career-high time on ice against the Flames comes as no surprise to anyone that's been closely following the constantly upwards-trending trajectory of Dallas' diamond in the rough blueliner.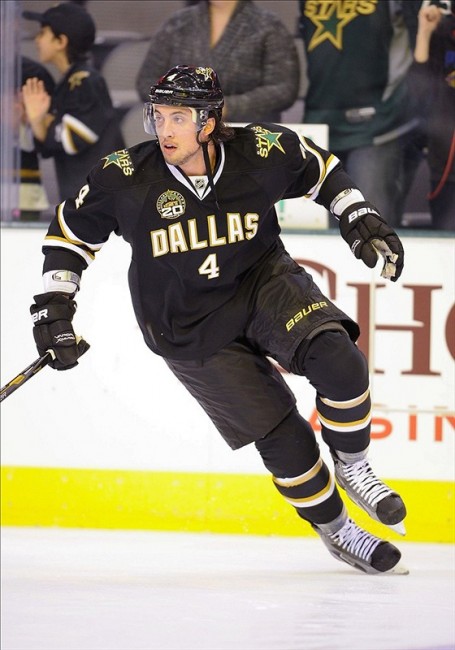 Despite going undrafted in his eligible years, Dillon signed an entry level contract with the Stars in March of 2011, while playing as an overage player for the WHL's Seattle Thunderbirds, and hasn't looked back, vaulting to the upper echelon of Dallas' steadily improving collection of prospects.
After a strong professional rookie season with the AHL's Texas Stars last year and another impressive half season in the AHL this year due to the lockout, Dillon is rapidly showing that he is not only ready to play at the NHL level, but to excel there. After starting the season on Dallas' bottom defensive pairing he has recently found chemistry with veteran Stephane Robidas on Dallas' top pairing and hasn't looked out of place; through 16 games so far this season he has three goals, one assist, a +4 rating and an average of 19:07 time on ice, some of the best numbers out of all of Dallas' defencemen.
Dillon went undrafted in the 2009 NHL entry draft, but is currently playing a larger professional role than any defencemen drafted in the second round or later from that year, making it likely that the other 29 NHL teams that aren't the Stars are kicking themselves for not picking him up first. He is currently tied for second among all rookie defencemen in plus-minus, and is fifth in time on ice. But with Dallas' struggles in their own end this season outside of their top pairing, combined with Dillon's increasingly impressive play, it's looking likely that he will be given more opportunities to shine as the season progresses and solidify his place among this year's cream of the rookie crop.
The highlight of Dillon's career so far came against the Vancouver Canucks on February 15, when the Surrey, British Columbia native scored the game-winning goal late in the third period, in front of his friends and family and against the team he grew up cheering for.
Combining an older man's strength, deceptive speed, and wiser-than-his-years hockey sense at both ends of the ice, Dillon offers a very  compelling, well-rounded package of attributes. If he can continue to perform at this high of a level playing on Dallas' top pairing it strongly suggests that the Stars could currently be developing an anchor for their long-term future.
Still, despite his abrupt and unexpected rise to the NHL, he's not taking anything for granted, and remains dedicated to his driven, hardworking mentality that got him out of the WHL and into the pros.
"It's still something that's in the back of the head every day," he said, as quoted in this recent article by Dallas Stars writer Mark Stepneski. "It makes you want to work and makes you want to prove to people why I am here, why I want to stay here and be there."