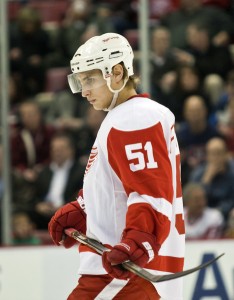 The Detroit Red Wings are searching high and low for a tier 1 defensemen. They want a guy that can eat up big minutes on the ice and ease the loss of guys like Lidstrom, Stuart, and Rafalski. That kind of player won't come cheap, and the Red Wings will have to offer a lot in return. Detroit has an overabundance of forwards, but not all are trade-able or highly valuable. The best trade-bait Detroit seems to have is Valtteri Filppula.
Why The Red Wings Will Trade Filppula
Detroit is overly deep at forward, so that's the asset that they are likely to move. But, teams are not going to demand just any old forward in exchange for an elite defensemen, AKA they won't settle for unproven prospects or small-value bottom-sixers.
The only high-value NHL proven forwards, without no-trade clauses in their contracts, that the Red Wings have are Zetterberg, Filppula, Franzen, and Helm.
Zetterberg, the new captain, is not going anywhere. Helm, who is the face of Detroit's bottom-six, is also not likely to be moved. And most teams are unlikely to be willing to take on Franzen's massive contract that goes until 2020 and takes him to the age of 40.
That leaves Filppula.
Filppula is also the only one of that bunch who will become a UFA this summer. A summer in which the wings will also need to re-sign and give raises to Howard, Smith, White, Nyquist, Lashoff, and possibly others. Filppula may just simply be the odd-man-out.
Filppula is also the type of player that the Red Wings already have an abundance of.
He's a natural center and a top-six playmaker. Yet, the Red Wings already have two of those in their top-six in Datsyuk and Zetterberg. And Datsyuk and Zetterberg are quite a bit better than Filppula. What the Red Wings do need is more top-six capable power forwards like Franzen, and top-six capable snipers like Brunner. So Filppula may be the odd-man-out in that regard as well.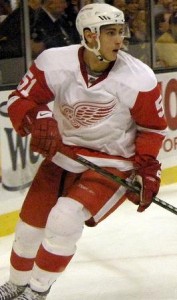 Why The Red Wings Won't Trade Filppula
Simply put, It's not the Red Wings style. Detroit likes to hang onto their talent that they've drafted and developed. And unlike guys the Red Wings have let walk, like Jiri Hudler, Filppula seems to epitomize a modern day Red Wings forward.
Filppula is disciplined, poised, plays a fantastic two-way game, and plays that puck-possession style through passing and puck control that the Red Wings love.
He's the kind of hard-working and classy player that any team would kill to have. So it would not be surprising if the Red Wings elect to keep him.
What the Red Wings would probably rather do is trade away their high draft picks, along with a few bottom-sixers to clear roster spots. It just depends on how many high draft picks the Red Wings are willing to move. Quincey, an average defensemen that the Red Wings already have enough of, cost them a first-round pick last year. If Detroit decide's to move multiple high-round picks for big player it could severely hurt them down the road in years to come.
Think Filppula will or will not be traded? Think someone else will be traded? Let us know below.