It's a shame the 2012 off-season will forever be overshadowed by a labor dispute.
High profile free-agent signings like Zach Parise, Ryan Suter, and Alex Semin along with blockbuster trades including players such as Rick Nash, Jordan Staal, and James van Riemsdyk are eclipsed by memories of hockey related revenue, "make-whole", player pensions, and the forever repeating image of Gary Bettman riding an escalator.
Now, with the lockout a distant memory, and players fitting snugly into their new jerseys, it's time to finally celebrate the off-season that was.
Here's a look at the top 10 off-season acquisitions from the summer of 2012.
10. Brandon Prust (MTL) – Signed as free agent on July 1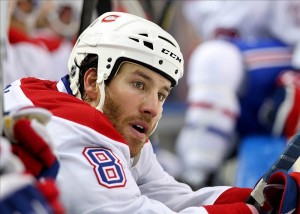 It's no secret why the Habs aggressively pursued Brandon Prust in July. His proven track record of high energy, gritty play and fearless shot-blocking was exactly what the Canadiens lacked through a disappointing 2011-12 campaign. To this point in the 2013 season, Prust has provided all of that and more. He leads the team in +/- with a plus-13 and PIMS (unsurprisingly) with 81. More importantly however, Prust seems to be at the center of culture change in Montreal, one that emphasizes hard work and character, which has resulted in a 15-5-4 start and the Canadiens sitting atop the Eastern Conference.
9. Zach Parise (MIN) – Signed as free agent on July 4
Well all know the story. Zach Parise and Ryan Suter shock the hockey world by signing identical 13-year, 98 million dollar deals with the Wild that had fans absolutely drooling over the thought of what Parise could accomplish playing alongside Mikko Koivu and Dany Heatley.
Early on Parise did not disappoint, opening the season with 9 points in 5 games. Since then he's been hot and cold, and so have the Wild, but more importantly, Parise seems to be settling into a leadership role and becoming much more comfortable in his new digs. His 15 points in 22 games this season isn't anything to rave about just yet, but it's the experience he brings as a proven leader and role model for young players that the Wild will truly benefit from long term.
8. Jordan Staal (CAR) – Acquired via trade at 2012 draft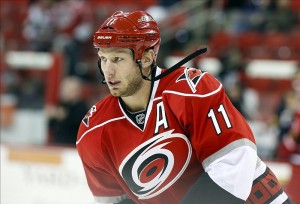 While the Penguins trading their long-time 3rd line center could be seen as a surprise, his inevitable destination was anything but. Landing in Carolina, Jordan joined his brother Eric with the Hurricanes, and midway through this condensed season, the move seems to have paid off for both.
With 17 points in 23 games, Jordan sits 4th in team scoring and his addition seems to have jump-started Eric, a notorious slow starter, who's exploded early for 28 points in 23 games.
While he was heralded in Pittsburgh primarily for this outstanding two-way defensive play, the Hurricanes currently sit atop the Southeast due in large part to the added scoring depth Jordan Staal has provided.
7. Jiri Hudler (CGY) – Signed as free agent on July 2
When Jiri Hudler signed his 4 year, 16 million dollar deal with the Flames this off-season, there were certainly some eyebrows raised. Not because people felt Hudler was overpaid, he was coming off a 25 goal, 50 point season, but because the Flames, who already had one of the highest payrolls in the NHL, decided to spend another 16 million dollars on what many considered a 2nd or 3rd line player.
However, Hudler has proved to be much more valuable than that, producing 16 points in 18 games and leading the team in assists with 12 despite missing the first 3 games of the year.
6. P.A. Parenteau (COL) – Signed as free agent on July 1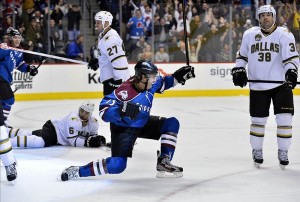 The moment Parenteau signed with the Avalanche this off-season, the question on the tip of everyone's tongue was of course: Can he produce without Tavares?
The answer seems to be an emphatic, yes.
Parenteau has earned every dollar of his 4-year, 16 million dollar deal to this point with the Avs, amassing 9 goals and 11 assists in 22 games.  He's averaging over 19 minutes a game and is tied for the team lead in takeaways. Furthermore, he seems to have found immediate chemistry with Matt Duchene and could produce a solid scoring duo with the young center with years to come.
5. Rick Nash (NYR) – Acquired via trade on July 23
Despite missing 4 games this season with a dreaded "undisclosed injury," Rick Nash leads the New York Rangers in goals, assists, points, and plus/minus. He's also been on an absolute tear lately, amassing an 8 game point streak including 4 straight multi-point games.
While the Rangers surely can't be happy with where they currently sit in the Eastern Conference, there is little question among fans who the best player on this team is, and Rick Nash is doing everything he can to get this team back on track.
4. Viktor Fasth (ANA) – Signed as free agent on May 21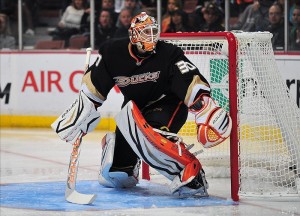 After back-to-back successful seasons in the Swedish Elite League, including a .934 save percentage in 46 games in 2011-12, Viktor Fasth signed a 1-year, 1-way, 1 million dollar deal with the Ducks.
This season, Fasth has become just the 3rd goalie all time to win his first 8 or more career starts and the first Duck to accomplish this feat. At home, Fasth has been perfect, winning all 4 of his starts and amassing a .947 save percentage with a microscopic 1.22 goals against.
The Ducks owe a lot of their success this season to Fasth who filled in for a struggling Jonas Hiller early in the year and gave Anaheim a chance to win night in and night out.
3. Jame van Riemsdyk (TOR) – Acquired via trade at 2012 draft
After a disappointing, injury plagued 2011-12 season with the Flyers, James van Riemsdyk was traded to the Leafs in exchange for Luke Schenn last summer. Almost immediately opportunity came knocking for the young winger after Joffrey Lupul suffered a broken forearm early in the year and JVR was promptly promoted to the Leafs' top line alongside Phil Kessel.
To say he's made the most of his opportunity would be an understatement. van Riemsdyk currently leads the Leafs in goals with 13 and is 3rd on the team in total points with 19 in just 25 games. Considering JVR had just 11 goals in 43 games last season with Flyers, it's safe to say he's enjoying his time in Toronto so far.
2. Alex Semin (CAR) – Signed as a free agent July 26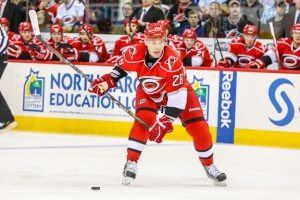 Carolina makes their second appearance on the list with their signing of Alex Semin this off-season.
Heads were definitely turned when the Hurricanes decided to throw 7 million dollars at Semin on a 1 year deal after a disappointing previous season (by his standards) which included questions of his commitment and work ethic from former teammate, Matt Bradley. 
However, Semin has responded impressively this year with 23 points in 23 games, good for 2nd on the team, and is also tied for 1st on the Canes in the plus/minus category at +17. Perhaps the most surprising stat? 17 of 23 points for the infamous "selfish" Semin are assists.
1. Mike Ribeiro (WSH) – Acquired via trade at 2012 draft
What can you say about Mike Ribeiro's start with the Capitals?
On a team with star players like Ovechkin, Backstrom, and Green, Ribeiro has easily been the Caps most lethal offensive weapon and overall most consistent player thus far.
With 28 points in just 23 games, Ribeiro finds himself not only atop Washington in terms of scoring but in the top 10 league-wide.
The names surrounding him on the list? Eric Staal, John Tavares, Patrick Kane…you get the idea.
Honorable Mentions
Dennis Wideman (CGY), Ryan Suter (MIN), Justin Schultz (EDM), Marc Methot (OTT)
Follow Anton on Twitter: @antontibaldi