Starting on Tuesday, the Flyers embarked on what many appropriately called the biggest week of the year. For being such a big week, thus far the Flyers have come up very small.
After starting out playing well in both games this week against the New York Rangers and Pittsburgh Penguins, collapses in the second half of the game cost the Flyers dearly both times and they walked out of the wreckage with 0 points combined in both games. Every time the Flyers string together a win or two, people think they finally have it figured out and they'll go on a winning streak. After all, it's the same team that embarrassed Pittsburgh in the playoffs last year, right? Wrong.
For as much flack as Matt Carle took in the city of Philadelphia, it's increasingly obvious now how important Carle was to the Flyers. But the team still has a ton of young talent. Why are they playing this inconsistent?
Claude Giroux has been playing better of late. Jakub Voracek has been tremendous, a star blooming before our eyes. Ilya Bryzgalov has not been bad in any sense. He hasn't been spectacular but he's done a good job. Wayne Simmonds is having a great year and Brayden Schenn has been solid as well. If all those things are going right, what is going wrong?
The Flyers recent downs pose many questions. Is it a talent issue? Is it a coaching issue? Is it an issue with injuries? It's a little bit of everything and the Flyers have a lot of problems right now. But should we be overly surprised about how things are going?
During training camp I predicted that the Flyers would not be a playoff team. If they did make the playoffs I figured it would be due to outscoring teams. And by outscoring teams I wasn't saying that Ilya Bryzgalov would be bad. I assumed the defense had some big holes, which now looks to be the case.
Those holes are now gaping, and the early-season injury of Andrej Meszaros to an already thin defense is proving that. Nick Grossmann has been a hard-nosed good defenseman for the Flyers but even he has had a handful of games this year where he's had to leave early.
The Flyers put all of their eggs in Shea Weber's basket last offseason. Since the middle of last year team management, scouts and writers alike repeatedly pointed out the need for the Flyers to add defense. With Chris Pronger's career all but over, the Flyers will now have to again search for the ever elusive top notch defenseman.
By putting all of the eggs in the baskets of 3 players (which was widely reported at the time), the Flyers pretty much forfeited other possible opportunities to make the team better through free agency or trade. The Flyers stood by waiting for answers while other teams were finalizing signings.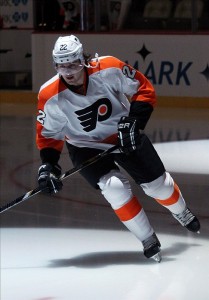 Luke Schenn is a nice defenseman, but he absolutely cannot make up for what the Flyers have lost these last few years in terms of team defense. And the Flyers gave up a great offensive talent in James van Riemsdyk to acquire him.
With the cap going down to $64.3 million next season, it will be even tougher for the Flyers to make the improvements they have to make and stay under the cap. There's either a salary clearing trade or buyout(s) coming this offseason, no doubt.
Will the Flyers still find a way into the playoffs? Will they get on a roll? The season is more than half over so if they want to have any chance, they'll really need to get some points on this tough swing and ASAP. They are in Boston to play the Bruins Saturday and then right back home to play Buffalo on Sunday night. Next week they have 2 with the New Jersey Devils. This week may be the Flyers last chance to get the ball rolling into the right direction before the hole becomes just too big for the Flyers to climb out of in the abbreviated season.
As national journalists have already begun talking about possible offseason acquisitions for Philadelphia, can the Flyers discover the Rocky spirit and start climbing tomorrow? Can they do it with all of the injuries and key defensive issues? The clock is ticking for them to prove an increasing number of skeptics wrong.
Justin Johnson is a Senior Correspondent and has been covering the Philadelphia Flyers for The Hockey Writers since the 2008-09 season. Justin has covered all levels of hockey across the United States and Canada. Justin is a graduate of Rider University in Lawrenceville, NJ and currently resides in Southern New Jersey.