is THW's prospect and draft analyst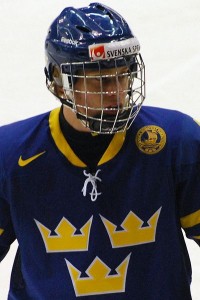 As I summed up in my preliminary 2011 Draft Rankings before the puck dropped in the regular season:
Is it ever too early to think about the NHL's next entry draft?

Many shots will be taken. Many saves will be made. Many hits will be dished out. Many battles for loose pucks will be fought. Many passes will be delivered. Many savvy puck moves will be executed. Many coach tirades will fall on deaf ears.

All before the 2011 NHL Entry Draft takes place on June 24-25 in St. Paul, Minnesota. Once again, I love the dates – the 24th and 25th representing hockey's version of Christmas!
Today's article embarks on my first mock draft of the season – Holiday Edition. The first-round results are revealed in this article, with the second round to follow.
Notes:
At this point in the season, the mock is, for the most part, based upon teams taking best player available (BPA).
Draft order is based on the NHL standings as of the morning of Dec. 17. Standings and thus team drafting positions will obviously fluctuate on a day-to-day basis from here on end.
Shots From The Slot is a brief rationale for each selection.
The table is "sortable" – that is, if you click on any of the headings it will sort them.
The table is also searchable (top right hand corner of table).
Just under the title, you can click "Show" and change the quantity you show on one page or you can simply click on the bottom right-hand corner of table to scroll through the rankings.
[table id=28 /]
* Boston received Toronto's 2011 First-Round Pick, 2010 First- and Second-Round Picks for Phil Kessel
Follow The Hockey Spy on Twitter as I infiltrate, dissect and analyze happenings of hockey prospects and the NHL entry draft.
This document is the intellectual property of Christopher Ralph and cannot be used or duplicated in any way without expressed written consent. Any use of this document without the expressed written consent of Christopher Ralph will result in public exposure and legal prosecution.