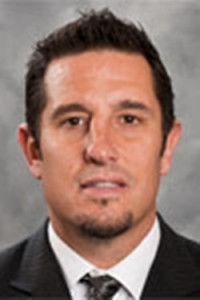 Columbus, OH
     His NHL career spanned 12 years and included 630 games played, 15-57-72 and 1449 PIM. He's gone toe to toe with some of the best players in the league and was involved in the notorious line brawls between the Buffalo Sabres/Philadelphia Flyers in both 1996 and 1997. It's no wonder that Bob Boughner earned the nickname "The Boogieman".
     He was drafted in the 1989 Entry Draft by the Detroit Red Wings. He never saw playing time wearing the winged wheel, as Detroit has been historically deep. It wasn't until the 95/96 season, after a trade to Buffalo, did he finally make it to the big league. He had a fearless style of play that, although small for an "enforcer", he used to gain respect around the NHL.
     In addition to Buffalo, he also played for the Nashville Predators, Pittsburgh Penguins, Calgary Flames, Carolina Hurricanes and Colorado Avalanche. While with the Flames, he wore the "C" on his jersey and had the "A" on his Penguins sweater. He also served as the Executive Vice-President of the NHLPA from 2003-2006.  He retired from Colorado in 2006.
     I recently had the chance to talk with him. He's an easy-going guy with an underlying intensity and passion for the game of hockey.
     You were born and raised in Windsor, ONT and drafted by the Red Wings. Was it a disappointment not being able to play for them?
     At the time, for sure it was. If I could pick any team back then as a kid, Detroit was the dream. I grew up watching them and cheering for them. You know, it was difficult. When I first got into the organization I had a couple of shoulder surgeries. It really set me back a good year and a half to two years. I think when I was decent enough (and healthy) to get a crack at the line-up, they already had a lot of guys back then. That was the year that Nicklas Lidstrom (91-92) came over, so they took the spots right away. That was fine. I had a great relationship with the organization and still do. It's something I'll always remember, being a draft pick of the Detroit Red Wings.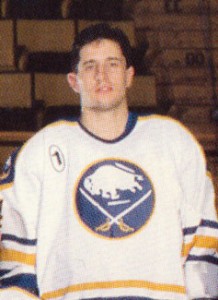 You've worn both the "C" and the "A" on your sweaters during your career. Are you a natural leader?
     I think I was always one of those guys that would stick up for a teammate on the ice or in the dressing room. Also, be a vocal guy in the dressing room. That's the way I got myself ready to play. I had some great guys that I learned from. I think that's what made me into a guy who could wear a letter on his shirt. Early on in my career there was Pat LaFontaine in Buffalo. Later, I played with Mario Lemieux in Pittsburgh and guys like that. Those guys really commanded a lot of respect and weren't afraid to say what was on their minds.
     You played with Dan Hinote (CBJ asst. coach) in Colorado. Was it a good feeling when you got the call from Columbus, knowing you'd be working with him again?
     Yes, it was a great feeling. I've known Danny (Hinote) for a long time. What he brings to the room every day. I think he's a perfect mix for this team being the guy between the head coach (Scott Arniel) and the players. That's what made him such a good guy as a player, a character guy. He was always a great guy in the dressing room. They brought us in to help out with the young guys and make this a fun place to come to play. But, also a place where you still have to be accountable. It's a process and I think that's why they brought guys like Danny and myself in.
     You've played against a few of the guys in Columbus (Nash, Klesla, etc.). What's it like to now be their coach?
     I was teammates with Chris Clark, too, in Calgary. I found that to be the weirdest adjustment for me when I first came in. The guys have been great because they understand my role here. I can still relate to them on a personal level as a friend. But, they understand that I have a job to do to get this team better. Whether they're ex-teammates or guys I played against, I think they respect the fact that I went back and coached for the last four years. I did my mentoring down there (Windsor Spitfires) and then came in here to help make a difference.
     Was it a tough decision to leave being the coach for the Windsor Spitfires to come to Columbus?
     I won't lie, it was a tough decision. The tough part wasn't about coming here and being a coach in the NHL. That was the best part about it. I always wanted to be a coach in the NHL. Hopefully one day, if I get a head coaching job, this is going to make me a better coach. The difficult part was leaving what I had back there (Windsor). I have a very high interest in what's going on there. It's a major business for me. (Ed. – Boughner is part owner of the Windsor Spitfires) Not a day goes by where I'm not on the phone, or sending/reading e-mail or talking with someone back there and trying to run it long-distance. The family thing was obviously difficult, too. My kids are all under the age of 14 and I've got four of them. That was tough. If you have a good support system and you have a good staff back home, and you have a chance to do what I'm doing here, it can work. I don't think the situation would have worked if this was 7 or 8 hours away from my hometown. But being 3 1/2? It made it a real benefit for me.
     You work with the defensemen and the power play. What can be done to get it clicking along at a better rate?
     I definitely think that the only thing we can do is to keep experimenting and working at it every day. We need to keep poring over video and seeing what we can change. That part's a given. We'll work at it every day until we get better. Having "Juice" (Kristian Huselius) out, he's a great half-wall guy and power play guy. So, that's hurt us a bit. Just getting everybody on the same page. It's not going to happen overnight. We're going to have to kind of creep our way back up there. I'm not a big fan of being tops in the league (PP). I'm more concerned with having the power play make a difference at the right time. I just want the PP to get out there and have pressure and create chances and eventually they will find a way in. (Ed. – This interview was conducted while Huselius was still on IR)
      Given the history of this team, did you look at this as a positive situation or more of a "what did I get myself into"?
     You know what? I did the same thing with my team back home. We were young and sort of miserable for a couple of years. I think that's part of the challenge. I think it's great for all of our coaching careers if we can get this team where it needs to be and making it a playoff contender. I've always liked the city of Columbus. I've seen it when the building (Nationwide Arena) is at 18,ooo people and how exciting it is in here. It's a great city and I know that there's just some true hockey fans here that we've lost. On the business side of things, it's exciting if we can turn this thing around and fill this building up again. At the same time, we want to help these guys. There's a lot of good people in this room and within the organization. It's just a matter of breaking through that threshold and hopefully we're a big part of that.
     What's the biggest change you've seen in this club from pre-season to now?
     I think the chemistry of the team is a heck of a lot better. We had some guys that didn't play together at the beginning of the year. Going over to Sweden was a good team bonding trip. This team seems a lot "tighter". I think that the guys are buying into the system a little more. They're trusting the system a little more. And they're understanding their roles. At the beginniing of the year, I think some of them didn't know where they fit or what line they would be playing on. Could they adjust to a more aggressive system, things like that. I think it's all coming together. When you go through a bad stretch, that's when you see the real character of the team. There's some things happening behind the scenes that I was impressed with; how the guys dealt with adversity. I've heard in the past that some guys might have dealt with it a little differently. But, guys stood up and held each other accountable. They know they have to get better and that's a positive sign.
     As a former defenseman, give me your thoughts on Kris Russell and Marc Methot.
     The game has changed a lot since I played. It's all about skating and passing; getting out of your end clean. That's what Russ (Kris Russell) does. He's not the biggest of guys but, he competes and he really cares; he a character kid. So, you put all of those things together and you know he's got a bright future. He's a big part of this team. Guys this young (Russell is 23) take time. Some guys take until they're 25 to become an all-around defenseman. You can see that he's got the potential to be a real workhorse and one of the better defensemen in the league. That's exciting for him.
     Methot is a guy I knew a little bit from back in junior hockey. He graduated before I took the team over, but I watched him play. I came to camp and, honestly, everybody's talking about him being a 6/7 guy last year. Right off the bat, I was one of the guys watching the intra-squad drills and said "this guy here might be our best defenseman". He's another guy who can skate and that's huge in the new NHL. It's skating, it's moving pucks. He's a pretty confident guy right now and you can see that when he's moving pucks up the ice. That's exciting having two guys who can really move pucks. Those are guys that you can play major minutes.
     Both Russell and Methot seemed to have blossomed under this system. Why is that?
     I think it's a credit to Arny (Scott Arniel) and his system. I think we've taken the harness off of them. We want them to jump up in plays and we encourage that. Don't just rim the puck around the boards, but take an extra look. We don't want to be a team that just slaps pucks around and dumps and chases. We want to be a puck-control team. A team that's really aggressive when we don't have the puck. And also, being a team that comes in waves at you.
     Did you think you would be a coach on the NHL level before the age of 40? (Boughner is 39)
     Probably not while I was playing, no. The last couple of years I'd given it a lot of thought. The thing for me was, do I wait in junior and try and interview for a head coaching job. Or, do I go here (Columbus) and learn the trade and learn the league again. So, being under the age of 40 I think it's good that I had the situation back in Windsor to learn how to coach. It's not easy. Being here is obviously an honor. I think it's a great organization that has given me a chance to be a coach at this level. Hopefully I can give back and be part of their success.
     Head coach Scott Arniel let's you and the other coaches basically run the practices. Is this refreshing?
     It is. You wouldn't want to get into a situation that is just "pushing pucks" and being a background guy. Before games and after games, we have meetings and we voice our opinions. We put practices together. We do a ton of video for special teams meetings. We run our own meetings. For him to delegate like that shows a lot of trust. You know, I think Arny was an assistant coach in Bufflao for four years. He learned under Lindy (Ruff). I think once you've been an assistant coach and now you're a head coach, you learn how to get a coaching staff identity. It has to be a strong identity. It can't just be one guy, with three guys pulling up the rear. He let's us be a part of the day-today decision making. It's nice to be able to work in this environment.