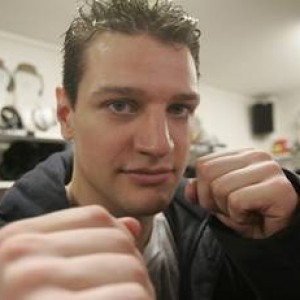 By Rick Gethin
You'd never guess that Dan Hinote is an NHL assistant coach with the Columbus Blue Jackets. He has the exuberance of a 20 year old and a perpetual smile plastered on his face. With just one look, you can tell that he's really happy to be here.
He was born in Florida and raised in Minnesota. After accepting an appointment to the United States Military Academy, he played two years at West Point before being drafted by the Colorado Avalanche 167th overall in the 1996 NHL Entry Draft. He made his NHL debut in the 99/00 season, playing 27 games for Colorado. He won a Stanley Cup while with the Avalanche in the 00/01 season.
During the NHL lockout in 04/05, he played for Modo Hockey in the Swedish Elitserien. He signed a three year deal with the St. Louis Blues in 2006. The 09/10 season saw him back playing with Modo before retiring in the spring of 2010. Shortly after that, the whirlwind began that saw him land on the coaching staff of the Blue Jackets.
Coach Dan Hinote has a quiet humility about him and his humor is self-deprecating. This he attributes to his upbringing. All in all, he is the epitome of a hockey player; a genuinely nice guy. We sat down on the home team bench inside Nationwide Arena for this conversation.
What made you decide to leave West Point? Was playing in the NHL the ultimate dream?
It was always in the back of my mind (playing in the NHL). Obviously, you don't go to West Point to make it to the pros. Once Colorado contacted me and said it's a possibility (being drafted), I discussed it with my parents. Ultimately we decided that I can always go back to school, no matter how old you are. But the window of opportunity for hockey is pretty small. It's one of those things that you look back on later in life that you wished you would have. So, we didn't want to take that chance. So we opted to try the hockey route.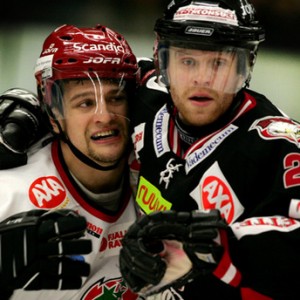 Do you have any regrets about leaving West Point?
Absolutely not. I was very lucky to get drafted and to be noticed. I had experiences that I could never trade.
You were known more for your penalty killing and defensive skills. Is that a fair assessment?
(Laughing) Well, it certainly wasn't for my offensive skills. That's kind of what happens when you don't have any skill. Mine was an energy role and defensive style. You know, 3rd/4th line and penalty kill, that kind of stuff. That's kind of what my role is here, as well (in Columbus).
How special was winning the Stanley Cup with the Colorado Avalanche in 2001?
Yeah, you know, it's one of those things. It was my first full year in the league, too. It was a team full of Hall of Fame guys and great leaders. Just an all-around great group of people. It's something that you'll obviously never forget. And you never forget the guys that you do it with. For it to happen at an early stage of my career was very fortunate. I'll carry that experience with me for the rest of my life.
What prompted you to go back to Modo after being released from your tryout with San Jose in 2009?
(Peter) Forsberg called me. I was contemplating going over to Europe to play. He told me he was going to make a comeback and that (Markus) Naslund was going to come back. I played with both of those guys during the lockout. I was good friends with Peter from our Colorado days. It was an easy decision once he said that they were going to do that. Not to mention that the town is great and the people are great.
When you made the decision to retire, did you know then that you wanted to be a coach?
You know what? It was always in the back of my head. As far as pursuing it and doing all the right steps, I hadn't really thought about it yet. The way I look at it is when you're a 3rd and 4th line guy and an older guy in that role, you're already a coach. Your last few years of your career, you're just as important as a coach as far as what you bring to the team and into the locker room. The attention to detail and all of the things that go into coaching I was not aware of until I became part of theis staff. It's been a great learning experience for me.
Did you think it would happen this fast, coaching on the NHL level?
No! I've been extremely lucky here with this organization and this group of coaches. It certainly wasn't in my mind to happen that way.
Take us through the timeline from retirement to being hired as an assistant coach.
Chris MacFarland (Assistant GM, Columbus) called me. He asked me to fly in and do some interviews for the assistant coaching job in the minors. That was sometime in May. Then it was six or seven hours of interviews. By the end of June, Coach Arniel called me to offer me the job. It was a couple of months after I knew I was done with hockey that I got the job.
What do you think of the city of Columbus?
I love it! It's very similar to me as Minnesota. It has a Midwest feel to it. It's a big city but has a small-town feel to it. Everybody is really nice and "blue collar", and that's right up my alley. Growing up in Minnesota and playing in St. Louis and now here; they're all pretty similar environments. I love the city and I love the people here.
At this point, head coach Scott Arniel walked by and started busting Hinote's "chops" for doing this interview on the home team bench of Nationwide Arena. (Hinote to Arniel) "It's the pre-game show. You know, what system we're going to use…"
What is your role or specialty as an assistant coach in Columbus?
You know, helping out with the "grinder/energy" guys. And then the penalty kill, I help out with that. I'm the "eye in the sky", so I keep track of scoring chances, momentum and any kind of systems change that they (opposing teams) use. So I radio back and forth with (assistant coach) Bob Boughner. And then it's just try and keep the guys upbeat and happy. Basically I try to bring some energy to the organization.
Where does your perpetual smile come from?
My parents were very happy people. Whether we had money or no money, they always had great attitudes. They instilled that in my sister and me. You know, it's just that I've been really lucky my whole life. I have no reason not to be smiling. I'm just a happy guy.
Are you seeing/feeling that 'special' something that the guys on the team seem to be feeling about this season?
Yeah, you know I've seen that since day one. It's no big surprise to me because I played against half of these guys two years ago. You realize, looking at them and playing against them, that they have the capabilities to compete every night with everybody. We knew from the beginning of the summer that we had a good team. To me, I love it when I read that we're ranked 28th or 30th. I love that because I know that the guys have a lot of pride in that room. I know we do as a coaching staff. And we love nothing better than to prove people wrong and show that we are a legitimate team. If it gives us a little bit of an edge, ever, then we'll take it. If it means that we're underdogs going into every game, then that's perfect.
Rick Gethin was an Associate Editor of TheHockeyWriters.com.