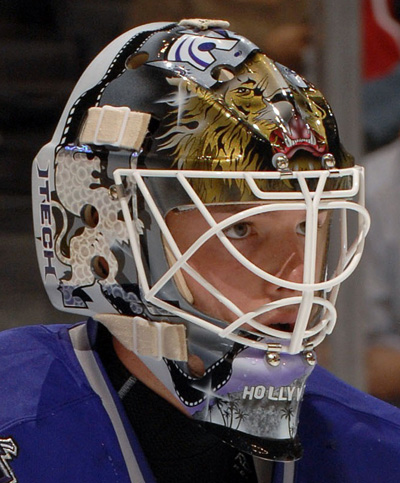 LOS ANGELES — After a brilliant year in the American Hockey League, goaltender Jonathan Bernier had a spot on the Los Angeles Kings' 2010-11 roster locked up as soon as the 2009-10 season ended.
Indeed, the Kings' first round pick (11th overall) in the 2006 National Hockey League Entry Draft is in the midst of the biggest challenge of his hockey career, not to earn a roster spot, but to be a backup goaltender for the first time in his career, and although he has started just two games so far this season, it is apparent that he still has some growing up to do in terms of becoming a full-fledged NHL netminder.
After three outstanding seasons with the Lewiston MAINEiacs of the Quebec Major Junior Hockey League, Bernier made the Kings roster out of training camp in the 2007-08 season. But the franchise was just starting the first true rebuilding effort in their history, and what they had for a defense in front of Bernier had so many holes, it made swiss cheese look solid.
The 5-11, 186-pound native of Laval, Quebec played in four games, earning a 1-3-0 record with a 4.03 goals-against average (GAA) and a .864 save percentage—bad numbers for any NHL goaltender. But they were more reflective of the awful team in front of him, and to prevent him from getting shell-shocked, Kings President/General Manager Dean Lombardi decided to send Bernier back to Lewiston to finish the season.
Bernier was not happy about the move, and it showed in his play.
"It was tough for me because I thought I was able to play at [the NHL] level, so as soon as I got sent down, for me, it was the timing," Bernier explained in an interview with Frozen Royalty in July, 2008. "For the first week, it was kind of hard. I was always fast on the play."
"I think the biggest thing was mental," Bernier elaborated. "I was so down that I didn't make it. Then everything just comes into it…the bus rides, the food. [In Los Angeles], the guys have their wives so they're more mature…It just made it harder."
A phone call from Lombardi got the young netminder back on track.
"Remember, he went down back to junior, pouted for awhile and everything else," Lombardi explained. "Even this year, when we called up [Jonathan] Quick, [Bernier] did not work hard in practice. He thought this was going to be an easy ride to the NHL."
"Dean talked to me and said, 'if you want to play [with the Kings], you've got to play up,'" said Bernier. "That just woke me up and I started playing good, and I think it was the right time because two days after I went to the World Juniors and made the team."
But with his final season in junior hockey and a taste of life in the NHL under his belt, that summer, Bernier went into the Kings' annual Development Camp with a chip on his shoulder.
When asked how he would feel if the Kings decided to send him to the minors rather than expose him to another season of horrible play in front of him at the NHL level, Bernier, in no uncertain terms, said that he would be very upset if he was sent down even if he performed well.
"I'll be mad, really mad," said the brash, young netminder. who apparently felt a sense of entitlement after being a first round draft pick.
"[Bernier has] always been one of the top goaltenders in Canada his whole life," said Lombardi. "It's all been fairly easy because he's so talented and he thought he would go right to the Kings. When it didn't happen, he didn't want to work hard."
"One of the biggest complaints we had was, 'you're not coming up here until you learn to work hard in practice,'" added Lombardi. "He didn't do it. When we called up Quick, he kind of went the other way on us. We actually called up [goalie prospect] Danny Taylor. We played him in Manchester."
To his credit, Bernier began to turn things around late in 2008-09, and that carried over into the 2009-10 season when he lit up the AHL, earning a 30-21-6 record, a 2.03 GAA, a .936 save percentage, and nine shutouts in 58 regular season games.
Bernier, who also played in 16 playoff games, going 10-6 with a 1.81 GAA, and a .939 save percentage, leading the Monarchs to the Eastern Conference Finals, was also named as the winner of the 2010 Aldege "Baz" Bastien Award, honoring the AHL's best goaltender.
"Monarchs head coach [Mark Morris] told me that when [Bernier got to Manchester], he looked [Morris] right in the eye and said, 'I don't need to hear one thing. I know what I'm going to do and I've got to do it," Lombardi said in an interview with Frozen Royalty in February, 2010.
"We don't need to have any of these talks where we're saying 'c'mon Jon…we need you to do this.' He's just taken right off," Lombardi added.
Indeed, Bernier did a lot of growing up last season.
"I'm so proud of him, said Lombardi. "Like I told him when I was down there, I called him in and he was really good the night I was there, you're doing everything we asked, I'm so proud of you. Just keep it going and finish off your training. So good for him."
"They have to become men as well as athletes," added Lombardi.
Bernier admitted that he had to grow up.
"I learned a lot from last year," Bernier said in an interview with Frozen Royalty in March, 2010. "I think I was just being a baby. I was complaining a lot, I didn't want to work hard."
"I went through a lot of things last year that made me grow," Bernier added. "I just feel more ready than I was at nineteen. I learned the game a different way, too, and I think it really helped my game. [I have] a different mindset, a different attitude."
The added maturity has helped Bernier make the Kings roster this year, but he has been inconsistent in his two starts, earning a 1-1-0 record, a 2.50 GAA and a stellar .918 save percentage.
Looking at that save percentage alone, one might ask, "what's wrong with that?"
On the surface, that number shows Bernier has not been a bad goaltender in the two starts. However, in his second start, a 4-3 win over the Carolina Hurricanes on October 20 at Staples Center in Los Angeles, Bernier looked anything but confident to start the game, allowing two goals off rush chances in which he could not be blamed for, coming off outnumbered attacks or off the rush from close range. Nevertheless, he looked shaky and unsure of himself in both instances.
"The first [period] was all the [chances coming] off the rush," said Bernier. "I didn't really get the feel of the game."
Bernier admitted to feeling rusty.
"I discovered that when you don't play a lot, it's kind of hard to get a rhythm," he explained. "[But] I felt way better in the third. I felt comfortable on the ice. But in the first and second, I've got to make sure I feel ready."
"It was my first game [in which] I felt that way," he elaborated. "My first [start this season] at Calgary, I felt pretty good the whole game. Tonight, it was pretty hard in the first and second. I have to make an adjustment there to find a way to be comfortable right away."
For the first time in his career, Bernier is not the number one goalie for his team, and is facing situations he has never had to deal with before as the backup.
"It's my first time being a backup, so I've got to find a way," he said. "It may take time. I've got to find something. I think the big thing that I've got to adjust here this year is going to be feeling comfortable right off the bat."
After a shaky first and second periods, he gathered himself during the second intermission against the Hurricanes and looked like a completely different goaltender in the third period, helping lead the Kings to a win.
"He's was good at the end," said Kings head coach Terry Murray. "He was very good. There was a lot of action around the net. They put a lot of pucks to the net in the third period."
"He had good focus," added Murray. "Pucks were coming from the blue line with traffic, and he makes it look easy at times. He's standing there with composure, catching the puck, not going down at any time. That's very contagious [on] the bench and to the players on the ice, seeing that calm, controlled attitude about his game."
"I was seeing the puck really good in the third," said Bernier. In the first and second, I was kind of battling. I was late on plays, and my reads weren't as great as I wanted [them to be]."
Life as a backup goaltender and being prepared to play in any game, regardless of how much time has passed between games, is something the 22-year-old must learn quickly.
"[Bernier has to] figure it out," said Murray. "You can never come back to me at the end of the game and say, 'I felt a little rusty.' Work at your game in practice. Put that kind of game focus and work ethic into practice so that you're prepared for your opportunity when the game is there."
"You have to figure it out as a player," added Murray. "As a professional athlete, you go through the process. You're going to get a lot of coaching, there will be system and structure put in place. But there comes a time when there's enough of that and you have to go play, and you have to play an instinctive game. It just clicks at times, and you do figure it out."
Murray stressed that this is all part of the learning process for a young goaltender.
"I think Jonathan Bernier figured it out last year in the American [Hockey] League," Murray noted. "He had an unbelievable year with his work ethic. The bottom line was tremendous for him, but now it's the next level. It takes a little bit of time."
"That's a learned skill. I think that all goaltenders go through that process as young goaltenders. If you continually bring attention to it from me, from [Kings goaltending coach Bill] Ranford, it's something [he'll] learn and he'll be better the next time."