The Central Division will be one of the better divisions in hockey this season, and it was pointed out on Twitter last night that all five teams in the Central have ten points; while ten teams in the Eastern Conference are yet to reach the ten-point mark. Knowing that they are in for a battle all year long, St. Louis Blues fans can rejoice in the fact that Jaroslav Halak has arrived as advertised, named by the NHL as the 2nd Star of the Week.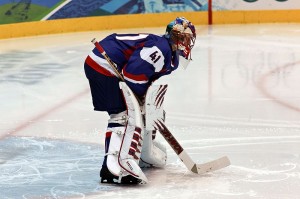 After a magical run through the Eastern Conference playoffs last season, Halak went home and waited for his phone to ring with a contract offer from the Montreal Canadiens. Surprisingly, that call never came; instead, he received the news that he was off to St. Louis via trade. Montreal sent Halak to the Blues in exchange for prospects Lars Eller and Ian Schultz. While Eller looks to earn a roster spot in Montreal, there was never any doubt about Halak's role in the St. Louis organization – number one goaltender. They quickly signed him to a four-year contract.
With six games in the books for Halak in a Blues uniform, he is 4-1-1 with a 1.81 GAA and a .929 save percentage; he has actually improved on his numbers from last season's playoffs. In earning 2nd Star honours, he posted a 2-0-1 record, with a 1.62 GAA, a .944 save percentage and his first shutout in a Blues uniform. Even more staggering then his playoff numbers from last season, are his numbers on home ice at the Scottrade Center this season: 4-0-0, with a 0.99 GAA and .960 save percentage. Halak has arrived in St. Louis and yes folks, the 25-year-old from Bratislava, Slovakia is the real deal.
His numbers this year are consistent with his career totals, which makes the trade for unproven prospects even stranger. While he was a restricted free agent heading into the summer, Montreal could have held on to their playoff hero, waiting for the July 1 free agent frenzy to subside and then trading Halak for a proven top-six forward. They could have also held on to Halak for a month or two as a bargaining tool while negotiating with Carey Price. Montreal fans were outraged by the trade, but I don't think anyone in St. Louis is complaining…
Halak was always the "second choice" in Montreal, in spite of the fact that the ninth round selection (271st overall) in the 2003 draft has outplayed every number one goaltender in front of him. At the 2010 Olympics in Vancouver, he brought his game to a new level, and once the playoffs began, a hero was born for a new generation of Montreal Canadiens fans accustomed to Hall of Fame calibre players. Only in Montreal would over 5,000 fans line up for an autograph signing with a player that had been traded away. Fans of the Bleu, Blanc, et Rouge, lamented the fact that their new hero was now just a Bleu in St. Louis.
The season is young and it is important to remember one important fact about Halak – he has never played more then 45 NHL games in a season. How will he react to the workload of 60-65 games? It is not a knock on the young net minder, simply an observation – he has never been given the job of franchise saviour until this season (although he had the title unofficially in Montreal last year).
As THW's Jim Neveau pointed out in his Western Conference predictions, for the Blues to reach the playoffs they must improve their home record; it appears that Halak is ready for that challenge.
Andrew Rodger is an independent sports columnist and member of the Canadian Association of Journalists. Along with operating The Voice of Sport, he covers the Ottawa Senators and writes the "Ask the Alumni" series here at The Hockey Writers. He is the resident writer for the NHL Alumni Association and a contributor on CBC News Now.