Although Sergei Gonchar has only played nine games in an Ottawa Senators uniform that did not stop hockey fans in Canada's capital from celebrating a career milestone for the native of Chelyabinsk, Russia – 1,000 NHL games. Honoured before last night's 5-2 victory over the Phoenix Coyotes, Gonchar was joined by his wife and two children for a pre-game ceremony.
After a short video of Gonchar's career played on the scoreboard, Senators captain Daniel Alfredsson presented his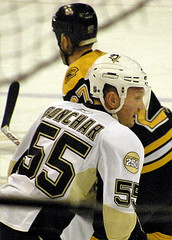 teammate with a silver stick to commemorate the occasion. NHL executive Jim Gregory presented Gonchar with the league's Milestone Award and Senators GM Bryan Murray, along with team President Cyril Leeder, presented Gonchar with a portrait by Canadian artist Tony Harris. While it was a short ceremony, the Senators may consider having these more often; the team had one of their best starts of the season, which included a franchise record, two goals scored just nine seconds apart mid-way through the first period.
A first round selection of the Washington Capitals (14th overall) in the 1992 draft, Gonchar has played with the Washington Capitals, Boston Bruins, Pittsburgh Penguins (winning the Stanley Cup in 2009), and now Ottawa. The five-time all-star made his NHL debut on February 7, 1995. He is the fifth player to celebrate their 1,000th NHL game in a Senators uniform. In his 1,000 NHL games, Gonchar has 202 goals and 487 assists. Signed to a three-year deal this summer, he has five assists this season. Perhaps the main reason Ottawa signed the Russian defenceman is the fact that 92 of his goals have been power play markers.
"After the game I felt great, but at the beginning, there were so many things going through my mind, all the teams that I played for," Gonchar said after his 1,000th game. "It's a big achievement, not that many guys have done it. It's a big thing for me, but I never really thought about it that much, there was a game and my focus was on the game; that's why I am happy the team won."
Adding to the celebrations, Alex Kovalev finally found his way onto the scoreboard with two goals to help power the offence. His play has improved in the past two games and he was rewarded for his efforts.
"Finally, the luck has turned around and started going my way," Kovalev said of his three-point night. "It was definitely nice to get a couple of goals and most importantly win the game for Sergei."
Kovalev is the next Ottawa player to reach a career milestone; his three points brought his career total to 994, six away from joining Alfredsson in the 1,000-point club.
It was interesting to note that the fans voiced their displeasure with the team's slow start – GM Bryan Murray heard a few boos when he was introduced at the pre-game ceremony. It was also mentioned on the broadcast that many league GMs and scouts attended last nights game; is a move imminent? Not likely… Team 990 radio host, Tony Marinaro pointed out on his Montreal radio show that the same thing occurred in Montreal. It was simply because the Coyotes were on a rare trip into these two Eastern Conference cities.
Next up for the Senators – the Florida Panthers are in town on Thursday evening, followed by a Saturday night match-up against the Boston Bruins.