Rod Brind'Amour retired from the NHL after the 2009-10 season, but make no mistake about it, his love for the game is still as passionate and dedicated as it was when he was a kid in the rink getting in some 6 AM ice time back in the 80's. Rod had an outstanding career overall, and he had a tremendous stint of hockey with the Philadelphia Flyers during his years in Philly from 1991-2000. When Rod was moved to Carolina in 2000 in exchange for center Keith Primeau, many Flyers fans were upset. Rod was always a fan favorite in Philadelphia and a guy who was known for his top notch efforts and giving 100% night after night.
Hurricanes Trade
After a sensational start to Rod's hockey career in St. Louis and Philadelphia, he was traded during the 1999-2000 season. It turned out to be a very even trade for both teams. It was well known that Keith Primeau did not want to be part of the Carolina Hurricanes at the time, and the Flyers felt it was the right thing to do to make a move for their team. The Carolina Hurricanes got a proven playmaker, two-way forward and team guy in Brind'Amour, while the Flyers got a big tough two-way center with good hands who could put the puck in the net in Keith Primeau. Both men would eventually become the captain of their respective teams, and it was about as even of a trade as you can get on paper. For a while, it looked as though the Flyers may have gotten the best of the deal.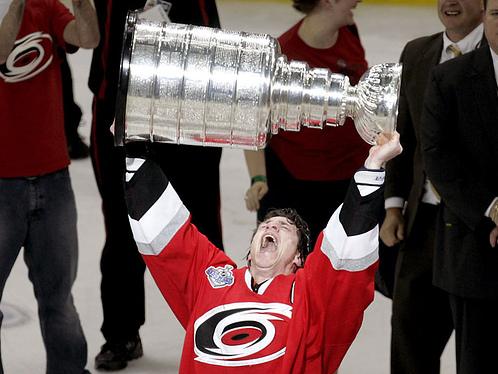 Back then, Carolina was untested and did not have such a strong base. Nobody knew how it would end up for Rod. Brind'Amour struggled with some injuries in the years leading up to the lockout as well as chemistry issues on a young team, while Primeau was the captain of a team that left it's heart on the ice falling 1 game short of the Cup Finals in 2004. During the 2005-06 season, everything changed. Rod Brind'Amour came back with a vengeance. The lockout had ended, and Brind'Amour, then 35 years old, looked more determined than ever to bounce back. He knew he couldn't play forever and being the leader that he always was, he wanted to bring a Stanley Cup to Carolina in the worst way. What ensued was the season of a lifetime for Rod.
Jersey Retirement in Carolina
While Rod retired after last season, the Hurricanes plan to honor him with a night that all of us in the hockey world know he deserves. Rod's #17 will be retired high up into the rafters at the RBC Center in Raleigh, North Carolina on February 18, 2011. We recently had a chance to catch up with Rod Brind'Amour and see how the post playing life is going, and ask him a few questions about his playing days and his special night which is coming up in February. Thanks to Steve Johnson for chipping in on this piece to make it happen. Most of all, we'd like to thank Rod Brind'Amour for taking time out of his busy schedule to chat with us for a couple of minutes.
Q: Congratulations on a great career in the NHL. What is your current role with the Carolina Hurricanes and how are you enjoying it so far?
Rod: I'm enjoying my current role. I'm involved in Hockey Development, mostly working with younger players in Charlotte, the minor league AHL affiliate [of the Carolina Hurricanes], the Charlotte Checkers.
During the Hurricanes magical Finals run in 2006, Brind'Amour preceded the playoffs with a very strong regular season scoring 70 points in 78 games, leading the team to the Southeast division title. Brind'Amour also won the Selke Trophy for the best defensive forward in 2005-06. The bigger stat has to be that Brind'Amour scored 12 goals and had 18 points in the 25 playoff games to help lead the 'Canes to their Cup victory. Rod was back to his old ways after age 35, and that was a good thing. Rod was able to play with some youngsters like Eric Staal and Cam Ward who had come in and made a huge impact right away, as well as some veterans like Glen Wesley, Mark Recchi, and Doug Weight on the Cup run.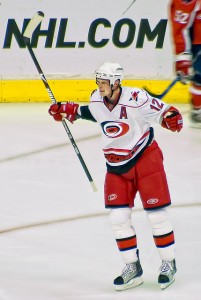 Rod showed a unique ability to be able to mediate with both the veteran players and younger players. Eric Staal has said several times that Rod played a big part in helping him along the way with his leadership skills and preparing him for the captaincy. When Rod struggled through a number of injury issues in the last year or two and the torch was passed, neither player was hostile. "It's an opportunity for me to learn this year with Rod obviously being here this year, helping me along the way," Staal said at the time. Rod is a consummate pro and had the respect of everyone.
Recchi and Weight were acquired near the trade deadline to add some veteran depth to a very young team. Anyone who has played or coached Rod always has something positive to say about him. "Rod's just a class act and a guy you love to coach," former Hurricanes head coach Peter Laviolette told me last year shortly after he arrived in Philadelphia. "He was a tremendous leader for our team." When I asked him about the magical 2006 Stanley Cup run, Brind'Amour was quick to mention how special it was to win with the other veterans and deflect credit. That's just the kind of guy Rod Brind'Amour has always been. A good guy and a class act.
Q: How rewarding was it to win the Stanley Cup in 2006 after all the years of hard work you put in?
Rod: There's nothing better than to win at the end of my career with a lot of older players who had put in a lot of hard work and sacrifice. It was very special.
Q. Who was your favorite player growing up and who did you enjoy watching?
Rod: My favorite player was Guy Lafleur. Then, it has to be Wayne Gretzky.
I know many Flyers fans who still ask me about Rod Brind'Amour all the time. I kid you not. They always love to talk about Rod. Over 10 years after Rod left the Flyers you can still see the fans eyes light up every time his name is mentioned. He had a special bond with the city during his tenure in Phiadelphia, and he made a strong impression. He was a Philadelphia type player. He was tough on the ice and he was a true "orange and black" player with his gritty efforts. We asked Rod a couple of questions relating to the Flyers at the end, as well as current Flyers (and former Hurricanes) head coach Peter Laviolette.
Q. Peter Laviolette is obviously a guy you are familiar with and who has had success in Carolina, and now in Philadelphia. What can you say of Peter Laviolette as a coach?
Rod: Peter is a great coach who brought the best out of us. He knows how to bring a team together and make them play for each other and he's been very successful.
Q. Hundreds if not thousands of Flyers fans will be taking the trip to Carolina to see your special night in February.  How does that make you feel and how do you look back at your time in Philadelphia?
Rod:  Philly fans are tremendous. That's very flattering. Players are lucky to have the opportunity to play for such passionate fans. I loved my time in Philadelphia.
It will sure be a special night on February 18th when Rod's number 17 will be retired and he will live on in NHL history forever as the captain of a great Stanley Cup team. I know almost every Flyers fan was pulling for Rod in that Cup Finals series against Edmonton and many were overjoyed to see Rod hoist the Cup after all his hard work, dedication, and leadership. It all paid off. Rod has a Stanley Cup ring he earned during a spectacular hockey career, a new job in hockey development, and a place in history that will be acknowledged in Raleigh on February 18th. Many old and new friends will come together to celebrate that night with Rod and his family. Orange and Black, and Red and White. And the fans and management of the two teams will come together to applaud a great guy and a great hockey player on a great career.
Justin Johnson is a Senior Correspondent and has been covering the Philadelphia Flyers for The Hockey Writers since the 2008-09 season. Justin has covered all levels of hockey across the United States and Canada. Justin is a graduate of Rider University in Lawrenceville, NJ and currently resides in Southern New Jersey.