We have reached the 20 game mark of the 2010-11 season, so time for our first review of Columbus Blue Jackets hockey for the season.
Confounding virtually all of the preseason prognostications (except those of yours truly and my THW compatriot, Rick Gethin — who each projected a fifth place finish in the West), the Blue Jackets are posting some positively gaudy numbers at the 20 game mark.  Fourteen wins, six losses.  A virtual tie for first place in the Western Conference. An 8-1 road record, including a first-ever three game sweep of California.   A goalie tandem with four shutouts and otherwise solid play.  A five-game winning streak.  Rick Nash tied for the No. 4 slot in goals.  Rostislav Klesla, Marc Methot and R.J. Umberger in the top 20 in +/- rating.  The club ranks third in the league in goals against per game, 15th in goals scored — flirting with the 3.00 goal per game plateau for the first time in club history this far in the season.  A top ten penalty kill.  The list goes on and on.
To be sure, there are some negatives.  Four blowout losses (two to Colorado, one each to Calgary and Chicago) appeared ominous at the time, but their long-term relevance is slowly fading as the team matures.  Kristian Huselius remains out with a high ankle sprain, adversely impacting the power play and providing less margin for injury on the front line corps.  A series of nicks and nagging injuries are being handled now, but always pose a risk down the road.  Nonetheless, the balance sheet is tipped squarely toward the positive side at this point, and though nothing is assured, there is more objective cause for optimism than pessimism, to be sure.
Of course, the major change to the organization between last season and now is the wholesale replacement of the coaching staff, led by head coach Scott Arniel.  I had the chance to sit down with Arniel on Tuesday after practice (and before the Islanders game) to discuss his thoughts at this point in his NHL head coaching career.
I first asked Arniel to provide one word to describe his first season behind an NHL bench as the head coach:
"Exciting . . .definitely exciting. I knew that everything was going to be a challenge. I knew that there ere going to be ups and downs and sleepless nights, but it's been exciting.  Every day, coming to the rink, you're trying to match up against the best coaches in the world, the best players in the world.  To me, it's exciting coming to the rink every day.  It's fun and it's everything I expected it to be."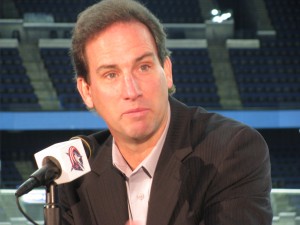 Asked to characterize the level of play thus far, Arniel emphasized the "puck possession" style he has brought to Columbus:
"I really like the way we have picked it up here, the first 18 or 19 games.  I think a lot of it comes from the fact that we spend a lot of zone time in the opposition's end.  We don't spend a lot of time in our end, and we try to be as quick as possible to close on people and take away space.  . .  It's not one-on-one hockey, it one plus one . . .it's our first guy getting there and our second guy sitting right there to help him.  It frustrates the offensive guy, because there's no room to work.  Everybody has bought into that."
One aspect of the coaching change that has become apparent during the course of games is the level of interaction on the bench.  While the bench was a relatively static place under Ken Hitchcock, with most of the communication going in one direction, the coaches and players under Arniel appear much more highly engaged as the game progresses.  Arniel says that is by design:
"I always want the feedback.  All my coaches are very personable guys.  We're discussing it with them [the players] and they're discussing it with us.  It's interaction that's great for growth, great for camaraderie and bonding.  I just think it helps us establish team identity.  I think it keeps them engaged in the game itself.   There's more times that guys are asking us stuff or are telling us what they see.  There are good players here who have been in the league for a long time, and they see certain things happen and suggest adjustments, so it's a good give and take on the bench."
Part of the criticism of last year's squad involve perceived problems in the locker room (whether real or imagined), with some positing that a lack of veteran leadership was responsible, others asserting that players simply quit on coach Hitchcock.  I asked Arneil what he and his staff thought about the character of the room thus far:
"We've been working to get them to recognize their jobs and what they bring to the table.  This team is closer than we thought, and they do stick together and really do care about each other.  It's not the most vocal room, but we are really starting to see people mature, especially over the past two weeks.  So-called "younger players", with three or four years in the league, are starting to feel more comfortable out there.  They know they have to put their best foot forward not to let down the guy beside them."
Arniel appears to be providing a much needed blend of skills to the coaching position in Columbus.  While he is obviously intelligent, and clearly relishes the "X's" and "O's" of the game, his strategizing comes across as immensely practical, rather than theoretical.   This is a trait he shares with his assistants, all of whom have substantial NHL experience.  This lends credibility with the players, and blends well with his people skills.  The players obviously like and respect Arniel, who is able to deftly provide freedom or dole out needed criticism, as the situation may warrant.  His handling of Mike Commodore, Kris Russel and Nikita Filatov this season has proven deft, and he bristles at "conventional wisdom."  His reluctance to share starting goalie designations and to admittedly use his "gut" in deciding who to start or who to use in a shootout are stamps of individualism, but lack the quirky attributes that Claude Noel brought to such decisions last year.
One way to get Arniel to furrow his brow a bit is to suggest that the Blue Jackets are somehow prisoners of the past.  As the season has progressed, the spectre of the past is continually invoked in the media and elsewhere, and Arniel is not hesitant to show impatience with that line of thinking:
"I've heard about Detroit. I've heard about never winning out west.  I've heard about Nashville, I've heard about St. Louis – – – I've heard about everybody.  You know what?  To me, it's a mindset a lot of the time.  If  you are sitting off of Detroit while you're playing them, they're going to do what they do best and will embarrass you.  But if you go out there, respect them, but not respect them too much, and just do your business, the results will come."
Offensively, the emergence of Derick Brassard and the surge of Nash have taken most of the headlines, together with the contributions of third and fourth liners Kyle Wilson, Derek MacKenzie and others.  Somewhat lost in the discussion is the second line of Antoine Vermette, Umberger and Filatov, who have seemed on the verge of a breakout, but haven't quite been able to get over the top.  I asked Arniel for his assessment:
"I have been very pleased with them.  They have been getting a lot of opportunities, and sooner or later you hope that they'll start to light it up like the Brassard line, which took a little while to get going.  The thing I like best about those guys is that I can use them both in offensive and defensive situations.  If I can't get Pahlsson against the other team's top line, I can get Vermie out there.  Filly [Filatov] is doing a good job of recognizing his defensive responsibilities. They're a line that is starting to grow with their chemistry and are starting to get a good feel for each other. They are not getting rewarded by getting goals themselves, but they are doing all of the little things that help us win hockey games.
Finally, as the team prepares to begin the second quarter of the season with  a home-and-home series against the Red Wings, with the top slot in the West at stake, the coach provided the following insight:
"It's a great test for us, but we've had a lot of good tests already.  I'm confident that this group is more prepared now than we were two weeks ago.  This group has grown as a team.  Challenges are like a wall. I think this team will pile on top of each other and push everybody over the wall, and that's part of what teams are made of ."
It's tough to top that assessment.  Arniel is looking to lead those troops over the wall as the second quarter begins with a mixture of optimism and recognition that hard work lies ahead.
Fan of hockey at all levels, with focus on the Blue Jackets, Miami RedHawks and the business side of the game. I try to bring a rational, even-handed analysis to my writing, wtih just a touch of snark. I use my legal background to bring some more insight on the business side. Love family, travel, hockey, golf and curling.