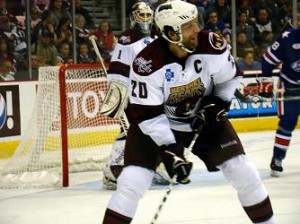 As the month of November ends and the hockey season passes the quarter-mark, the last place American Hockey League veteran Bryan Helmer expected to be was at home in Westport, Ontario waiting for a contract offer. Unfortunately, that is the situation he finds himself in, waiting to begin his 17th season in professional hockey.
While a player with Helmer's experience in the league would be an asset to any organization and several teams have expressed interest, at this time of year the rosters are set, leaving the veteran defenceman playing the waiting game.
"It's tough but I am staying positive and I am hoping something happens soon," Helmer said in a recent interview. "Obviously, my agent has called around to all the teams, but most of the teams say the same thing – they are interested, but right now most of their guys are healthy and they want to give their young guys a chance; so basically just stay patient."
"The thing that hurts me is the veteran rule (having only six veterans per AHL team). There is interest out there; it is just a matter of waiting. I feel bad for saying this, but I will have to wait until someone gets hurt or called up, and then there will be a spot open up for me."
This far into the season, a real concern for Helmer is staying in game-shape. However, with his vast amount of experience in pro hockey, he is well aware of what it takes to stay in top physical condition. He continues to work diligently to remain prepared for when an opportunity does arise. There is the lingering question though, when is it too late for a return to the AHL this season?
"I think that's one of the hardest things; obviously, it is tough to stay in game-shape. I am doing everything I can – skating by myself, skating any time I can get ice time here in Westport," Helmer explained. "I also played in a police tournament in Smith Falls, Ontario. One of my buddies is with the police force and he asked me to play. I was like, 'I'm not a police officer' but he said, 'Your dad was, that's close enough!'"
"As I said, I'm skating quite a bit and I am still working out in the gym, I'm still motivated that way. When it gets into the New Year though, I am probably going to have to make a decision," confided Helmer.
"Either go down to the East Coast (ECHL) and start there to see if I can get a call-up, or maybe go over to Europe to finish my career over there. I could also go over to Europe to get back into game-shape and give it (the AHL) another shot next year."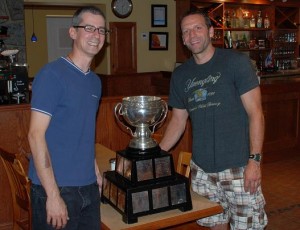 A three-time Calder Cup champion (Albany in 1995 and Hershey in 2009 and 2010), Helmer has played 146 games in the NHL and 982 games in the AHL. He is already the all-time assists leader for defencemen in the AHL with 393, and he is six points away from John Slaney's 519 career points, which would make him the all-time points leader for blue liners in the league.
"I still have the drive to play," Helmer said. "But that (Slaney's 519 points) is really making me want to play; I'd also love to win another championship."
Over the past several seasons, I have had the chance to speak with Helmer many times, and I can honestly say from firsthand experience that he is the perfect example of the phrase "role model" – he is a true leader on and off the ice. An AHL Hall of Fame member in waiting, his passion for the game is refreshing, his desire to succeed is second to none, and his veteran leadership is an asset to any team. While Helmer plays the waiting game, AHL teams are missing out on having one of the true greats on their roster.
Images: Bryan Helmer – Kathryn Hedrick/Flickr
Bryan Helmer and Andrew Rodger – The Voice of Sport