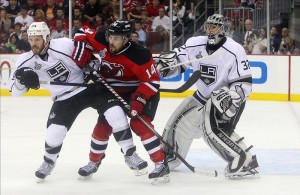 One of the more intriguing fantasy hockey players going into the season was Adam Henrique of the New Jersey Devils. All that changed with the lockout and now the potential exists for a lost season. While that did not sound like a bad thing on the surface for Henrique, his stay with the Albany Devils has been a huge disappointment for fans and player alike. Now comes word that the Calder Trophy nominee suffered a broken thumb (with torn ligament) in Sunday's loss to the Wilkes Barre-Scranton Penguins. The talented pivot definitely has not had the season he was expecting from minute one. When one goes from nearly winning the Stanley Cup to being misused on a middling AHL team, that is quite the drop.
The problem is exacerbated when a team values development over success. While that has worked for Albany in the past in sending players up to New Jersey, Henrique is already developed and his role looks pretty clear in any video one sees. Apparently that memo has not been passed to Rick Kowalsky, Albany coach. Whether it is the expectations or the pressure, Kowalski has not used several of his NHL players to anywhere near close to their maximum effectiveness but Henrique is the one that hurts most. The hockey player is most effective when he is allowed to move and not play dump and chase. Yet, there goes #14 chasing down pucks against guys far bigger. Honestly, the guy looks lost in a system that does not suit him. His linemates, who are mostly Joe Whitney and Bobby Butler are relatively diminutive in nature. Frankly, it is a humbling process but one that may cause Henrique to take a step back whenever the NHL resumes.
Hopefully that is not the case but Kowalsky, who is in his third year, has come under fire for his team's uneven start. Albany has a mere four wins in sixteen games played and part of that involves the fact that this team just does not score. Their leading goal scorer does have seven goals in the name of Jacob Josefson but 37 goals in 16 games on a team that has some talent is alarming. The loss of Henrique really hurts now because of the timing. He will likely be out till the first week of January. If cooler heads in the NHL prevail, that may cause New Jersey some headaches. That is four to six weeks lost for a player who needed to get back on track but did play a lot of hockey last season.
Here are Henrique's stats and why we say maybe this injury is not necessarily a bad thing at a closer look.
So what you have is a player who played 98 games last year (technically 101) on an NHL level. Nothing prepares you for that kind of strain, especially for a rookie. Yet Adam Henrique excelled despite hitting a few bumps. His clutch play in the playoffs on top of his 51 point rookie campaign gave many fantasy owners optimism for the 2012-13 season. The series clinching goals against the Florida Panthers then the New York Rangers were quite the highs for a player who is a stocky six foot, 197 pound player with agility and above average speed. He was expected to be paired with Ilya Kovalchuk, whom he clicked quite well during parts of last season.
Now while the philosophy change in Albany may be helpful development wise in the long run for Henrique, it may be harmful in the short term fantasy wise. Injuries with the hand are tougher on guys who rely on their hands and that deft touch is the last thing that comes back. Hopefully, the resiliency of Adam Henrique radiates because here is a player whose talent is underestimated by some as well as his potential fantasy impact / career progression. It would have not been shocking to see Henrique top 60 points for New Jersey if there had been a full NHL season.
The question for readers would be this. Does this season err lost season for Henrique translate into fantasy hockey gold or a fantasy morass for the young player? Time will tell but we want your opinion.