At long last, the preseason for the Columbus Blue Jackets has come to an end. It's time for the real games to begin.
What did we learn in this training camp? There was both good and bad that happened. But through it all, the Blue Jackets are ready to show last season wasn't a fluke.
Good: Pierre-Luc Dubois
All eyes were on Dubois in this camp to see if he was ready for the NHL full-time. He has played the part and done enough to earn a roster spot. Although he admitted Saturday he didn't know if he's made the team yet, the odds are heavily in his favor. The defining moment for me was Saturday in Pittsburgh.
With the game scoreless, Dubois made a strong play by taking defenseman Brian Dumoulin out of the play. This opened up an opportunity for Matt Calvert to take advantage of a good scoring chance. Calvert made no mistake and helped the Blue Jackets play from ahead.
The poise that Dubois showed is one of the reasons why the Blue Jackets took him third overall. This is not an easy play to make. Not only did he get the puck, he made a slick back pass to Calvert. He is a force around the net. Expect Dubois to play in Friday's opener as a winger.
Bad: Injuries
The Blue Jackets were hit hard with the injury bug in this camp. Here is a complete list of the injuries that they had to deal with in camp.
Brandon Dubinsky: Recovering from wrist surgery. Played Saturday in Pittsburgh and expects to play Friday against the New York Islanders.
Boone Jenner: Middle body injury. Out indefinitely and not expected to play Friday.
Sam Vigneault: Broken finger. Out 4-6 weeks. He posted on Instagram that he would go to Cleveland to start preparing for the season. Once ready, expect him in the Monsters lineup.
Kole Sherwood: High ankle sprain. Out 4 weeks. Expect to see him in Cleveland this season.
Joe Pendenza: Upper body injury. Day-to-day. Expect to see him in Cleveland this season.
John Ramage: Hamstring injury. Out 2-4 weeks. Expect to see him in Cleveland this season.
Jordan Schroeder: Upper body injury. Day-to-day. Was in the running for a spot in Columbus before the injury. Would need waivers to get to Cleveland. He's on the bubble depending if he's ready.
Good: Sonny Milano
Coach John Tortorella called Milano the best player on the ice in the first period Saturday in Pittsburgh. He's confident and ready to show us what he can do.
You cannot deny the offensive upside he has. He can skate, make great passes and has a lethal shot. But could he show his improvement defensively? At least to this point, he's shown improvement. He has done enough to make the Blue Jackets out of camp. He even played on the second line Saturday. Expect him in the lineup Friday against the Islanders.
Bad: Josh Anderson's Situation
We are almost to the start of the regular season and Anderson is still without a contract. It doesn't seem that the end is close.
All quiet on the RFA front. Both Andreas Athanasiou (DET) and Josh Anderson (CBJ) situations appear, at this moment, to be at a standstill.

— Bob McKenzie (@TSNBobMcKenzie) October 1, 2017
This can all change in one phone call. But that this isn't done yet is not a good sign at all. A report came out recently suggesting that Anderson has requested a trade from the Blue Jackets. GM Jarmo Kekalainen immediately denied the report and said the team's goal was to get him signed.
Both sides have made clear what they want and nobody has budged to this point. The team will move forward under the assumption he is not joining. If this changes, then they'll adjust accordingly.
Good: Artemi Panarin
Panarin is a game changing player. He showed why in the Blue Jackets' last two games. He scored a nasty shootout goal in Nashville that helped the Blue Jackets claim victory. He followed that up by scoring a power-play goal which demonstrated how lethal his shot is.
The thing that stands out on tape is his vision and passing. He makes difficult passes look easy. He can go tape-to-tape from one side of the rink to another with little effort. For a smaller player, he is strong on the puck. This allows him to make dynamic plays with relative ease.
The Blue Jackets made this trade to get a game changer in the lineup. He hasn't disappointed. If the Blue Jackets want a great season, Panarin must play the way he is capable of.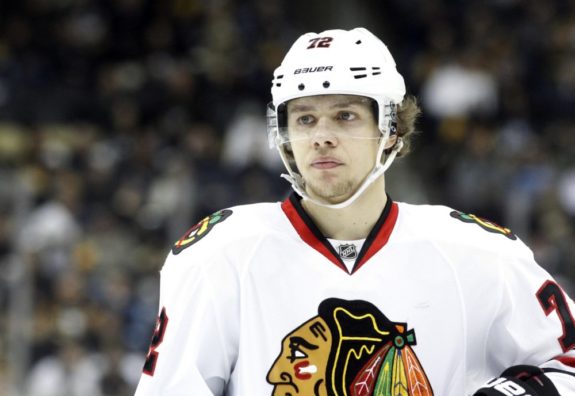 Final Thought
Tortorella said after the Pittsburgh game that Nick Foligno will start at center. This makes the center depth Alexander Wennberg, Foligno, Brandon Dubinsky and Lukas Sedlak to open the season.
The Blue Jackets know they could use another center on this roster (Matt Duchene.) But operating under the assumption that a trade doesn't happen, you put a player like Foligno in the middle to balance the lineup given the players on the roster.
Landing Duchene would improve the team. That's why if there's a chance to complete a trade, you do it. But if they can't, Foligno can play the position and will improve over time. Tortorella said that Foligno asks a lot of questions to improve on his coverage. This dynamic to start the season is must watch. If Foligno can adequately play center, the team will have a better chance to enjoy early success.
The real stuff starts Friday. Between now and then, the team will announce final cuts. Tortorella said they will open the season with eight defensemen. The roster is mostly set. One forward could go to Cleveland depending if Schroeder is ready. Are the Blue Jackets ready to challenge the Penguins for the Metropolitan Division?
Let the games begin.
I am a fully credentialed writer who covers the Columbus Blue Jackets, Cleveland Monsters and Erie Otters as well as the Ontario Hockey League and NHL Draft. The 2021-22 season will mark eight seasons with the Hockey Writers. I am also the site's Credentials Manager.