The 2014-2015 Boston Bruins were a disappointment. After such a promising run the year before, the team experienced regression across the board. While the loss of Jarome Iginla hurt the forward group, the defense suffered greatly after the last preseason trade of Johnny Boychuk.
The team allowed more goals against per game than they had since Claude Julien's first season as the Head Coach of the Boston Bruins. For a team predicated on strong defense and goaltending, this is a serious problem. They finished eighth in the league in goals against, which doesn't sound that bad, until you consider the fact that the team hadn't finished lower than sixth in this category in seven years.
There were a few bright spots, but the majority of the defense was underwhelming. In this, the second of a three part series, we'll review the season for each of Boston's defensemen.
Only players that finished the season with the Boston Bruins organization were included in these grades, with a minimum of four games played for the team this season.
Defensemen
Dougie Hamilton – A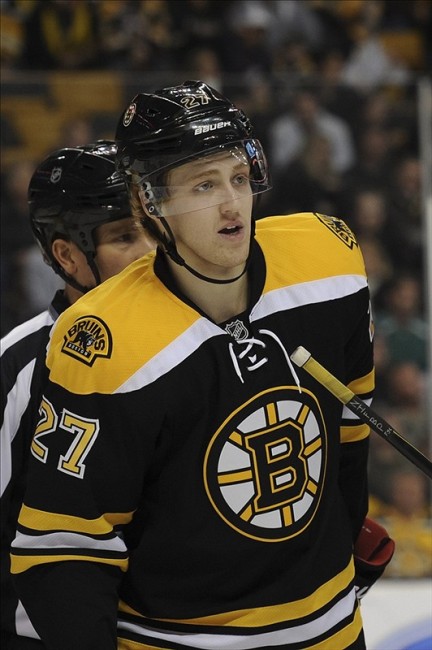 With Johnny Boychuk gone, the Bruins needed someone to step up and help fill the top four void. Dougie Hamilton did not disappoint. He put up more points than he had in his first two seasons combined, while averaging over 21 minutes of ice time per game. When the Bruins lost Zdeno Chara for a stretch of time, Hamilton was called upon to be the top defenseman. He helped lead the team to a 11-7-1 record in the captain's absence, giving fans hope that he could be Chara's successor. Unfortunately, he got injured near the end of the season and missed the last 10 games of the season. His absence, coupled with the poor performance of the defensive unit as a whole, was too much for the Bruins to overcome, re-emphasizing Hamilton's importance to the team.
Torey Krug – A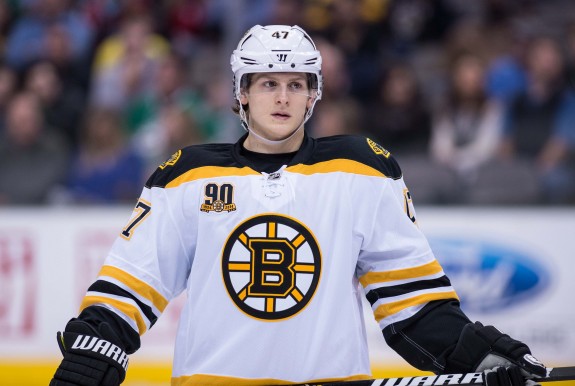 Despite a late arrival to training camp, Torey Krug did not miss a beat. Playing in 78 games, Krug put up 12 goals and set personal bests in assists (27) and average time on ice (19:36). To make that more impressive, 25 of his 39 points came at even strength, helping to scrap the belief that Krug is just a power play specialist. Krug was often the cog that made the Bruins offense run and made his presence known almost every time he had the puck. With next season's contract already in place, he should be primed for a big year.
Kevan Miller – B+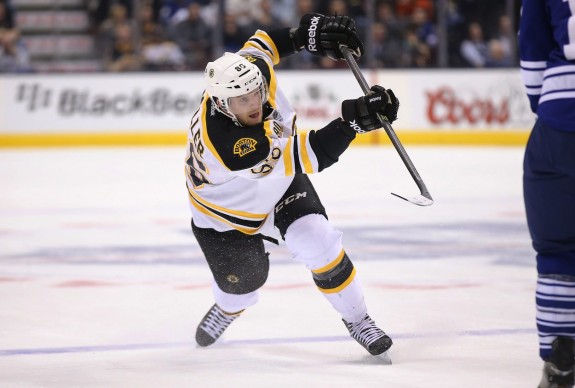 He might not be the most well-known name of this group, but the Bruins sorely missed Kevan Miller this year. Injuries limited the physical defenseman to just 41 games played, leaving the Bruins shorthanded at a once perceived position of strength. In the 41 games he did play, Miller put up two goals and five assists, to go along with a spectacular (and team leading) +/- of 20. His game is very similar to that of Adam McQuaid, which may lead to Miller replacing the soon-to-be free agent in the Bruins lineup.
Adam McQuaid – B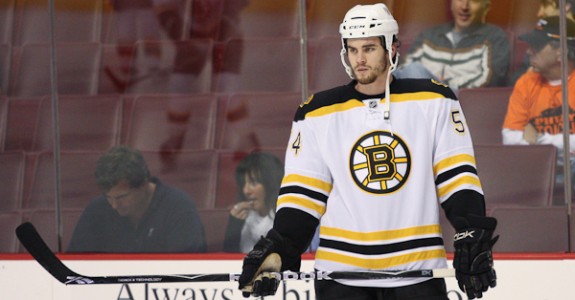 Adam McQuaid is the third oldest defensemen in this group. That says a lot about the youth and inexperience on the backend. McQuaid, however,
did a solid job stepping up and eating some of the minutes
that had previously being given to Johnny Boychuk. Durability continued to be an issue for McQuaid this season, limiting him to 63 games on the year. Despite his struggles with injury, when he did play, he averaged nearly 18:30 in ice time per game and played with his trademark snarl, something that this group desperately needed after the loss of Boychuk. McQuaid has never been an offensive threat, so his one goal and six assists are pretty much what you'd expect. If he could have stayed healthy all season, this grade would have been even higher.
Joe Morrow – B-
The Bruins top defensive prospect only played 15 games in the NHL this season, but he showed a great deal of promise. While playing major minutes in Providence for the majority of this season will probably be more beneficial in the long run, he definitely could have helped the big club this season. In his 15 NHL games, he managed just one goal, but was a +3 and averaged nearly 17 minutes of ice time per game. He has a bright future and the positive impact he made this season was a pleasant surprise. Expect to see more of him going forward.
Zach Trotman – C+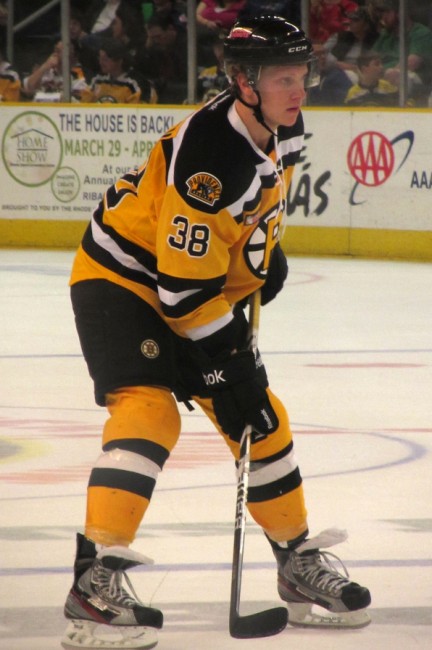 If you had to point to one player that benefited the most from the slew of injuries that plagued the Bruins this year, it would be Zach Trotman. After making his NHL debut the season before, Trotman played in 27 games this season, scoring two goals and notching five assists. He posted a +/- of -2, while averaging just shy of 16:30 minutes of ice time per game. Entering the season, no one anticipated that Trotman would see that much NHL ice time, but the rookie held his own. He wasn't flashy, but he got his job done. It will be interesting to see where he fits in going forward with the Bruins.
Zdeno Chara – C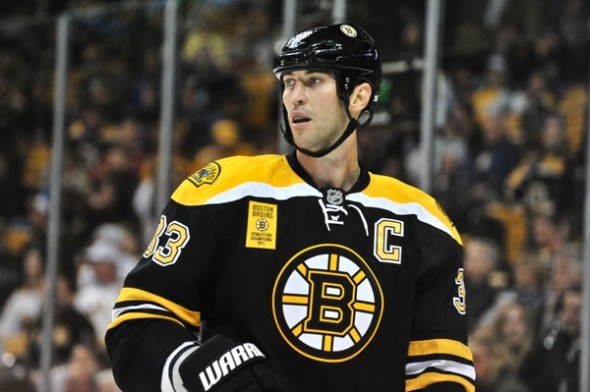 As the captain of the team, you expect this grade to be quite a bit higher. Normally a workhorse, Chara averaged less than 23:30 minutes of ice time per game on the year, his lowest total since his first season in Ottawa at age 24. He ended the season with an uninspiring +/- of 0. Admittedly, he was injured at the beginning of the season and again late in the season, but the rest of his year was terribly inconsistent. His physical game had regressed, while his decision making and positioning looked like he was fending off rust all year. His eight goals and 12 assists were not horrible, but fell way short of his typical offensive production, even when prorated for the time he missed. The hope is that a full offseason will get him back to where he was last season, but if this is the start of the decline, the Bruins are in trouble.
David Warsofsky – C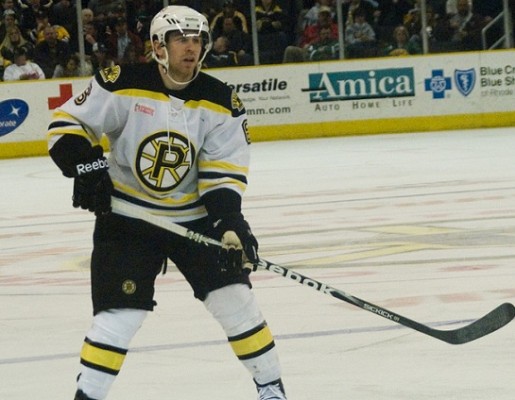 The mobile defensemen only played four games for Boston this year, which was pretty much what was expected. He was expected to be an injury replacement/emergency call-up, spending most of the season in Providence, and he did just that. In his four games, he had one assist, recording nearly 18 minutes of ice time per game, and finished with a +1 rating. Coincidentally, the Bruins won all four games that he played in, so at the very least, he did not cost the Bruins a game. He seems more likely to be moved to a team with a great opportunity for playing time than to be slotted into the Bruins lineup next season.
Dennis Seidenberg – C-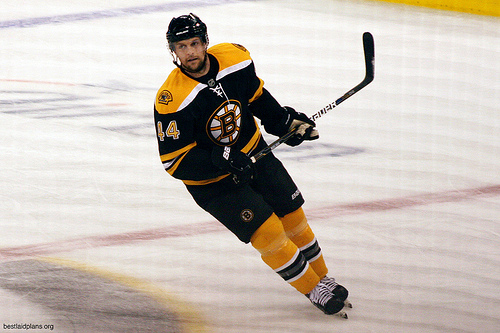 After missing most of last season with a knee injury, the Bruins were depending on a quick bounce back from the German defenseman. This was a large gamble since he hadn't played in approximately 10 months, and it was a gamble that played a large role in costing Peter Chiarelli his job. Seidenberg's time on ice was just over 22 minutes per game, his lowest total in Boston aside from last season when he was injured. Although he's not known for his offensive contributions, his production was down, managing just three goals and 11 assists on the season. While +/- is not always the greatest indicator of performance, his -1 rating was indicative of his season. He didn't even resemble the defenseman fans had grown to love. He was physically outmatched a number of times throughout the season and his poor positioning did little to mask that. Much like Chara, you have to hope this was only a case of Seidenberg taking longer to fully recover from his injury, and not the start of his decline.
Matt Bartkowski – D-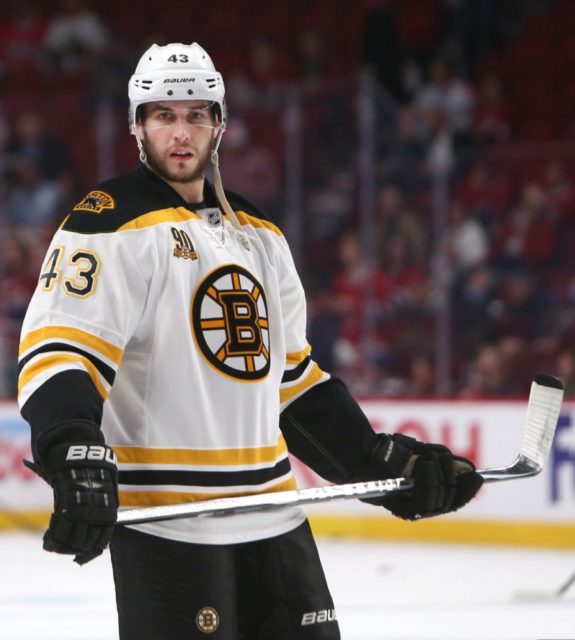 Admittedly, part of this grade is because I had such high expectations for Bartkowski entering this season. Not only did he get passed over by a number of defensemen from Providence, he did very little to inspire confidence when he was on the ice. He ended up playing a total of 47 games this year, still unable to score his first regular season goal in the NHL, tallying just four assists in the campaign. Bartkowski averaged just under 17 minutes of ice time per game, playing to a -6 rating. Statistically, that was the worst rating among Bruins defensemen, and second worst among skaters on the team. It seemed like every time he made a positive impact on the game, he would then make two negative plays to counteract that. He's a free agent this summer and a change of scenery is a near certainty.
Which players do you think had the best season out of the Bruins defensemen? Which had the worst season? Let me know what you think in the comments below or on twitter. Be sure to check back for part 3, covering goaltenders of the Boston Bruins, and in case you missed it, here is part 1.