The 2014-2015 Boston Bruins failed to live up to their potential. A year after winning the President's Trophy and making it to Game 7 of the Eastern Conference Semi-Finals, the Bruins did not qualify for the playoffs and played inconsistent hockey for the duration of the season.
While the team was unable to achieve their goals, not every player on the team had a down year. In this, the first of a three part series, we'll take a look back at the season that was (or wasn't) for the forwards of the Boston Bruins.
Only players that finished the season with the Boston Bruins organization were included in these grades, with a minimum of four games played for the team this season.
Forwards
David Pastrnak – A+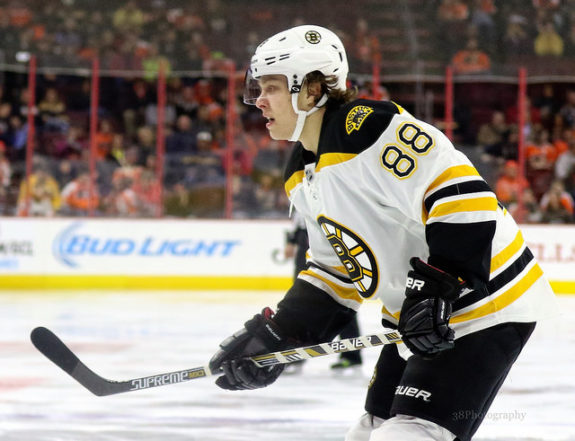 The Bruins 1st round pick in the 2014 NHL Entry Draft surprised just about everyone this season. As the youngest player in the league, Pastrnak put up 10 goals and 17 assists across 46 games, establishing himself as one of the Bruins best wingers. Pastrnak was constantly creating opportunities and, along with Ryan Spooner, helped get Milan Lucic's season back on track. People didn't expect a ton from Pastrnak this season, but you can bet that that won't be the case next year.
Patrice Bergeron – B+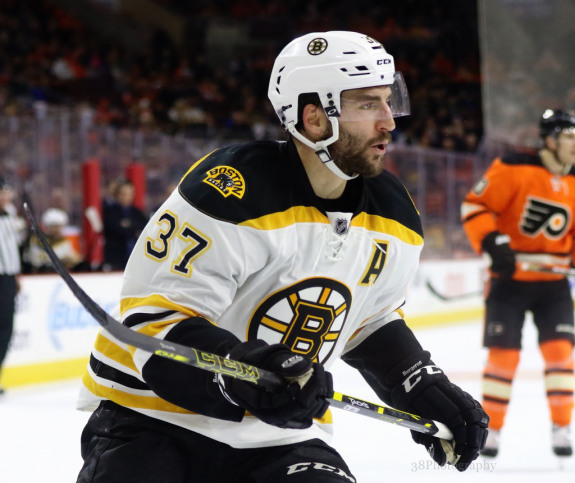 Only early season struggles prevented this from being in the A range. Bergeron followed up his Selke winning campaign with another solid year. He put up 23 goals and 32 assists, but managed to produce a measly +/- of 2 (his lowest total since 2009-2010). His leadership, face-off skills, and defensive ability were still top notch, resulting in Bergeron having one of the best seasons among Boston's forwards.
Loui Eriksson – B+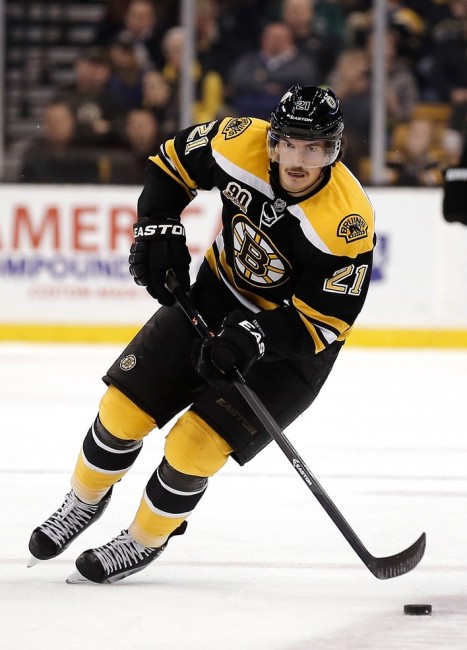 Loui Eriksson finally started to resemble the player that the Bruins thought they were getting from Dallas. He continued to play a strong two-way game, but he started to find the net with greater consistency. He scored 22 goals, reaching the 20 goal mark for the first time since 2011-2012, while also collecting 25 assists. His assist totals might have been even better had it not been for the prolonged scoring slump of his one consistent linemate, Carl Soderberg, so the hope is that Eriksson's game is back on the rise.
Ryan Spooner – B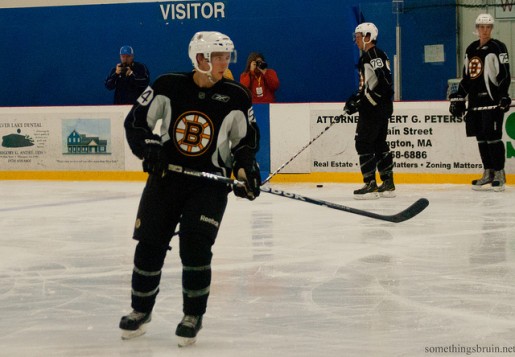 Two entirely different seasons for Ryan Spooner. Between his red hot preseason and an injury to David Krejci, Spooner broke camp with the team. After five games, Spooner hadn't done much to grab hold of a roster spot and was sent back as Krejci returned. Four months later­­, Spooner was given a second chance and he made the most of it. Centering Milan Lucic and David Pastrnak, Spooner secured his first NHL goal en route to eight on the season, to go along with 10 assists. Even more impressive than his numbers was the fact that he showed vast improvement from the beginning of the season to midseason and acted as the catalyst that helped resurrect Milan Lucic.
Brad Marchand – B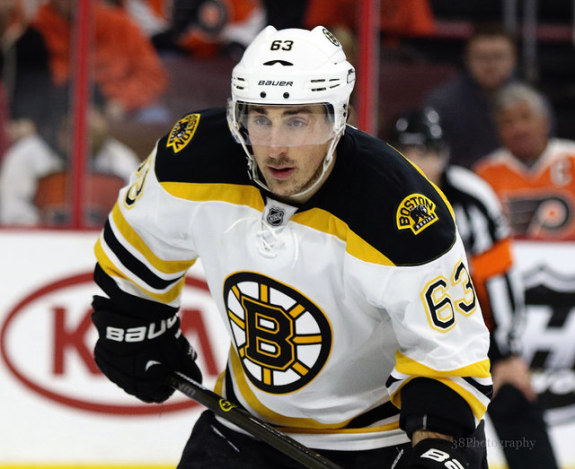 Brad Marchand struggled mightily early on in the season, but managed to rebound to lead the team in goal scoring with 24 goals. Down the stretch, however, the struggles returned and Marchand scored just two goals in his last 17 games. Marchand set a personal best with 180 shots this season, which suggests a regression in shot selection and/or some bad luck. Scoring was down across the team, but Marchand's 15 game goal scoring drought during the playoff push was a major hurdle that the team could not overcome.
Seth Griffith – B-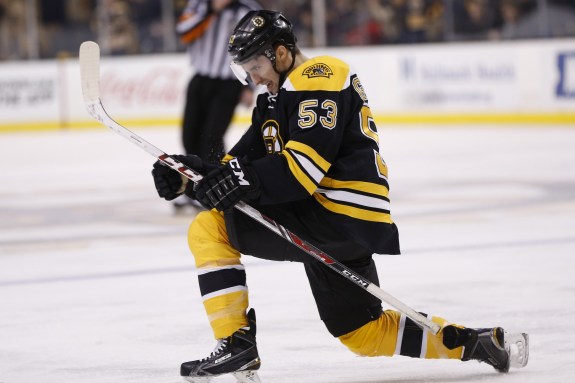 If anyone legitimately expected Seth Griffith to replace Jarome Iginla this season, they were being overly optimistic. Griffith exceeded just about everyone else's expectations, earning a lengthy stay on Boston's first line. His stat line wasn't spectacular, registering six goals and four assists over 30 games, but he showed flashes of scoring line potential. He lost his position when both Ryan Spooner and David Pastrnak emerged, but he'll remain in competition for a roster spot next season.
Max Talbot – B-
Acquired in one of Boston's two Trade Deadline deals, Talbot was immediately slotted in on the fourth line. Regardless of his linemates, Talbot consistently provided energy and a physical presence to the checking line, something that had been sorely missed since the departure of Shawn Thornton. Talbot only ended up registering three assists in his 18 games with the Bruins, the first of which came in overtime in what, at the time, seemed to be a pivotal, come from behind victory over Philadelphia. Acquiring Talbot with half his salary retained by Colorado was an under-the-radar move that should continue to pay dividends next season.
Brian Ferlin – B-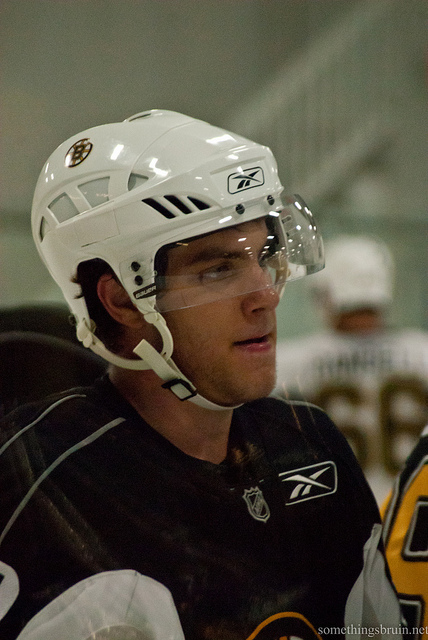 The only thing that kept this grade from being higher was the team's unwillingness to keep playing Ferlin. Making his NHL debut this year, Ferlin played seven games on the team's checking line, playing a physical brand of hockey that helped re-engage the Bruins, fresh off the heels of the first of two, season-long six game losing streaks. He might not have staked claim to a permanent roster spot just yet, but he definitely put himself in contention for a roster spot this fall.
Milan Lucic – C+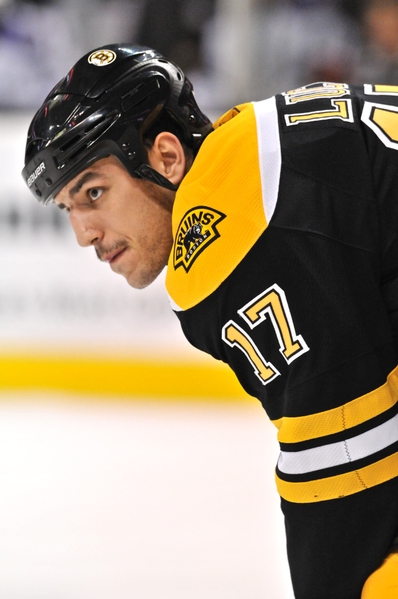 This was not the season many were hoping for from Milan Lucic. The power forward stumbled out of the gates, scoring just four goals in 23 games before Thanksgiving. It didn't help his cause that long-time linemate David Krejci was struggling with injuries, but Lucic did not look like himself. Although he never achieved the consistent level of play that most were expecting, he did look like he was heading back in that direction when he was paired with Ryan Spooner and David Pastrnak in late February. The goal scoring never quite picked up, as he scored just four goals over his last 19 games and 18 total on the season, which ranks as one of the most difficult obstacles the Bruins had to overcome this year.
Brett Connolly – C
Unfortunately, we are left to wonder what could have been with Brett Connolly. After being acquired for two 2nd round picks at the Trade Deadline, the young winger was hurt in practice before ever playing a game for the Bruins. The injury would force him out of action for a lengthy period of time, limiting him to just five games with his new club. He looked decent during that stretch, but it's tough to say he was anything better or worse than expected in such a limited sample size. He will be looking to make up for lost time next season, so expectations will be much higher.
Carl Soderberg – C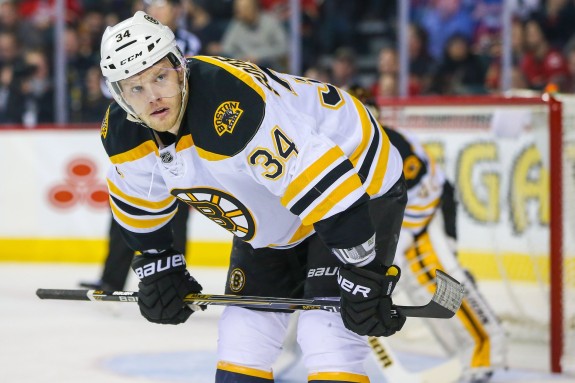 Much like Ryan Spooner, Carl Soderberg had two drastically different halves to his season. The first half of the year saw Soderberg carry the team offensively. While almost the entirety of the Bruins top two lines struggled early in the season, Soderberg continued to produce. He was able to keep this going until the All-Star break, at which point he went 24 games without scoring a goal. The fact that Soderberg finished fourth on the team in points on the year speaks to how strong his first half was, but the second half (and that brutal goal-scoring drought) prevented this grade from being better.
David Krejci – C-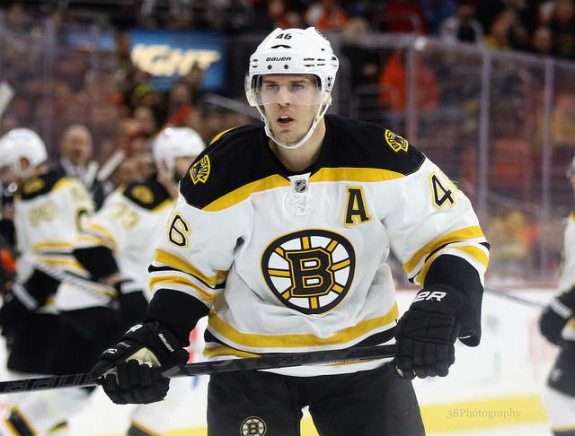 Injuries derailed the top offensive center for the Bruins this year, limiting him to 47 games played. A number of those games were played at well less than 100% health, resulting in a shell of the Krejci that the organization had grown to expect. His struggles set off a domino effect, the primary result of which was a less effective Milan Lucic. His struggles also magnified the outright loss of Jarome Iginla and his 30 goals. Krejci was not a total disaster on the ice, salvaging a C-, but he certainly fell well short of expectations.
Chris Kelly – C-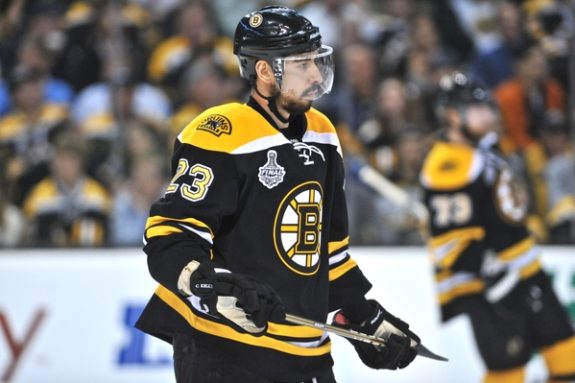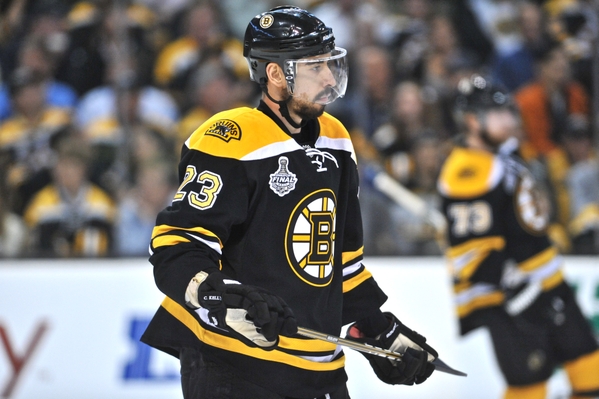 When Peter Chiarelli re-signed Chris Kelly for $3 million per season, you have to hope that he was expecting more than this. Kelly offers strong value on the penalty kill and as a leader on and off the ice, but even that can't balance out the lack of production. Kelly ended the season with just seven goals and 21 assists through 80 games. Even his faceoff percentage (48.6%) was the lowest it has been since he was traded to Boston. If the Bruins look to cut salary, he may be one of the first players dealt.
Reilly Smith – D+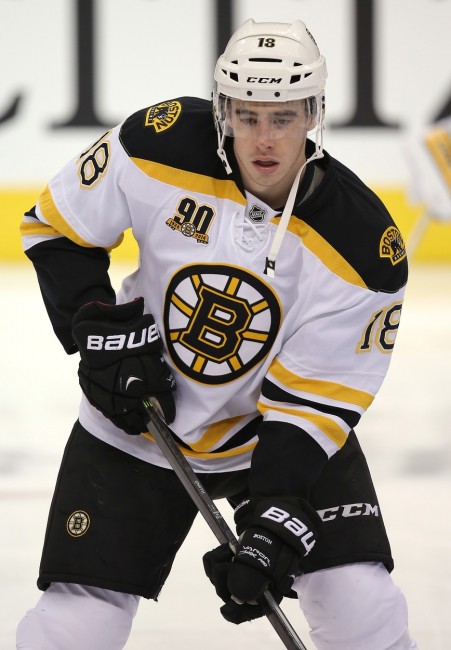 After a breakout season last year, expectations were high for Reilly Smith. He was expected to play alongside Brad Marchand and Patrice Bergeron, which had almost guaranteed success for players in the past. After a contract shortened preseason, Smith actually started off on the right foot. He scored two goals in his first five games, including the first goal of the season for the Bruins. Unfortunately, the goals would be few and far between from that point on, as Smith finished the year with 13 goals and 27 assists. He was given a two-year contract extension in the spring, so expectations will remain high as Smith looks to bounce back next season.
Daniel Paille – D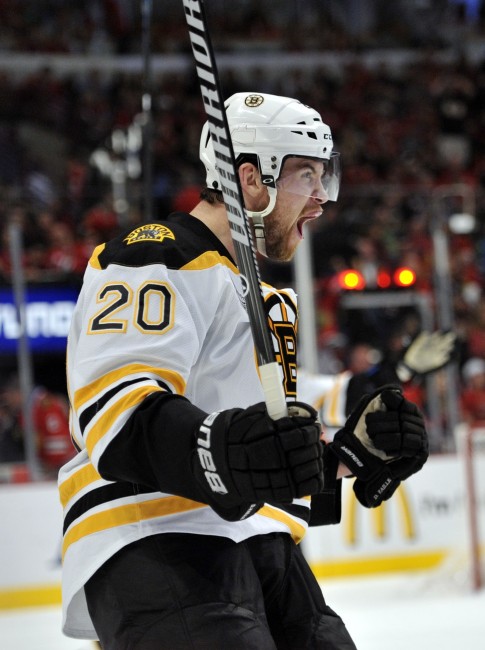 Daniel Paille will leave as a free agent this summer, but he will not be leaving on a high note. After a number of seasons as a mainstay on the Bruins fourth line and penalty kill, Paille played himself into a healthy scratch this year. Known for his speed and defensive ability, it was hard to fathom Paille ending the season with a team worst +/- of -9. He tallied six goals and seven assists, which is not terrible considering his role, but not nearly good enough to make up for his overall poor performance.
Gregory Campbell – D-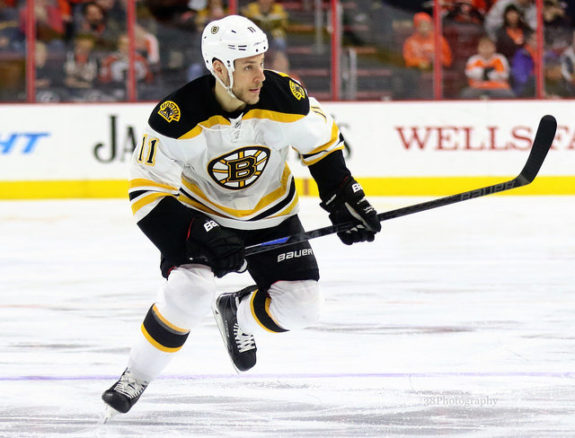 Daniel Paille will not be the only member of the fourth line that will be leaving this summer, as Gregory Campbell did not play well enough to earn himself a new contract. In 70 games, Campbell put up six goals and six assists, while averaging more than 12 minutes of ice time per game. He averaged more time on ice per game in minutes (12:08) than he scored points (12) over the entire season. He was injured for a brief period of time this year, but he was still able to play most of the year. His $1.6 million cap hit, along with his past performance, suggested he would be able to contribute more to this team, but he did very little to back that up.
Which players do you think had the best season out of the Bruins forwards? Which had the worst season? Let me know what you think in the comments below or on twitter. Be sure to check back for part 2 and part 3, covering the defensemen and goaltenders of the Boston Bruins.