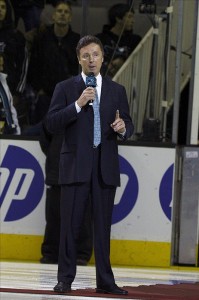 In recent weeks social media has seen a rather vocal minority backlash to the masses of Sharks fans who prefer to see GM Doug Wilson given his walking papers. While there are a number of folks in the minority who make strong arguments, one thing that nobody can defend is the contradictory initial reaction and then follow up statement by Wilson after the collapse to the Kings. This is something that has irked me for awhile and is a major reason why I'm a part of the majority.
Raw Response
During last season's exit interview Wilson was clearly irate and frustrated that his team couldn't manage to finish off the Kings and rightfully so. The injury to Marc-Edouard Vlasic hurt, but that doesn't excuse becoming just the fourth team ever to blow a 3-0 series lead. San Jose should have been able to find a way to close out that series. Wilson came off the way fans would want their GM to come off, visibly upset, disappointed, pissed off, etc, etc. The Sharks were an 111 point regular season team that should have been able to knock out a tough opponent in the first round. Beating the Kings likely would have set them up for a deep playoff run possibly ending in a Stanley Cup. As Wilson mentions in his exit interview, the Sharks should have been able to step on the Kings throats and put them away. The Sharks were talented enough to win that series and to win the Stanley Cup.
"Not Close Enough"
A few weeks later in June, Wilson stated that he doesn't think his team is "close enough" with where other teams are at. I'm sorry, but which is it, Doug? How does your team all of a sudden go from being a Stanley Cup contender to not being close enough? A few weeks didn't change anything. The Sharks saw all their top guys return this past season outside of the aging and declining Dan Boyle. San Jose had cap space to utilize and could have very easily repeated their 111 point 2013-14 campaign this past season. That is if Wilson hadn't decided to initiate some bizarre rebuild and youth movement involving signing two veteran goons in John Scott and Mike Brown. It is contradictory in nature to be upset that your team didn't go on a deep playoff run in early May and then six weeks later make the statement that your team isn't close enough to the other top contenders. If you were genuinely that upset, then clearly you thought they were capable of winning the whole thing. If you truly thought they weren't close enough, then you wouldn't have been nearly as disappointed.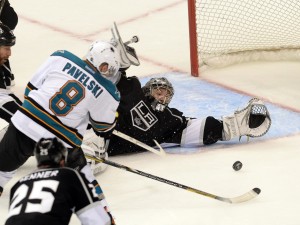 The Sharks lost to the Kings twice in seven games the past two seasons before 2014-15, if that isn't close enough to the top contenders, than what is? Competing with the best of the best tooth and nail is as much as you can expect out of a team. You can't blame the players for not getting further when they faced a Stanley Cup final worthy matchup in the first round. Were the Sharks in the Eastern Conference yeah perhaps they get deeper into the playoffs with maybe a couple easier teams in the first couple rounds, but if you don't win all four rounds it doesn't matter. Losing is losing. Twenty-nine of 30 teams come up short every season. Had the Sharks been a wild card team and lost to the Kings in the Western Conference final, in a back and forth series (instead of a reverse sweep), it is extremely difficult to imagine Wilson would have initiated this same silly rebuild attempt. But see that in lies the problem, Wilson overreacted to the early exit and the manner in which they lost. Bowing out to the Kings in seven games is a hell of a lot better than a lot of teams would have been able to do. Did the loss brutally suck given the way it happened? Of course it did, but at the end of the day a loss is a loss, no matter how it happened. Regardless of the round and manner in which the series played out, the changes to the roster should have been no different. Whether they lost in round one or four, the strengths and weaknesses of the roster remain the same. Nothing big changed in that sense, they simply didn't get it done, there is a lot of luck involved in hockey.
The reality is you have to be a pretty damn good hockey team to build a 3-0 series lead against the Kings. The Sharks were plenty close enough to where the other top teams were at last June. They could have still been a top contender this year instead of the abysmal showing the team put forth in 2014-15. But it is tough to do you job when your boss has lost complete faith in you. 
Andrew has been credentialed to cover the Sharks since 2010 and the 49ers since 2012. He graduated with his BA in Broadcast Electronic Communication Arts in 2013 from San Francisco State University.