Entering the summer of 2014, the Boston Bruins had limited cap space and a number of key players reaching free agency. The most notable of free agents were Jarome Iginla, Torey Krug, and Reilly Smith. On the first day of free agency, Jarome Iginla jumped ship and signed with the Colorado Avalanche. It wasn't until almost three months later that the Bruins were able to re-sign Krug and Smith to identical one year contracts.
Fast forward one year. The Bruins remain tight to the salary cap ceiling with as many as 12 current roster players eligible for free agency at season's end. It is important to note that not every pending free agent is critical to the team's success going forward, but there will be some tough decisions. The most pressing of which is which of their four biggest free agents they will extend.
The big four consists of Carl Soderberg, Dougie Hamilton, Reilly Smith, and Torey Krug. It is a foregone conclusion that each of these players will be in line for a raise on their next deal. Barring a trade, the Bruins will be hard pressed to squeeze three of these four players into their budget next season. So who could potentially be moving on?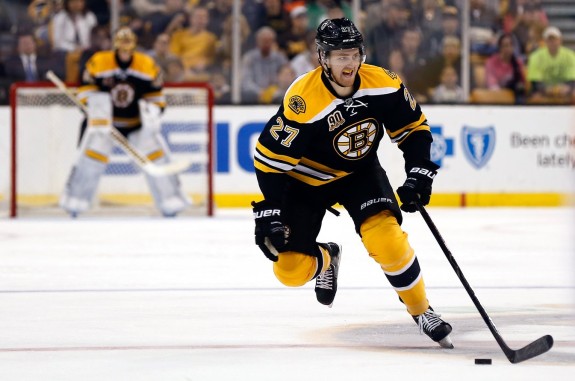 Dougie Hamilton is the safest bet to return, as he is a first time restricted free agent and the future franchise defenseman for the Bruins. Expect the Bruins to make extending Hamilton the top priority this offseason.
After Hamilton, Carl Soderberg appears to be next in line for a new deal. The Swedish center has been a force for Boston's offensive attack, providing the consistent production that the entire roster has struggled to find this season. Entering the prime of his career as an unrestricted free agent, he's due for a hefty raise, but the Bruins will be hoping his loyalty will work in their favor.
That leaves Torey Krug and Reilly Smith. Both players will be restricted free agents, eligible to receive an offer sheet for the first time. While it doesn't seem likely that both players could be retained, re-signing one of the two should be possible. That brings us to the question, should the Bruins prioritize Torey Krug or Reilly Smith?
Torey Krug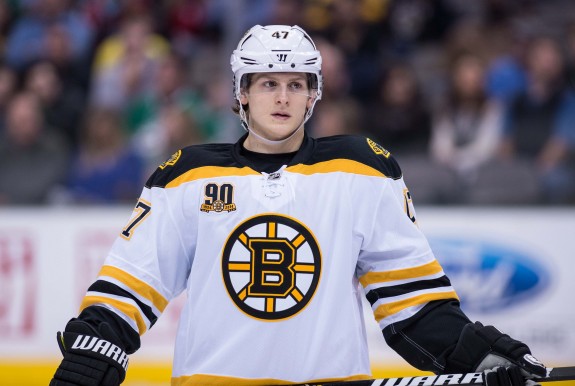 Even during the summer when the Bruins projected to have as many as nine NHL caliber defensemen on their roster, the thought of losing Torey Krug was a scary one. As many fans recall, before Krug's arrival in Boston, the team's power play was abysmal. Year after year, the Bruins would find themselves searching for the puck moving defenseman that would put them over the top. The likes of Dennis Wideman, Tomas Kaberle, Matt Hunwick, and Steven Kampfer were given the opportunity to fill this role, before ultimately being shipped out of town.
In 2013, Torey Krug was called to duty as the Bruins found themselves shorthanded in the Eastern Conference Semi-Finals against the New York Rangers. Krug rose to the occasion and carried Boston past the Rangers, putting up four goals and an assist in five games.
Since that series, Krug has established himself as the sparkplug of the Bruins power play. He's transformed the team's Achilles' heel into a weapon. Krug, along with Dougie Hamilton and Joe Morrow, gives Boston a mobile defensive unit moving forward.
That point, however, also works against Torey Krug. With replacements already in house, the Bruins might be hesitant to overextend for Krug this summer.
Reilly Smith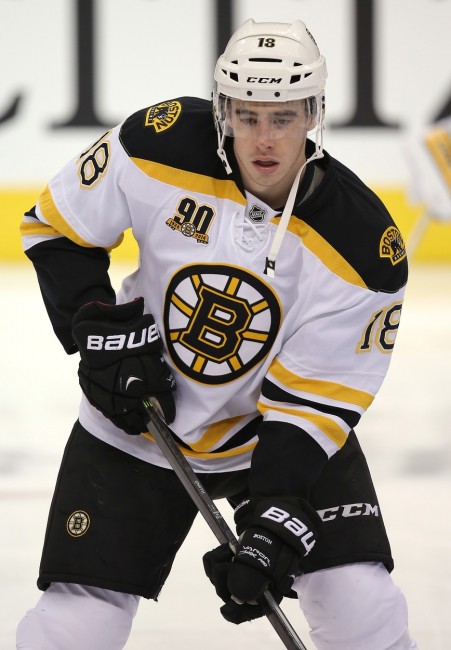 That brings us to Reilly Smith. Smith came to Boston in the trade that sent Tyler Seguin to Dallas. Initially pegged as a potential third line winger to start last season, Smith exceeded expectations, settling in on Patrice Bergeron's right wing en route to netting 20 goals.
The offseason contract situation appeared to slow Smith down a bit more than it did Krug. Now, midway through the season, Smith has re-discovered his scoring touch to some degree, just off last year's pace.
Due to the team's struggles, Smith has rotated through a number of linemates, limiting the benefits that line chemistry provided him last year. In spite of that, along with Loui Eriksson, Reilly Smith has been one of the two right wings that the Bruins have relied on in the absence of Jarome Iginla.
What Peter Chiarelli and the scouting staff need to determine is whether Reilly Smith can exceed the 20 goals he scored last season or if that was his career year. Losing Smith would certainly leave the team shorthanded with only Eriksson and rookie David Pastrnak as right wingers under contract for next season.
While Smith has been very productive, you also have to wonder how big an impact playing alongside Bergeron and Brad Marchand has had on his production. Could a player on a cheaper salary match or come close to matching Smith's production? Is that player available or will they become available?
[tweetthis]The #Bruins face a tough decision on Krug and Smith. Who would you keep? #THW #bruinsfam #NHLBruins [/tweetthis]
The Verdict
When push comes to shove, I can't (or choose not to) envision the Bruins power play without Torey Krug. Reilly Smith would absolutely be a loss for this team, but his restricted free agent status will ensure that the Bruins do not lose him for nothing.
Additionally, Krug's presence in the lineup allows the Bruins the flexibility to move another young defenseman, possibility in a package to acquire Smith's replacement. Best case scenario, Boston would be free to trade Smith and a young defenseman to land a first line RW.
What do you think? Should the Bruins prioritize signing Torey Krug or Reilly Smith? Let me know what you think in the comments below or on twitter.