The St. Louis Blues are currently 7-1-1 in the month of January, with 5 of those wins and the OT loss coming during the current 7-game home stand the team has been on since Thursday January 8th. They have been experiencing amazing offensive production and solid defensive efforts (overall) since the holiday break came to an end, but does the team still need to work on it's consistency to begin getting ready for the playoffs, now that the season is over half way through?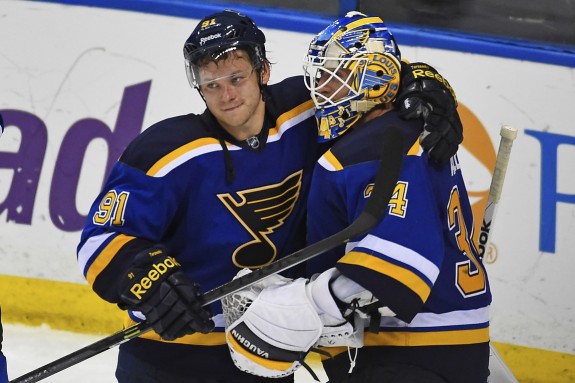 Blues Have been Streaky Month-by-Month so Far
When looking at the overall breakdown for the Blues squad this season it's obvious to see that they have been playing great hockey, but is that all fans need to concern themselves with? The Blues have garnered enough wins to rank them 4th overall in the NHL (29-13-4), while averaging 3.13 goals per game (t-3rd) and 2.37 goals against per game (6th), a 25.5% power-play (1st), an 81.2% penalty kill (t-16th), and a .913 save percentage showing that they are a balanced team on track for a great postseason so far, but when you break down the stats to compare them month-by-month, you see a much different story being told.
Month-by-Month Breakdown
Category
October
November
December
January
Overall
Record
5-3-1
11-3-1
6-6-1
7-1-1
29-13-4
Goal Differential
+5
+9
0
+21
+35
Ev. Strength Goal Diff
+4
+5
+2
+14
+25
Goals/Game
2.44
2.73
3.23
4.33
3.13
Goals Against/Game
1.88
2.13
3.23
2.00
2.31
PP%
22.2
23.4
25.6
32.3
25.5
PK%
78.8
79.5
77.4
93.1
81.2
SV%
.921
.925
.892
.917
.913
As the above chart shows, the St. Louis Blues have experienced a roller coaster ride this season, varying between huge highs, and almost extreme lows. However, what the chart doesn't show is the differences in league rankings in each category over each month. In terms of wins, the Blues have gone from 12th overall, to 3rd, to 2oth, to 1st in each month respectively. This proves that the NHL is highly competitive, but also shows the inconsistencies in the Blues play from month to month. This leads to the next item the chart doesn't show; the team's inconsistent defensive zone play this season, which saw them go from t-2nd in October for goals allowed per game, to 5th in November, then to 26th in December, and finally to their current a 1st overall rating in January thus far. Add in the erratic save percentages month-to-month (10th, t-5th, 26th, t-11th each month respectively) and it's clear to see that team defense is the biggest area the Blues needs to improve upon as the season rolls on and the playoffs draw closer. The Notes must find that consistency in their own zone sooner rather than later, to translate to even more (consistent) scoring in all situations, and hopefully to home-ice come mid-April (playoffs). These situations are outlined in the graphs below.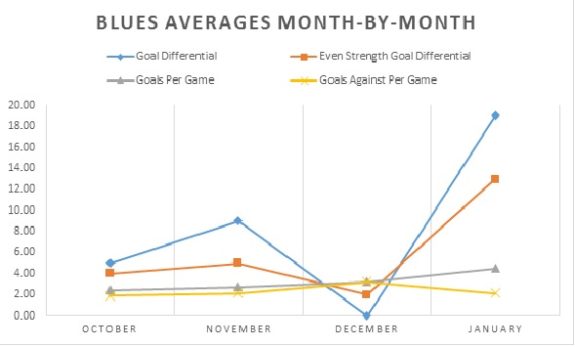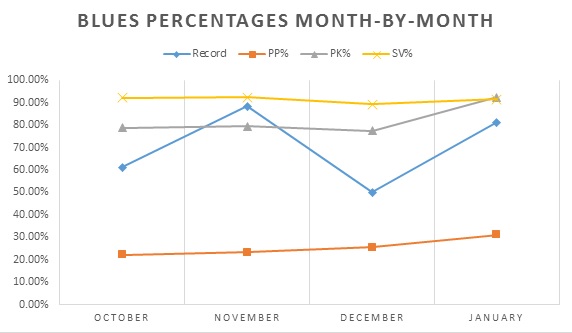 Team Defense: It's All Relative
Though the original chart and graphs show the lack of consistency on the back-end so far this season, it needs to be further examined. The defensive core has been hit with the injury bug this season, losing new comer Carl Gunnarsson and crafty vet Jay Bouwmeester to injuries for substantial amounts of time (17 and 8 games missed respectively), and seeing players like Ian Cole and Chris Butler battle for that last roster spot without being able to find a true rhythm because of lack of consistent playing time. What this chart also misses in terms of defensive zone play is how much time its taken the Blues' number-1 D-man Alex Pietrangelo to find his stride, which his current plus-11 for January (6A so far this month) shows that he has. Good thing Kevin Shattenkirk is having a Norris Trophy kind of season, pacing all defenseman in points (7G, 31A, 38P), is a plus-15 on the season, and has been able to pick up Pietrangelo as a truly great team mate will.
Lastly, what this chart and graphs don't show is how the biggest dip in production the Blues have experienced this season was when 1a goalie Brian Elliott went down with a knee injury, and the dynamic of the locker room drastically changed due to Marty Brodeur's signing. This appeared to shake Jake Allen up a little (he has settled back in nicely since this initial dip), and though Marty has been solid when called upon, his 3-3 record, 2.87 GAA, and .899 save percentage are that of a superstar who's nearing retirement, not that of a current NHL All-Star as many would've expected Elliott's numbers to be had he been playing through December. Overall the differing team dynamic may have contributed to the odd December for the club.
ICYMI: Brian Elliott Quietly Becoming Franchise's Best Goaltender http://t.co/dYFak411NF #stlblues #thw

— Jeff Ponder (@jponder94) January 19, 2015
Other Month-by-Month Musings
Enough of what the chart/graphs didn't show, especially in terms of team defense as the St. Louis Blues are trying to employ a more wide open quick transitioning game which leads to more defensive breakdowns on average, here's the positives to take away from the up-and-down first half of the season (and obviously from the chart/graphs as well). First, the Blues have consistently improved their goals per game average each month starting at a 2.44 average, which was only good enough for 23rd best in the NHL, and improving that to a 4.33 goals per game average this month, the best in the NHL currently. While they still sit t-3rd overall in the NHL at 3.13 goals per game, the recent scoring barrage from the Steen, Backes, Oshie line, the resurgence of the Stastny, Berglund, Jaskin/Lindstrom line, and the consistency of the 'STL' line show that this is a team with immense depth and scoring prowess that should lead to postseason success (and let's not forget about the Reaves, Ott, Lappierre line that has consistently forechecked hard, and helped the team win games in a multitude of ways intangible and tangible alike).    
Lastly, the power-play has also consistently improved throughout the first half of the season going from 9th overall at 22.2% in October, to 4th overall at 32.3% in January. The power-play is currently ranked 1st overall on the season at 25.5%. These are all areas where teams need to be at the cream of the crop to make a true Stanley Cup run, and the Blues are showing that though their consistency hasn't been as stable as it should be over the first half of the 2014-15 season, they are still a legit contender to make a Cup run. They seem to be a group beginning to truly gel as one cohesive unit around the right time, and this second half of the season could be one for the record books. Don't worry about the fluctuations in numbers, because the biggest issue (playing team defense) is becoming a problem of the past, and the offense is really firing on all cylinders now.
Like what you've just read? Follow me on Twitter: Follow @pep30