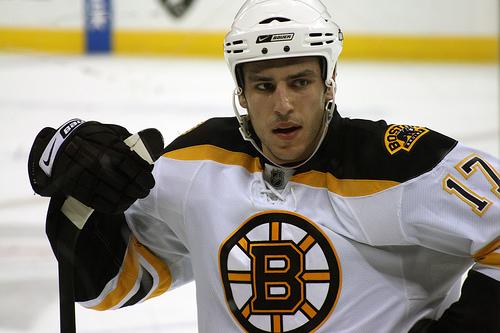 Five games into the 2011-12 season, the Boston Bruins have three losses and haven't looked strong at all. Here, we take a look at the five players who need to improve the most to see the Black and Gold return to the form that won them a Stanley Cup.
5. Shawn Thornton – It might seem a little odd to include a fourth-line grinder and pugilistic specialist in this countdown of the Bruins who need to step up, but with zero fights and zero points, Thornton does. Much of the Bruins' success last season should be attributed to their incredible scoring depth – and Thorny's ten goals and twenty points (both career highs) contributed greatly to that depth.
Still, he's on the team to provide more than scoring. His pugilistic capabilities are well-established: Last year he led the Bruins and was tied for twelfth overall with 14 fighting majors. With 52 fights over the past three seasons with the Black and Gold (including a whopping 21 in 2009-10) he was counted on to provide a consistent physical presence.
He's tried to initiate fights on several occasions with no result (other players have declined his offer at every turn) but with the Bruins struggling to gain momentum, their 34 year-old veteran leader needs to step forward and be a factor.
4. Nathan Horton – If it weren't for a single, timely goal in the third period of the Bruins' game Saturday against the Blackhawks, Nathan Horton would probably be number one or two on this list. As it stands, Horton – one of the Bruins' best offensive threats – has started the season with a goal and an assist in five games. That just doesn't cut it for a player many thought was ready to take the next step in his career this year.
Horton's physical play has also been lacking. He's only been credited with two hits so far this year. For a guy who's often described as a "power forward" this is an unacceptable amount.
Horton has notably only managed five shots on goal in the B's five games this season. He's on a pace to finish with more than a hundred fewer shots than he had in 2010-11. Horton will need get the puck on net a LOT more if he intends to break out of this slump – and the Bruins need him: Right now, their offense is the fourth-worst in the NHL.
It's important to remember that linemates; Horton, Milan Lucic (who we'll talk about later) and David Krejci are all very streaky players and they're all 'cold' right now.
3. Joe Corvo – Another guy who needs to fire the puck more is Joe Corvo. Number fourteen has only managed to put the puck on net ten times so far, which puts him on pace for 164 shots, a significant step down from his usual totals.
With the Bruins' powerplay struggling there's plenty of deserving finger-pointing to go around and Corvo's no exception. After getting an assist on the B's first powerplay attempt of the season, Corvo and the Bruins have gone 0-for-20 with the man advantage. He hasn't yet been the perfect-fit triggerman that B's fans thought they were getting following the exit of pass-first Tomas Kaberle.
Corvo's problems extend beyond the PP, though. The Bruins have had problems breaking the puck out of their own zone and on zone entries, as well. All too often the B's have been hemmed in by fast forwards on the forecheck, too many times they've played the weak dump-and-chase game instead of skating in with possession. Corvo has contributed in large part to the latter, with more than a few poor dump-ins and mediocre neutral zone play.
If he doesn't step up with some production and an improved transition game, the Bruins are in for some trouble.
2. Zdeno Chara – Chara's recent play has been anything but exemplary. He's had trouble getting the puck out of his own zone, is on pace for fifty fewer shots than last year and has no points to his name. He looks like a shadow of the dominant defensive force that was so critical to the Black and Gold's ability to win the Stanley Cup.
While defensive play hasn't exactly been a major issue for the Bruins (with the League's fifth best goals against average at a miniscule 1.8) he hasn't had the same overpowering defense presence we've seen so frequently throughout his career. Additionally, with Johnny Boychuk as his frequent partner on the blueline, the Bruins have two slow, defense-first defensemen with bad hands on their first pairing – which often leads to trouble when they're trying to break out of the zone.
Early in the B's game against Colorado last week, Chara had one of his worst moments as a Bruin. After being the recipient of a heavy (and entirely legal) check via the Avs' Ryan O'Byrne, Big Z retaliated with a stiff and entirely unnecessary cross-check. It was a dumb move, a dumb penalty and really emblematic of some of the problems the Bruins have faced thus far.
1. Milan Lucic – Looch has looked almost invisible during the Bruins first five games. With only one assist to his name and countless missed opportunities, it seems the forward many thought would take a decent step back from his breakout '10-'11 campaign has perhaps regressed much further.
Lucic's inability to put away excellent chances might highlight his problems, but they don't end there. He's looked pedestrian on the powerplay, his physical performance has been lacking and he's given the puck away a team-leading five times.
If the one-time thirty goal-scorer has any notions about reaching that plateau for the second time in as many seasons, he'll have to go back to playing the dominating down-low game he played before. He's moved too much toward a 'finesse' game and while he's not altogether incapable of playing that way, at 6'4 with a lumbering stride, he's best suited to be physical force.
Lucic's struggles symbolize the problems of an offense that can't seem to put points on the board. With just nine goals in five games, one of the top-five offenses from 2010-11 has started '11-'12 as fourth-worst in the NHL.
Bob is a Boston Bruins Correspondent for The Hockey Writers. He lives in the Boston Metro Area with his wife, Amanda and their five-year-old son, Cormac.