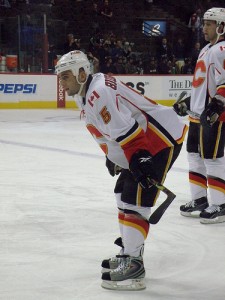 HOME SWEET HOME
After a 1-2-0 road trip through St. Louis, Toronto and Montreal, the Calgary Flames returned home on Tuesday to kick off a six-game homestand. Although the Flames will  welcome the Rangers, Predators, Avalanche, Blues and Canucks to the Scotiabank Saddledome over the next few weeks, they kick things off with a visit from the Edmonton Oilers.
The Flames dominated the Battle of Alberta last season, winning five of six, but that came after a humbling 4-0 opening night loss in Edmonton to the speedy Oilers. The Flames hold a 100-82-19-3 edge over the Oilers in the all-time series, including a 58-32-9-1 record at home. Calgary went 23-13-5 at home last season and obviously are hoping to bounce back from their 5-3 opening-night loss to Pittsburgh in their last home game.
GIORDANO'S AN ASSISTANT NOW
With Robyn Regehr traded to the Buffalo Sabres in the off-season, the Flames kicked off the season by naming Mark Giordano an alternate captain. A veteran of 274 NHL games prior to getting the letter on his jersey, Giordano explained that he's stayed the course since officially becoming part of the team's on-ice leadership group.
"I don't think it's changed much," said Giordano. "As far as our team, we know who we are. As far as myself with the letter, I try to be the same person, the same player. There's a reason why you're given things… it doesn't mean they want you to change or anything. It's because they want you to be who you are."
BRENDAN MORRISON RETURNS
After being sidelined with a knee injury in March, centreman Brendan Morrison was officially taken off the injury reserve by the Flames prior to Tuesday's game with Edmonton. Morrison joined the team last October following a try-out with the Vancouver Canucks.
Despite being signed partially as a stop-gap measure due to an injury to Daymond Langkow, Morrison turned out to be both very effective. Signed for a mere $725,000, Morrison finished with 43 points in 66 games. Despite missing the final 16 games of the season, he finished tied with Curtis Glencross for fifth in team scoring, mostly due to finding chemistry with Alex Tanguay and Jarome Iginla on Calgary's top line. The Flames went 8-5-3 without Morrison and finished out of playoff contention.
Following practice on Tuesday, prior to the game with Edmonton, Morrison's teammates were full of praise for the 36-year-old.
"He was very good for us last season," said Flames captain Jarome Iginla, noting Morrison's ability to chip in all over the ice.
"He's thinks the game right and he does all the little things right, so it's going to be a huge boost to our line-up," said Giordano.
At the time of writing, Morrison was expected to be a game-time decision for Tuesday's game.
HORAK'S FIRST FOUR
The return of Brendan Morrison may spell the end of rookie Roman Horak's tenure with the Flames, at least for the time being. The 20-year-old surprised many by making Calgary's opening night roster, lasting all the way from the first day of prospect camp. Giordano had nothing but positive things to say about the rookie.
"He's a very calm player for a 20-year-old guy and does the little things right. I'm sure everyone around here is very happy with how he's played," said Giordano.
Horak has suited up for the first four contests of this season, averaging over 11 minutes of ice time per game. Being used in a utility role, he has played in virtually every situation, including the power-play and penalty kill. His 50% face-off winning percentage is tied for tops on the team with veteran Matt Stajan.
With Morrison off the injured reserve, the Flames have 23 healthy bodies on their roster and three remaining on the injured list (Mikael Backlund, Brett Carson and Raitis Ivanans), so they would not be required to send any players to the American Hockey League. The Abbotsford Heat aren't scheduled to play until Friday night when they host the Milwaukee Admirals.
NEWS & NOTES
Flames 2011 first round pick Sven Baertschi added another accolade to his resume this week: WHL Player of the Week. Baertschi chocked up seven points in just two games for the Portland Winterhawks and 14 points in seven games since returning from Calgary's training camp. // Two Flame college prospects have put up strong numbers for Boston College. Bill Arnold, Hockey East's Rookie of the Year last season, has begun the season with seven points in four games. Freshman Johnny Gaudreau, drafted by Calgary this past June, has six points this season. Boston College has won three of their first four games as they aim to repeat as Hockey East champions, including a 5-1 win this past weekend over conference rival New Hampshire.