The Canucks have 30 games left in the regular season, but they do not need one more game in order to see that they aren't a playoff team.
With a healthy roster, general manager Jim Benning was curious to see if his team could claw its way back into the playoff race. Two games and two uninspiring losses later, those playoff dreams should be put to bed.
The Canucks are theoretically still in the playoff race but they are moving in the wrong direction. The San Jose Sharks and Anaheim Ducks are surging, while the Arizona Coyotes and Vancouver Canucks are slumping. The playoff picture in the West suddenly looks a lot clearer.
After losing four straight games, including three on home ice, it is time to stop pretending the Canucks are a playoff team. Playoff experience for the young players could be advantageous, but it isn't happening for this current roster. If you're a Canucks fan still clinging onto playoff hopes, take a look at some underlying numbers.
Burrows said #Canucks need to go 21-9 rest of the way to make playoffs. Need a major run but haven't won more than two in a row all year.

— Ben Kuzma (@benkuzma) February 7, 2016
16 ROW's, 29th in the NHL
The Canucks have many stats that show why they aren't a playoff team, but that can all be summed up in the fact that they haven't won many hockey games. In fact, their 16 Regulation and Overtime Wins is second-worst only to the Toronto Maple Leafs.
The 12 loser points they've collected in overtime shows that they are good enough to hang around in hockey games, but they aren't good enough to finish off or win hockey games.
https://twitter.com/Thats_Offside/status/696205213917585408
.500 Winning Percentage When Scoring First, 30th in NHL
The Canucks are a team that has trouble scoring, but the defence is the Achilles heel of this team. Aside from Alex Edler and Chris Tanev, the rest of this defence is made up of underachievers (Matt Bartkowski, Yannick Weber), a raw rookie in Ben Hutton, and a journeyman in Alex Biega. Injuries have also taken their toll on the Canucks back-end, as Dan Hamhuis and Luca Sbisa have both missed significant time.
The bottom line is, this Canucks defence cannot be trusted to hold a lead. They also have a .550 winning percentage when leading after two periods, which is worst in the NHL.
29.7 Scoring Chances Against/60, 30th in NHL
The Canucks are giving up the most scoring chances at even-strength in the entire hockey league. While the goaltending combination of Ryan Miller and Jacob Markstrom has kept the team afloat, it's impossible to see this team improving with its porous defence giving up so many scoring chances.
Also of note, the Canucks give up 12.1 high danger scoring chances per 60 minutes, which is also dead last in the NHL.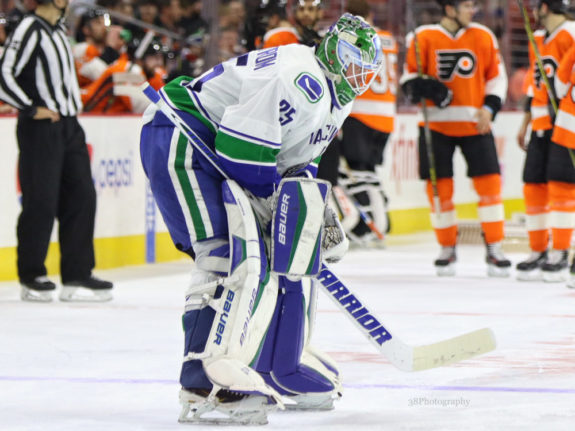 41.4 Goals For Percentage On Home-Ice, 29th in NHL
Aside from a healthy line up, the other reason for optimism after the All-Star break was the Canucks home-heavy schedule. Two games after the All-Star break, the Canucks are left scratching their heads after weary losses to cellar dwellers such as the Columbus Blue Jackets and the Calgary Flames.
Overall, the Canucks have not been good on home ice. Only the Toronto Maple Leafs have less wins (8) on home ice. Their underlying stats on home ice are even uglier, as only Buffalo has a worse goals for percentage on home ice. The Canucks' 36.6 goals for percentage on home ice in close situations (trailing or leading by one goal) is worst in the league.
100.0 PDO
This puts the Canucks smack-dab in the middle of the league. This doesn't mean that they are a middle of the pack hockey club, but it means that they are right where they should be. It's hard to expect much improvement from this club, even with a healthy line up.
Their on-ice shooting percentage is a bit below the league average, and a healthy offence could potentially help that. However their on-ice save percentage is slightly above the league average, and with the Canucks giving up so many high-danger scoring chances, you can expect that to slip as the season progresses.