In hockey, goaltending can make or break a team's chances for victory. Good goaltending can cover up a lot of deficiencies, but almost nothing can cover up for bad goaltending. Since the retirement of Miikka Kiprusoff following the 2012-13 season, the Calgary Flames have been perpetually searching for a top goaltender. Their search has seen them use 10 different goaltenders heading into the 2017-18 season and still not settle on a top netminder.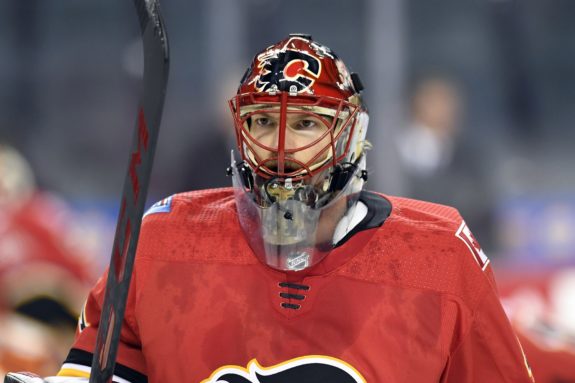 The summer of 2017 represented the second complete changeover of the team's goaltending in as many off-seasons, and the third completely different tandem in three seasons. The Flames seem to be learning from their past challenges, which conspired against them to the point where the team was dead-last in the entire National Hockey League by mid-November last season.
Adjustment Issues
The Flames relied upon Karri Ramo and Jonas Hiller in 2015-16, with Ramo's health and performance earning him the status of their top goaltender (if only begrudgingly). Following a season that saw the Flames finish near the bottom of the standings, team management jettisoned both goaltenders as free agents and fired head coach Bob Hartley. Thus, the 2016-17 season began with a few concurrent challenges:
The new goaltenders, starter Brian Elliott and backup Chad Johnson, had to adjust to their new teammates.
The Flames defensemen had to adjust to Glen Gulutzan's new playing style, which involved being much more proactive in challenging puck-carriers as they entered the defensive zone and initiating quicker breakouts with the puck.
Gulutzan also had to figure out which defensive pairings he was going to utilize and a few races for jobs at the bottom of the roster went down to the final preseason game.
Between new systems, unclear pairings and a lot of goaltenders in camp, the preseason seemed primed for challenges. The first month of the season saw many of the proverbial cracks in the Flames' dam spread, with the first month of the season full of struggles, miscommunications and overall defensive confusion.
In a spring edition of 30 Thoughts, Sportsnet's Elliotte Friedman shared some of Elliott's thoughts about his struggles early in Calgary:
Wherever I go next, I'm going to focus a lot right away on communication so I can hit the ground running. Jay Bouwmeester, Alex Pietrangelo, Kevin Shattenkirk, whether they would slide on a two-on-one, take away the back door or focus on the slot, I'd been with them so long I knew what they'd do. I knew when I could cheat a little more, or should do it less. It took a lot of video work with (Calgary goalie coach) Jordan Sigalet, but finally I felt better and could be more aggressive. It was a reminder that players aren't going to change their tendencies in front of you, so you have to learn how to read a different team.
Elliott played three preseason games behind a team learning new systems. Moreover, the only regular defenders he played with in every game were Mark Giordano and Deryk Engelland. He played twice each with Jyrki Jokipakka, Dennis Wideman, T.J. Brodie and Dougie Hamilton, and the pairings were all over the place. The result was goalies attempting to figure out defensemen, who were in turn learning a new system while playing with inconsistent partners and trying to also learn their tendencies and nuances. In short: it was messy.
While the Flames managed to salvage their season and make the 2017 Stanley Cup playoffs, the beginning of the 2016-17 season provided a perfect template for how not to adjust to a new goaltending tandem.
Learning from Mistakes
The 2017 preseason was a big departure from 2016's. Five of the six blueline jobs were already spoken for and established pairings were used throughout the games – aside from a small group of players vying for the sixth and seventh defensive spots. The team's veteran players didn't have to adjust to any new systems, to the point where Gulutzan frequently joked that it felt at practices like he had another 15 coaches on the ice helping the newcomers learn.
Smith played four exhibition games. All four were played with the Flames' top four defensemen deployed in their appropriate pairings: Giordano with Hamilton, Brodie with newcomer Travis Hamonic. He only played two games with the third pairing of Michael Stone and Matt Bartkowski, though it should be noted that he played for several seasons with Stone and was undoubtedly familiar with his tendencies. Speaking following a victory in the Flames' home-opener, Smith explained some of his acclimation process.
"We were more aggressive, we were quick, we made the plays that were there to be made, and got going." – Mike Smith pic.twitter.com/dYfSmWGflr

— Calgary Flames (@NHLFlames) October 8, 2017
"I got here early," said Smith. "I got here a lot earlier than I would usually get here, but I had kids in school, too, so that was a big reason. But I wanted to get acclimated right away with the players on this team. I had played a lot of games against them, so I kind of knew what they brought to the table, there's been a lot of dialogue between me, the coaching staff and the D about style of play, systems and communication as far as playing the puck."
He noted that the acclimation process included some video work and on-ice sessions with coaches, as well as dialogue with the staff and his new teammates. Given that Smith played in the Western Conference for the last several seasons, arguably the only player he wasn't familiar with was Hamonic (who came to the Flames from the Eastern Conference's New York Islanders). Following the home-opener victory, Brodie shared some thoughts on adjusting to Smith's much-talked-about puck-handling style.
"You just try to get open for him," said Brodie. "If he can get his eyes up the ice, he's going to try to make a tape-to-tape pass and he's good at it. It's just a matter of guys getting open for him and give him the out."
Based on the first few games of the Flames' season (which have seen only Smith in net), the adjustment period for the club's new goalie tandem has already gone a lot smoother than it did a year ago. The early returns have seen a more coordinated, less scattered Flames defensive group in their own zone and that level of comfort has seemingly allowed Smith to begin his stint with the Flames with some strong performances. It's not necessarily an indicator of success over 82 games, but it's always preferable to get out to a good start rather than dig yourself a hole in the NHL's standings.
Ryan Pike has covered the Calgary Flames and the NHL Draft extensively since 2010 as a Senior Writer for The Hockey Writers and Senior Contributing Editor of FlamesNation.ca. A member of the Professional Hockey Writers Association, he lives in Calgary.