One of the most commonly-used axioms in the hockey world is "you have to build through the draft." In a salary cap era, you can occasionally grab valuable pieces off the free agent market by throwing big money or long-term deals at them, but to fill out a 23-man roster that can be competitive in a very balanced league, you need to draft and develop players intelligently.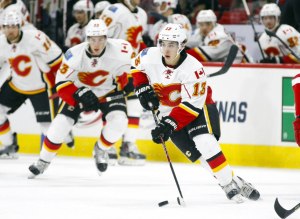 The 2014-15 season has arguably been a watershed moment for the Calgary Flames in this respect.
As the team sits in the first round of the Stanley Cup playoffs – their first since 2009 – the glue of their roster is now composed of players they have drafted and developed internally, rather than players they acquired through trades or thrown money at in free agency.
Their first line? Free agent Jiri Hudler alongside 2013 first rounder Sean Monahan and 2011 fourth rounder Johnny Gaudreau. Their second line features 2014 first rounder Sam Bennett, 2007 first rounder Mikael Backlund and David Jones, who they got in a trade with Colorado. 2010 fifth rounder Michael Ferland has become a cult hero on the checking line through his physical, agitating play. 2008 fourth rounder T.J. Brodie anchors a tough-minutes pairing with free agent Deryk Engelland. 2011 picks Tyler Wotherspoon and Markus Granlund have seen time in depth roles, as has college free agent Josh Jooris, brought in as a development camp try-out two years ago.
All-told, of the 20 players who have dressed for the Flames this series, 8 of them were Flames draft picks. Three of the seven goals scored by the club in the first three games of the series were scored by their homegrown picks.
The Flames rebuild is obviously far from over, but they're already seeing some promising returns from the prospects in their system who have been developed into (at worst) useful, tradeable assets and (at best) contributing members of the National Hockey League roster.
Considering how bad the club was at producing either of those things just three or four years ago, the organization should be proud of what they have accomplished. Proud, but not yet satisfied, as there is still a long ways to go before the rebuild has accomplished what it needs to.
Ryan Pike has covered the Calgary Flames and the NHL Draft extensively since 2010 as a Senior Writer for The Hockey Writers and Senior Contributing Editor of FlamesNation.ca. A member of the Professional Hockey Writers Association, he lives in Calgary.