This past season, the Calgary Flames had subpar goaltending. Neither Jacob Markstrom nor Dan Vladar posted save percentages (SV%) above .900, and while they were not the team's only weakness in 2022-23, the Flames may have been able to sneak into the playoffs had the two elevated their play down the stretch. The Flames' top prospect Dustin Wolf had a spectacular year in goal playing for the Calgary Wranglers, winning American Hockey League (AHL) MVP. Whoever the Flames hire to replace general manager (GM) Brad Treliving will need to figure out what to do with these three goalies ahead of the 2023-24 season.
Jacob Markstrom
Markstrom has three years remaining on his contract with an average annual value (AAV) of $6 million. This past season was a letdown for the 33-year-old netminder; he posted a goals saved above average (GSAA) of minus-18.4 and a SV% of .892. In his own words, he said of one of his low points in the season, "I just suck at hockey right now" (from "I just suck at hockey': Calgary Flames goalie Jacob Markstrom tough on himself after mistake', USA Today, 12/2/22). The season prior, however, he came in second for the Vezina Trophy, posting a SV% of .922 and a GSAA of plus-26.1. He has proven that he has what it takes to be a legitimate top goalie in the NHL and can be the reason his team wins games.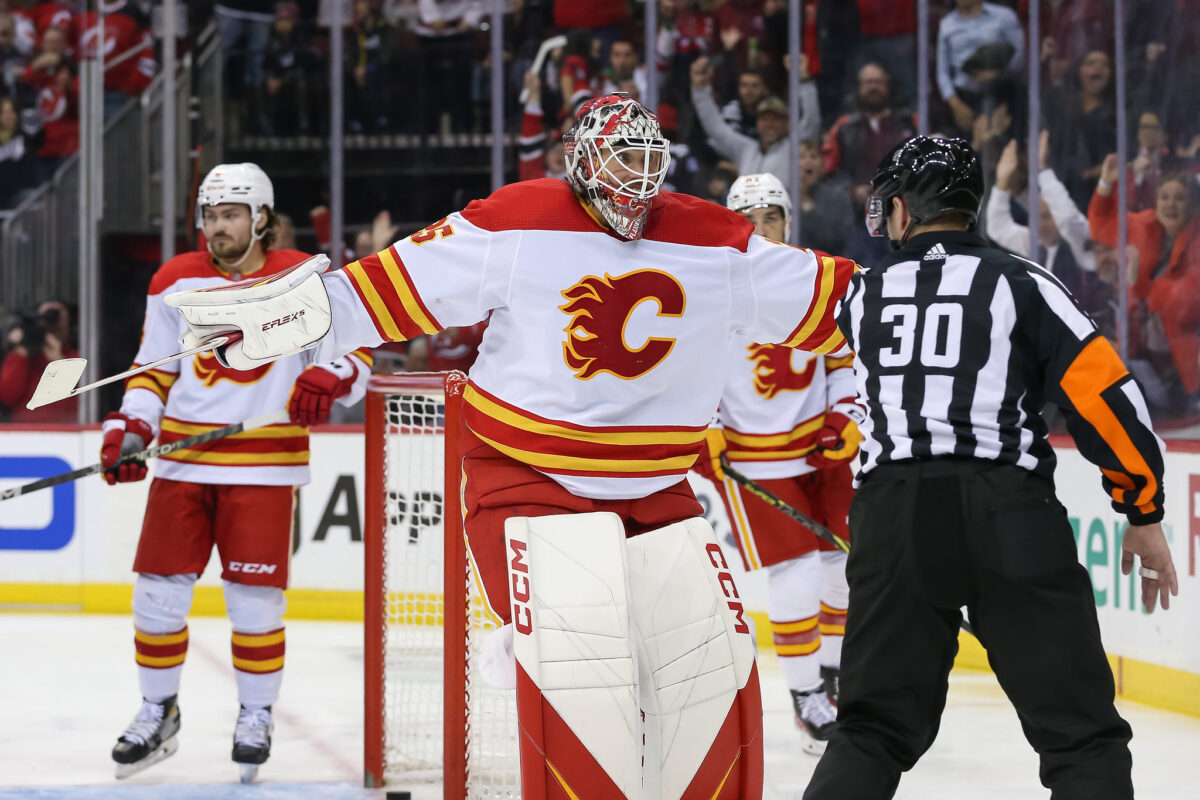 It would be foolish for the Flames to abandon Markstrom after one down year. On top of that, they likely would not get great value in a trade for the netminder, who is the seventh-highest-paid goalie in the NHL and is coming off a year where he struggled. Retaining Markstrom also would allow Wolf to sit behind him and learn from a seasoned goalie who knows what it takes to succeed in the NHL. The Flames should keep Markstrom and he should be considered their starting goalie heading into the 2023-24 season.
Dustin Wolf
Wolf is coming off a spectacular regular season in the AHL. The Wranglers' goalie posted a .932 SV%, with 42 wins, seven shutouts, and a GAA of 2.09. He won the Les Cunningham Award for the AHL's MVP, as well as the Aldege "Baz" Bastien Memorial Award for the AHL's best goalie for the second year in a row, becoming the first player to do so in back-to-back years. In 2019-20 and 2020-21, he won the Western Hockey League (WHL) Goaltender of the Year award playing for the Everett Silvertips; in each of the last four seasons, he has been the best goalie in whatever league he has played in.
Related: Flames' Dustin Wolf Receives High Praise After NHL Debut
---
Latest News & Highlights
---
The only concern with calling Wolf up from the AHL and giving him a permanent roster spot would be that it is too soon to do so. He is just 22 years old, and throwing him into NHL action could destroy his confidence if he does not play well. He did, however, make the transition from juniors to the AHL seamlessly, and while that does not necessarily mean he will smoothly transition to the NHL, it is a positive indication. He has played in one NHL game, a meaningless tilt against the San Jose Sharks at the end of the 2022-23 season, and he faced 24 shots and allowed just one goal.
While one game is not enough to say that Wolf will immediately play well in the NHL, he has been dominant in the minors and played very well in the only NHL action he has seen so far. The Flames should give him a chance to be Markstrom's backup heading into next season.
Dan Vladar
Starting Markstrom and having Wolf back him up would make Vladar the odd man out. The Czech goalie had a down year last season and has not shown the upside in his three-year NHL career that Markstrom has shown. He was inconsistent all of last season, posting a .894 SV% and a subpar .435 quality start percentage (QS%). Fortunately for the Flames, there should be teams interested in bringing in Vladar as a potential backup goalie, as he is both cheaper and younger than Markstrom: at 25 years old, his contract carries an AAV of $2.2 million over the next two years. The Flames should look to trade him this offseason, as there will not be room for him on the roster with Markstrom and Wolf as their starter and backup respectively.
Looking to the Future
Going into next year, the Flames should view Markstrom as their likely starter, Wolf as his backup, and they should look to trade Vladar. Markstrom will look to rebound from a down year heading into 2023-24 and regain his status as a Vezina-contending netminder. Wolf has excelled at every level he has played, and the Flames should be excited for their young goalie to play at the NHL level, especially considering he will be able to learn behind Markstrom, a seasoned veteran. This leaves Vladar without a roster spot, and the Flames should look to trade him during the offseason. Flames fans should be excited heading into next year with Wolf and Markstrom as their goalies, as the tandem has the potential to be a vast improvement over what the Flames had in net in 2022-23.
---
---