In an Edmonton Oilers news and rumors update, Leon Draisaitl took a puck in the face during the Oilers' skate on Friday. Is it anything the team should be worried about? Meanwhile, Ryan Nugent-Hopkins looks to get going in the playoffs with his first goal. Evander Kane talked about his past, joining the Oilers, and his injury status. Finally, the hockey world learned of the passing of former Oilers' forward Petr Klima.
Leon Draisaitl Dinged Up
At Friday's skate ahead of Saturday's Game 2, Leon Draisaitl left the ice a bit early from practice after reportedly taking a puck off the face. Ryan Rishaug of TSN, who has been reporting a number of health issues, injuries, and bumps throughout the playoffs wrote on Twitter, "At Friday's skate ahead of Saturday's Game 3, Draisaitl left the ice a little early after getting clipped in the face by one of his teammates." When he asked about that incident in Friday's media avail, Jay Woodcroft joked with the reporter that he was glad he broke the story and said Draisaitl needed a couple of sutures to close a cut but should be fine.
Related: NHL Has Missed Mark on Marketing McDavid in United States
Draisaitl leads all players in NHL goal-scoring with 11 goals. He's tied for the lead league in points with 15.
Nugent-Hopkins Needs to Get Going
Ryan Nugent-Hopkins had a career-best 104 points this season (along with 37 goals) but his high level of production has not carried over to the playoffs. He's been a dangerous part of the Oilers' incredible power play, but his four assists have gone largely unappreciated because he's not scoring or helping out much at even strength.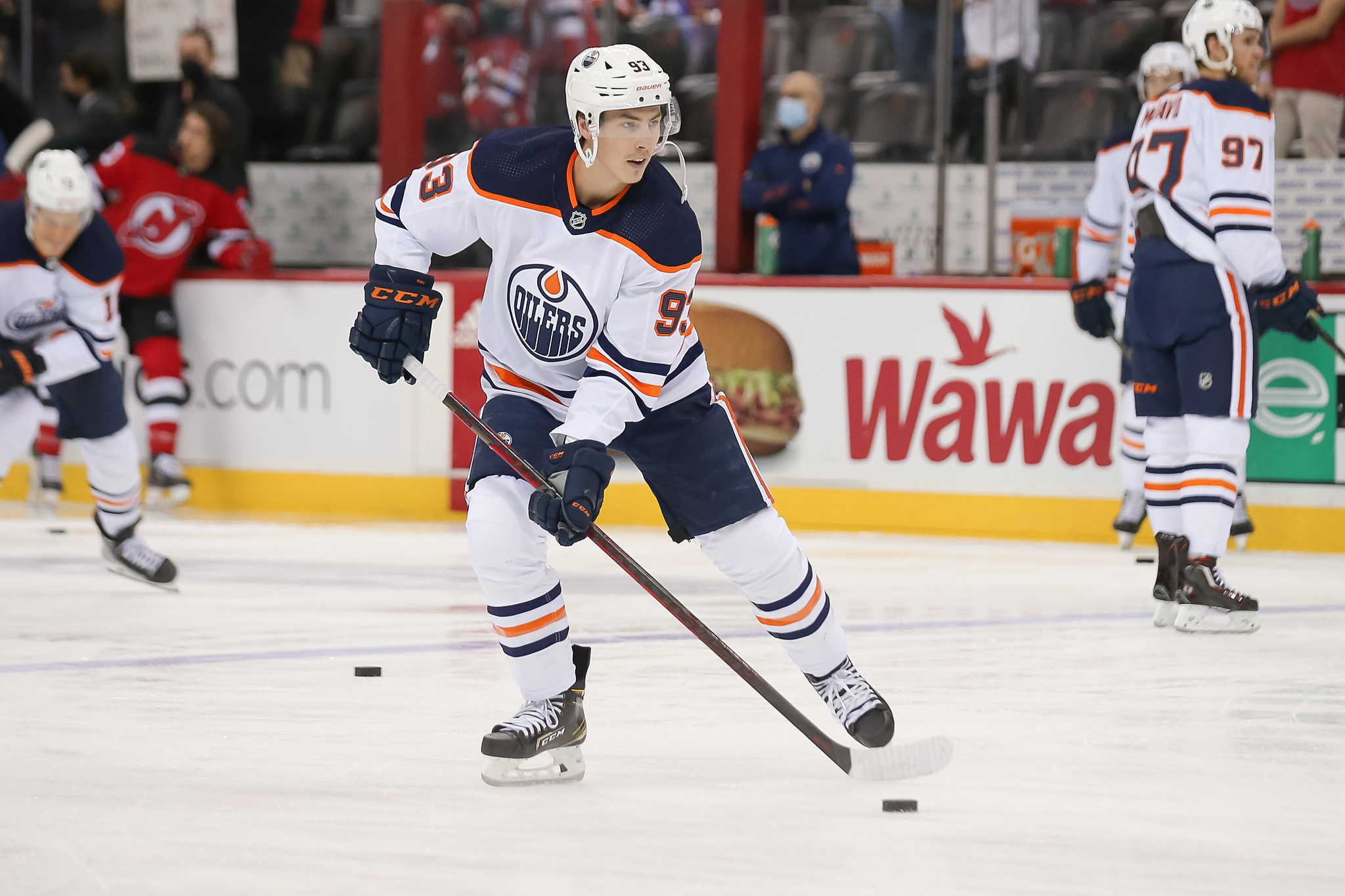 He's aware that he needs to contribute more on offense. While he's noted he's still happy with his 200-ft game, he realized he needs to get going personally and shoot more. He told the media he's happy with his overall contributions to trying to win games, but added, "When I say that, I still want to be able to help out on the offensive side of things. Sometimes, you need an extra goal. I've got to find a way to contribute to that, too."
Woodcroft talked about what Nugent-Hopkins is bringing the team and admitted that the goal-scoring hasn't been there, but also said, "… you would be remiss if you just measured his contribution solely in offensive production."
Evander Kane Tells All
Kane sat down and did a one-on-one interview with Christine Simpson to open up about his past struggles, personal growth, his current success in Edmonton, and his injury. During the conversation, he talked about the arrogance the Oilers need to have to win. Noting that he believes Connor McDavid is better at his sport than any other athlete in their respective sport, the Oilers need to have a little bit of swagger that they are good enough to beat the best teams in the league.
---
Latest News & Highlights
---
That's part of what he likes to bring to the team and he said he had about five or six different teams show interest when he first left the Sharks and that he felt the best fit was Edmonton at that time. He noted that it turned out everyone was right.
There's been a lot of talk about his injuries throughout the playoffs and he noted that his wrist is still swollen, but that things are fully functioning. It will take more time before he's 100%.
Petr Klima Passes Away
Oilers fans were saddened to hear the news that former Oilers forward Petr Klima has passed away at the age of 58. Klima played parts of five seasons with the Oilers (1989-1993, 1996-97), tallying 119 goals and 209 points in 274 games. he might have been best known for the triple overtime goal he scored in Game 1 of the 1990 Stanley Cup Final series against the Boston Bruins. Klima ended up winning the Stanley Cup with that team.