The St. Louis Blues' 2022-23 season was a shocking disappointment for fans and management alike, leading to the team becoming sellers at the trade deadline and ultimately finishing in a draft lottery position outside the playoffs. So, who bears the blames for the team's failings? And who succeeded despite the team's struggles? That's what we'll look to identify in our 2022-23 Blues' Report Cards series.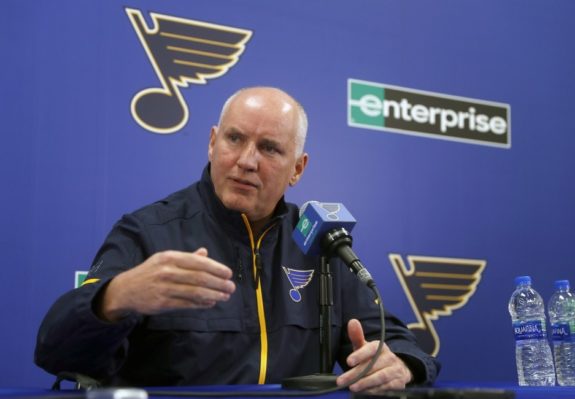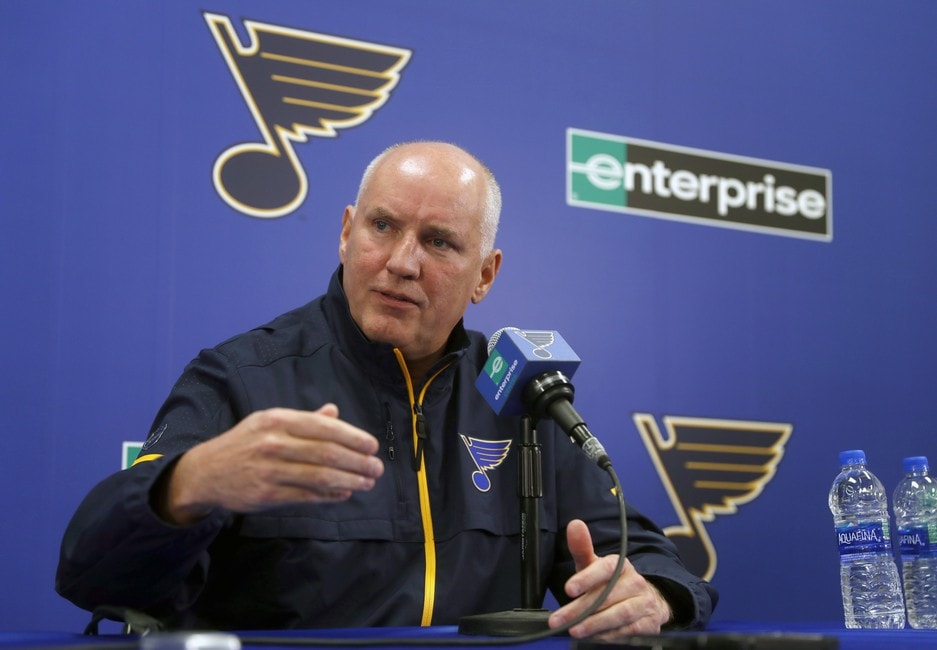 It's difficult to evaluate a general manager's performance in short windows of time. Their impact is often felt over several seasons, as they build and shape a team that is constantly changing and moving closer (or farther away, in the case of a failing GM) from Stanley Cup contention. Still, with St. Louis Blues General Manager Doug Armstrong, it is easy to say that his 2022-23 season was not a success. His team missed the playoffs for the first time since 2017-18 and only the third time in his 13-season tenure at the helm. The long-term contracts he has signed are starting to look like albatrosses on the Blues' salary cap. The decisions he made over the offseason, to let David Perron depart for Detroit or to bring in Thomas Greiss as a backup goaltender, were heavily scrutinized. And he was forced to often repeat a word no GM really wants to have to say: "rebuild." So what happened to make Armstrong's season so disastrous? And how much blame does he bear? Let's take a closer look.
What Went Right: Early Accountability and the Trade Deadline
The Blues season started with three straight wins, but immediately deteriorated into an eight-game losing streak, one of the most painful and longest in recent memory for Blues fans. Despite its falling so early in the season, Armstrong immediately stepped into the flames, taking a press conference on November 1 to address the team's struggles, saying: "Obviously, we're not in a spot where we'd like to be… we're in the bottom quartile of anything that matters in the NHL right now, and that's the best we are… We need to see a competitive level higher than we are now." His comments would go on to address the future of his team, and start to even hint at the possible need for a rebuild.
Related: St. Louis Blues Rebuild May Be Inevitable
---
Latest News & Highlights
---
Armstrong's comments did nothing to improve his team's performance, as they lost the next three games. And even though they immediately answered that eight-game losing streak with a seven-game streak of victories, it didn't take long to confirm that the Blues were going to fall short of their expectations for the season. With many expiring contracts for high-quality players on his roster, Armstrong had to take action, and as the trade deadline approached, he cleaned house. Here's a quick recap of his moves in chronological order:
In making those moves, Armstrong heavily restocked his cupboard going forward. He now has three first-round picks to play with, including his own, which has a slim chance of moving higher in the draft lottery on May 8th. We've seen him weaponize multiple first-round picks in the past in acquiring Brayden Schenn from the Philadelphia Flyers and drafting Robert Thomas and Klim Kostin on the same night in 2017. That series of moves clearly played a big role in bringing the Stanley Cup to St. Louis two years later, and Blues fans have to be excited about the possibilities of Armstrong playing with that much ammo at another deep draft. Additionally, his newly rebuilt forward corps with Kapanen, Blais, and Vrána looked terrific down the stretch. Those young players could be a part of the Blues' system for years to come if they sign extensions. So it's clear Armstrong made the best of a bad situation. But now let's look at how it became a bad situation in the first place.
What Went Wrong: Contract Hell
One of Armstrong's greatest strengths has always been cleaning up his own messes. And that's a necessary skill for any successful GM — no one is perfect, and even the best manager will make a bad signing or trade now and again. But in Armstrong's case this season, it appears to have been too many bad decisions to overcome. The Blues have multiple long-term contracts that are haunting the team. The defensive nightmare of Justin Faulk, Colton Parayko, and Torey Krug is a puzzle with no clear answer, and the St. Louis blueline was an unqualified disaster this season. The defense was so bad that many will rush to cover for Jordan Binnington, but his numbers were also abysmal, and he shouldn't get off scot-free. Brayden Schenn looked better than these other aging players on long contracts by comparisons, but he hardly excelled and could be showing signs of decline as well.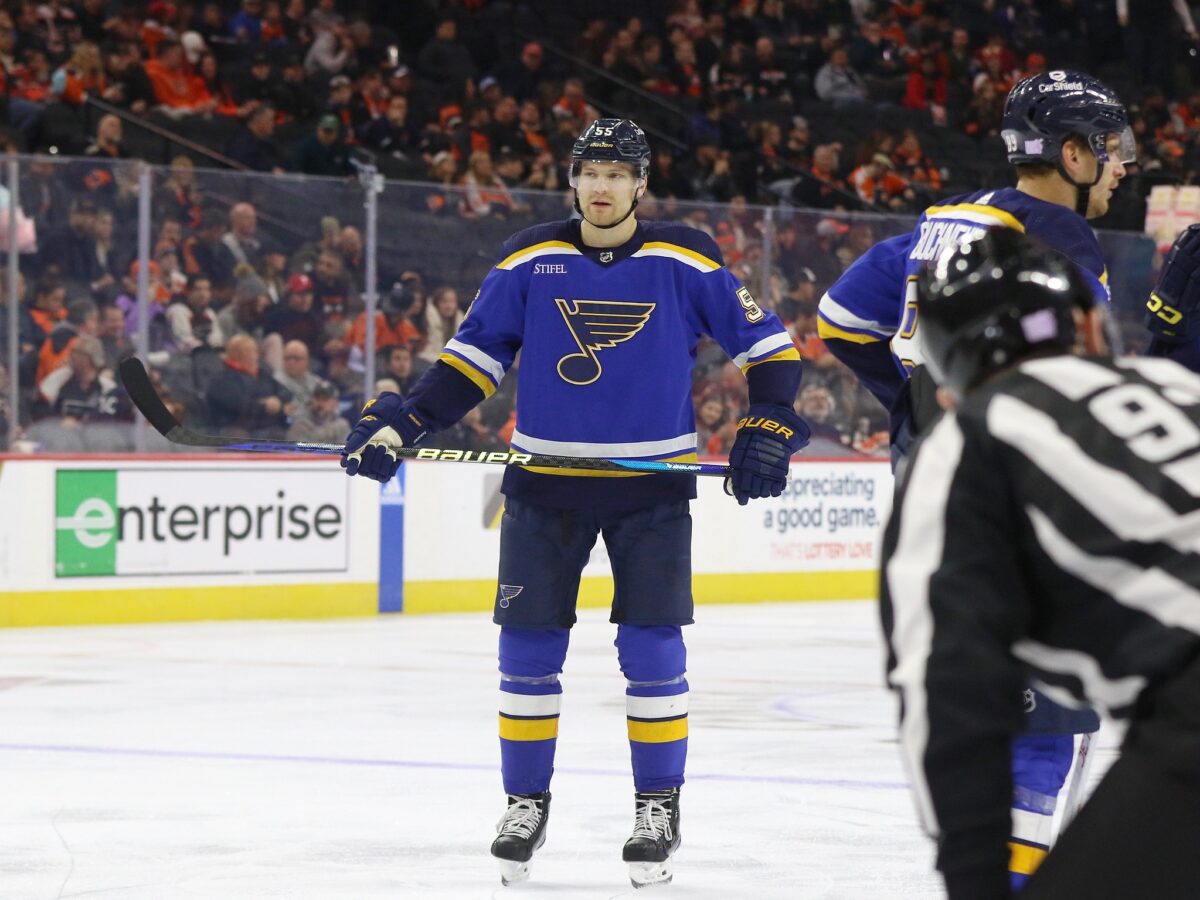 The Blues are officially in a rebuild or a retool of some sort, but with these salary commitments, there is no clear road back to Cup contention. Armstrong might have to weaponize his draft capital to get rid of one or two of these contracts, but doing so will further delay the arrival of any new young talent. It's an unenviable position to be in, and it's one he created for himself. So as successful as his trade deadline was, it is difficult to grade him too highly: he dug the hole to begin with, and he is far from out of it yet.
Key Stats
Fifth most-expensive NHL defense by team salary cap commitment (first among non-playoff teams)
$6.68 million in projected salary cap space for the 2023-24 season
$39.275 million: total combined salary cap hit of Schenn, Krug, Faulk, Binnington, Parayko, Leddy, and Marco Scandella (Armstrong's "bad" contracts)
26.3 total combined "point shares" (an analytic measurement of a player's contribution to his team's place in the standings) of those seven players (nearly $1.5 million per point)
Final Grade: D
Armstrong performed laudably at the trade deadline. He may well have set his team up for the rebuild they needed, and the Blues might have avoided the dark fate of a team that waits too long to pull the trigger. But it's impossible to speak glowingly of Armstrong's performance overall. The Leddy signing was disastrous. The long-term contracts on the book look horrendous. And it is not clear that the Blues can be playoff contenders, let alone Stanley Cup contenders, anytime in the near future.
What's Next for Armstrong
Next up, Armstrong has one of the busiest summers in recent seasons coming up. And despite some optimistic comments made this offseason about how the same team should be better going forward, it's clear that he has to continue cutting if he wants to improve. He will look to move at least one, perhaps two, defensive contracts this summer. He will search for young players who can grow with his core through the draft and via trade. He might investigate a reunion with O'Reilly to bring a beloved player back to the Gateway City. But he will need to be forward-focused. Armstrong has managed the team for 13 seasons. It's unclear how long of a future he has with the team. But if he ever wants to get them back to the top of the mountain, his moves have to be made with the future in mind.