As far as Montreal Canadiens fans are concerned, Round 2 wasn't supposed to go like this. It isn't just because the underdog (cat?) eighth-seeded Florida Panthers are up two games to none to the suddenly Stanley Cup-contender Toronto Maple Leafs. It's that the Panthers aren't even supposed to be here, having faced the Presidents' Trophy-winning Boston Bruins in the first round.
Related: What Canadiens Learned After Round 1 of 2023 Playoffs
By now, everyone knows the tale of the tape in that match-up. The Bruins, one of the best teams in NHL history, having set records for points (135) and wins (65), effectively also set the record for the biggest choke job too. The Bruins had a 3-1 series lead, but lost in overtime in Game 7, sealing the second-largest upset in history in terms of point differential (43 vs. the 48 between the Edmonton Oilers and Los Angeles Kings in 1982). The Oilers meanwhile lost their best-of-five series 3-2, never once leading in games won. So, maybe the Bruins actually won something after all.
Revisiting the Ben Chiarot Trade
In any case, Canadiens fans have had a vested interest in the Panthers' success or, more accurately, their lack thereof this year since last season. It was then, at the trade deadline, that general manager Kent Hughes dealt depth-defenseman Ben Chiarot (let's call a spade a spade) to the Panthers for prospect Ty Smilanic and two draft picks, including their first-round pick in the upcoming 2023 NHL Entry Draft.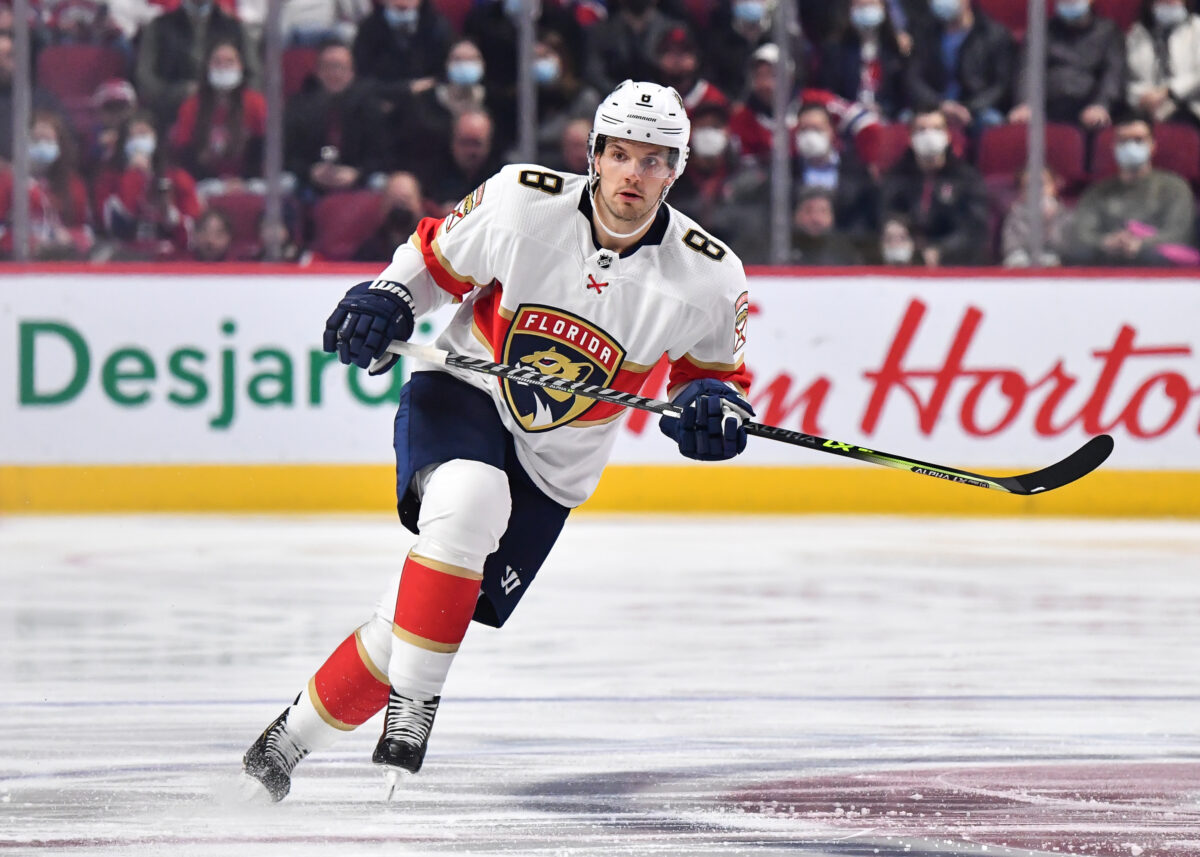 So, had the Bruins beaten the Panthers like they were supposed to, the Canadiens would have secured the 17th-overall pick by virtue of the fact that the Panthers were the playoff team with the fewest points heading into the postseason. The Habs can still get that pick, but only if the Leafs do what they're supposed to and win.
Of course, to be fair, the preliminary script suggested the Leafs would choke themselves in Round 1, having had not made it out since 2004. As a result, this is kind of a brave new world in which we're living. However, the fact remains, if the Panthers keep on winning, that pick will instead turn into one of the final four of the first round, effectively a second-round one for all intents and purposes.
---
Latest News & Highlights
---
Needless to say, it's a far cry from how Canadiens fans anticipated things turning out earlier in the season, when the Panthers had been struggling. It was always incredibly unrealistic, but there was at one time a chance it could possibly transform into top-projected-prospect Connor Bedard. Now, their best hope is that this draft class becomes the next coming of 2003, when Zach Parise was taken at No. 17, Corey Perry at No. 28 and names like Patrice Bergeron (45), Joe Pavelski (205) and Shea Weber (49) were still available by the end of Round 1.
Past Canadiens Picks at No. 17
For the record, the Canadiens have drafted at No. 17 seven times. It's rarely worked out, with, for example, Nathan Beaulieu in 2011. That year, Rickard Rakell went No. 30 overall to the Anaheim Ducks. Looking at just the years the Habs owned Pick No. 17 without selecting again before Pick No. 32, they only seemingly got it right once, in 1987, when they took Andrew Cassels. No one else of relative consequence was drafted until they picked again right afterwards at, coincidentally, 33 (John Leclair).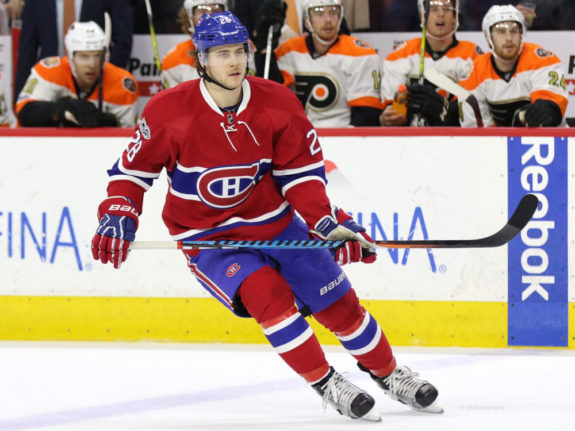 All that to say, it's obviously better to pick at No. 17 than 32. However, one can understand why Canadiens fans are conflicted, not knowing for whom to cheer. After all, the Maple Leafs are one of their biggest rivals. So, cheering them on for the sake of securing a better pick? It's less than ideal.
However, keep in mind, the Bruins are arguably even bigger Canadiens rivals than the Leafs, historically speaking. Hell, recently speaking too. However, there was little argument over which team should win between them and the Panthers in the first round. Granted, that may have had to do with it being such a foregone conclusion the Bruins would win, to the point it made little sense to argue in favor of the Panthers.
Think about that for a second, though. Unless Canadiens fans were only holding back expressing their hopes that the Panthers would pull off the huge upset over the Bruins out of fear of getting ridiculed for being crazy, it was because there's an illogical thought process going around in the minds of fans everywhere: that for whom they root is a factor in the end result. Just about everyone's guilty of it too.
To a degree, it is a factor admittedly. Arenas filled to the brim can theoretically tilt the ice in the home team's favor. However, the hopes and dreams of individual fans as far as the fates of different teams are concerned? Bupkis.
Leafs vs. Panthers
It begs the question(s) then: Why is this even an issue? Why does it matter whether you cheer for the Leafs or Panthers? Why are things getting heated on social media (other than it being human nature to argue on Twitter about any and everything)? Why not just (try to) enjoy the series for what it is, a high-octane match-up between two offensively inclined teams, each with their own dubious playoff histories, to where it's inevitably going to transform into an entertaining comedy of errors?
It's a lot to ask, considering all the illogic that goes into being a fan in the first place. However, there's no good reason why Canadiens fans shouldn't just sit back and relax and just take the series in, knowing they have pretty much zero control over the outcome.
Sure, it's technically better for the Canadiens if the Leafs win. However, there's also a degree of priceless satisfaction that will come from watching the Toronto media trip over themselves justifying how a second-round exit was a success when the team was built to win it all… but may not make it to Round 3 for another 19 years. Wouldn't that be kind of worth it, especially when there are no guarantees the player taken at No. 17 ends up more successful than the one at No. 32?
Ultimately, cheering for the Canadiens should mean cheering for their scouts and management to make the right moves. Credit to Hughes for getting the pick in the first place when, at least in retrospect, Chiarot, all due respect, clearly wasn't worth it from the Panthers' perspective.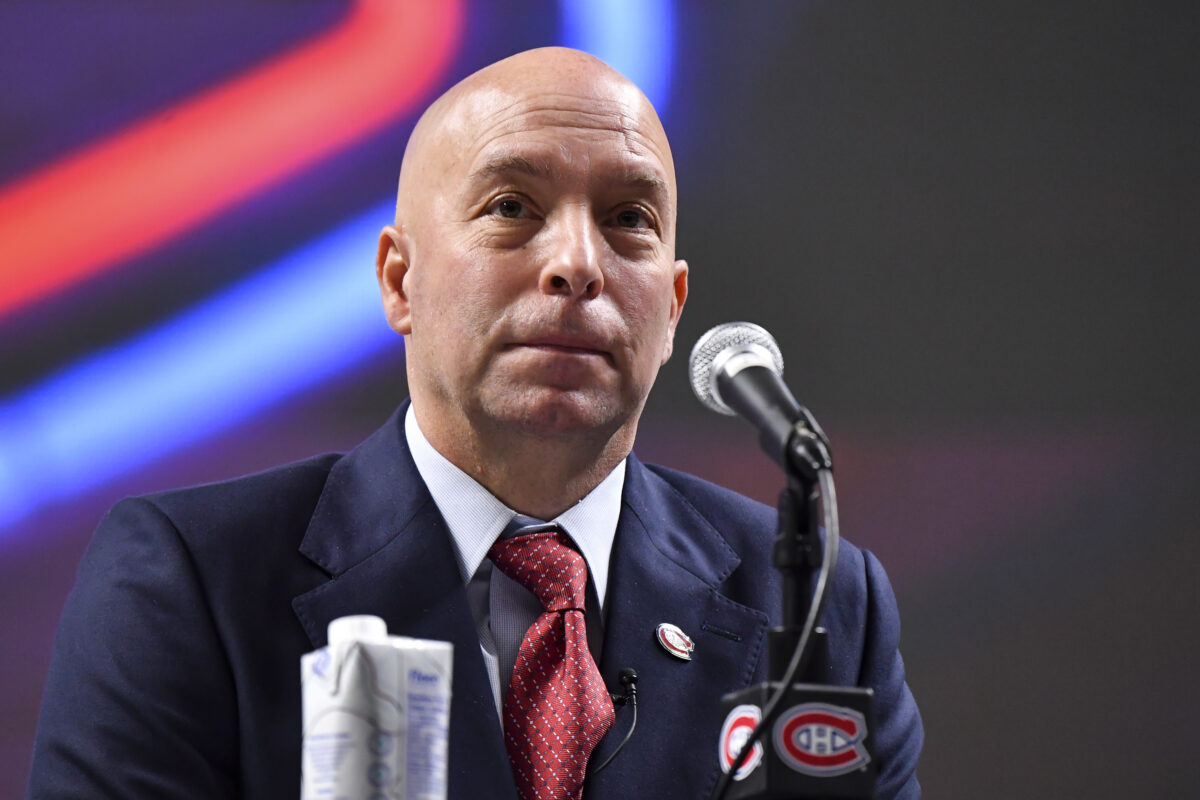 In general, Hughes has done everything to justify the faith Habs fans seem to have in him up to now. True, it's a small sample size in terms of moves made and it's literally going to be a few years before everyone knows if his picks pan out. So, one more reason to live in the now, when no one will know for a fairly long time whether the 2023 Draft, itself months away, is going to turn into a Canadiens success story.
Even though they don't officially figure in, the Canadiens do technically have a horse in this race in the Leafs. However, the bigger race to the Cup from the Habs' perspective is years longer. It's not going to be decided over the next few weeks and unlikely over a single mid-to-late first-round pick to say the least, one the Canadiens might not have even had, had Hughes' 2022 trade deadline gone even slightly differently.
So, wherever it ends up, it's going to benefit the Canadiens. Whoever wins between the Leafs and Panthers, so be it.