The St. Louis Blues' 2022-23 season was a shocking disappointment for fans and management alike, leading to the team becoming sellers at the trade deadline and ultimately finishing in a draft lottery position outside the playoffs. So, who bears the blames for the team's failings? And who succeeded despite the team's struggles? That's what we'll look to identify in our 2022-23 Blues' Report Cards series.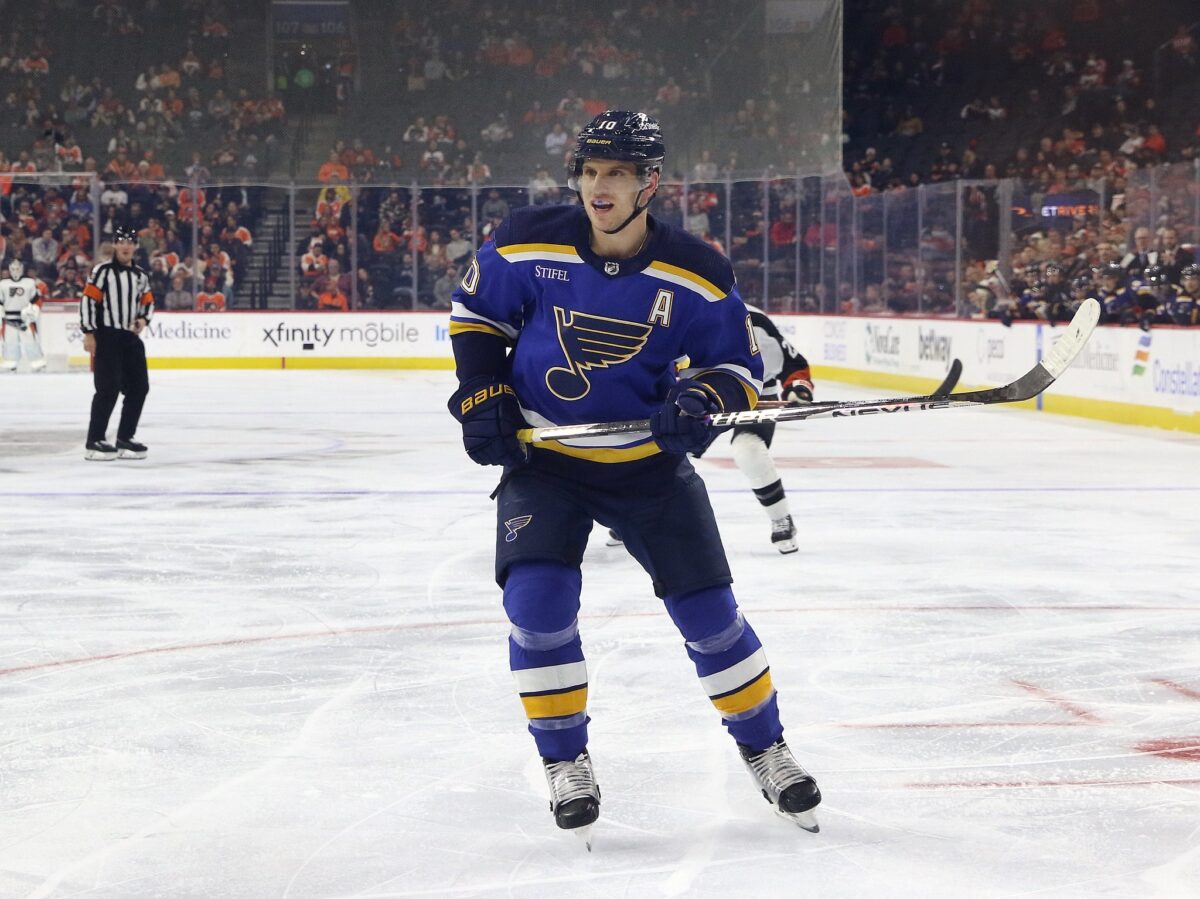 Like most of his teammates, Blues forward Brayden Schenn experienced a mixed-bag type of season that took the good with the bad in an otherwise disappointing and alarming season for the organization.
What Went Right: Schenn Stayed Healthy
Playing with a mixed style of offensive skill and physicality, Schenn is the type of player that is often seen as well-rounded, but one that finds himself put in situations that can lead to short and long-term injuries. That being said, when the 30-year-old was one of only two Blues players to compete in all 82 games this past season, it became a major win for him. For Schenn, this season was about returning to form and staying healthy. This season marks the first time that he has played all 82 games since his first season in St. Louis where he produced 28 goals and 70 points. While he fell short of matching or surpassing the 70-point mark, he came only five points shy of this accomplishment.
What Went Wrong: Team Cohesion & Offensive Consistency
During his end-of-season press conference, Schenn was asked about the 28-point dropoff that the Blues experienced this year. He said:
"I think from the very beginning, we probably didn't come together as a team. It's a humbling league. Year by year, you have to be a team. We've always said the Blues aren't built on superstars with [Connor] McDavid and [Nathan] MacKinnon and guys like that that can easily win you a game each night. We feel that we have to play together and we didn't do that enough this year, so we've got to get back to building something next year with each other and it shows when you're not a team, it's tough to win and we proved that this year."

This season, the lack of comradery within the locker room really seemed to take a toll. Players more often looking out for themselves and their own personal gains likely pushed to the forefront of players' minds. With multiple veterans on expiring contracts this past season, there was a large realm of uncertainty surrounding players' futures in St. Louis. When it comes to a player like Schenn, a current and future key member of the makeup of the team's roster, he may not have much to worry about when it comes to his future in St. Louis. To help adjust the mindset and culture in the locker room, the next step is to show his teammates what it looks like to have their team play for one another to bring the team together to return to the postseason once more.
Related: St. Louis Blues 2023 Offseason To-Do List
---
Latest News & Highlights
---
Additionally, Schenn was inconsistent when it came to his offensive game. While his in-game objectives may have changed, along with his linemates and spot in the lineup, he went from a 0.94 point per game pace to a 0.79 per game pace. It was unlikely that he would keep up a point-per-game pace and surpass 80 points this year. Though in a season where the team lacked identity and direction, a goal-scoring, heavy-hitting forward like Schenn could have been a true guiding light for his teammates to follow.
Key Stats:
Schenn's minus-27 rating was the worst of his career and second lowest plus/minus rating on the team
71% of Schenn's goals came at even-strength
Schenn recorded 472 faceoff wins, the second-highest in his career.
Final Grade: C
While the Canadian continued his heavy-hitting style of play and surpassed 60 points for the second time in his career, he and the Blues seemed to lack identity and direction. Plays that seemed routine a year ago were nearly impossible to accomplish one season later and Schenn was no exception to that rule. He and his teammates lacked direction, but he was ultimately able to do his part by helping spark the team's offense.
What's Next For Schenn?
Next up for Schenn could ultimately be team captaincy. It is not a foregone conclusion that he will become the franchise's next captain, or that they will even have one next season. However, should the Blues choose to venture down that path, he is certainly one that checks off a lot of boxes for what a team captain usually showcases on a day-to-day basis. With five years remaining on his contract, the Saskatoon native will be around while the club tries to reclaim its identity and return to the postseason and hopefully one more push for a Stanley Cup.