Back in the day, teams with elite starting goaltenders were often the most dominant in the NHL, given how often they played. It wasn't uncommon for a starting goalie to start at least 60 games a season, making the backup position one that teams didn't have to worry much about. Take Hall of Famer Martin Brodeur, for example. In 14 seasons spanning from 1995-96 to 2009-10, he played 70 or more games 12 times, including a career-high 78 during the 2006-07 season. Both the durability and consistency are just a few of many reasons why he is one of the best of all time.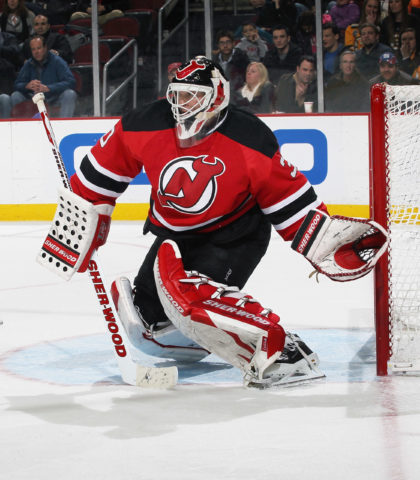 Those days are in the past now, however, as teams are beginning to learn how important rest is. As a result, starting goaltenders are not being relied upon as heavily, making the backup position much more important. Taking a look at the last full regular season we had in 2018-19, only six goalies played more than 60 games, with Devan Dubnyk leading the charge at 67. The majority of starters played in the 50 to 60-game range, which is a common theme we have begun to see in recent years, and one that likely won't change.
Not only will it not go back to the way it was, but starting netminders' games played in a season may continue to go down. Many teams around the league have started to utilize a "1A", "1B" goalie system where there is no clear-cut starter and both split the net almost evenly. A big reason for this is of course the rest factor, but another is that outside of the elite starting netminders, teams are beginning to realize that there isn't as big of a gap in talent between starting and backup goalies as once thought.
To prove the point, take a look at the Dallas Stars this past postseason. Their usual starting netminder, Ben Bishop, who it could be argued is a top-five goaltender in the entire league, was forced to miss the majority of their playoff run due to injury. 15 or so years ago, this would have been seen as a huge disaster, but backup goaltenders throughout the majority of the league are much improved.
Anton Khudobin proved this, as he carried the Stars all the way to the Stanley Cup Final, looking like a top-end goalie throughout. This was huge for his team at the time and will continue to be going forward, as he proved he can be counted on whenever needed, which will allow Dallas to lower the workload for the often-injured Bishop. As a result, they have what is now considered one of the top goaltending duos in the league. With some big changes this offseason, the Calgary Flames are in a similar boat.
Game Changing Acquisition
The Flames have been a very busy team this offseason, bringing many free agents into the fold. The biggest move of them all, and one of the biggest throughout the entire league, was the signing of goaltender Jacob Markstrom. The former Canuck agreed to a six-year deal that will pay him $6 million per season. This was a huge move for general manager Brad Treliving, as he added a player who many consider to be a top 10 goalie in the entire league. This gives the team a much stronger tandem going into the 2020-21 season on paper than they had a year prior in David Rittich and Cam Talbot.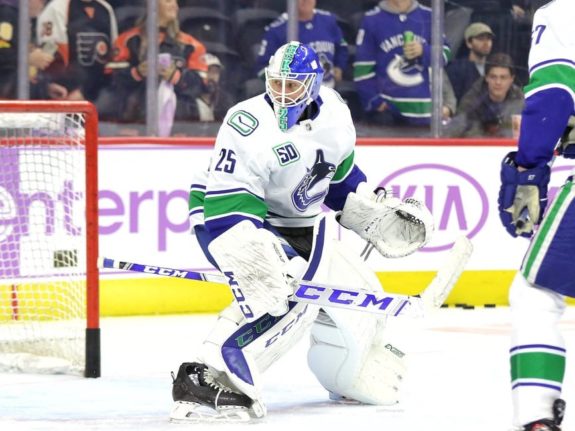 It should be noted that Calgary's duo wasn't bad last season, but they weren't great either. They allowed a combined 214 goals against, which tied them with the Nashville Predators, Chicago Blackhawks, and Canucks for 16th in the league. Talbot finished 19th throughout the league amongst goalies who played 20 or more games with a 2.63 goals-against average (GAA) and also had a .919 save percentage (SV%) which tied him with Boston Bruins backup Jaroslav Halak for 12th. Rittich fared much worse, ranking 40th in GAA at 2.97, and tied for 34th in SV% at .907.
While Rittich's numbers appear much worse than Talbot's, it is in large part due to the fact he was given a much heavier workload, as he appeared in 48 games to Talbot's 26. Rittich had a fantastic start to the season, which included being selected to play in the All-Star Game. Headed into the All-Star break, Rittich's numbers sat at a much more respectable 2.77 GAA and a .913 SV%. After, however, he struggled immensely, posting a 3.60 GAA along with a .888 SV% as fatigue appeared to set in. As a result of his struggles, Talbot took over the net late in the season and kept it for the playoffs.
Proper Role
While Rittich may not like it, the signing of Markstrom will be beneficial to him. The Flames know what they are getting in the Swedish netminder, whereas Talbot was a bit more of a question mark after inconsistent play with the Edmonton Oilers over the previous two seasons. They simply relied too heavily on Rittich, who started 35 of a possible 50 games prior to the All-Star break.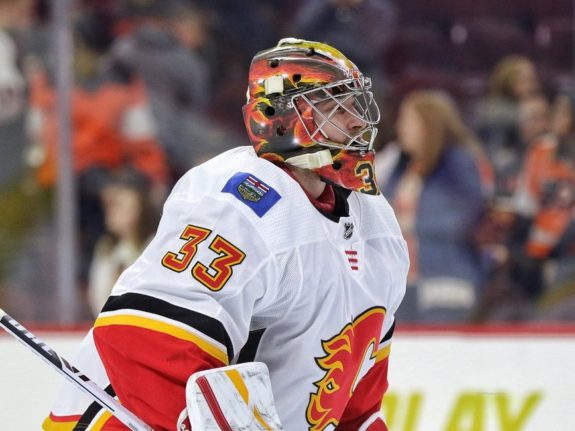 For the 2020-21 season, Rittich will see significantly less playing time. Markstrom, who the team brought in to be their No. 1, played 60 games in both the 2017-18 and 2018-19 seasons. During his last few seasons with the Canucks, however, he never had a backup as talented as he will for this upcoming season. This means that his number of starts will likely be cut into, playing somewhere between 50-55 games (or that pace, depending on 2020-21 schedule), barring injury to either.
For Rittich, given that he will both be played in more favorable matchups and have more rest time than last season, his numbers should improve. In 2018-19, where he appeared in just 45 games, he posted a much more respectable stat line of a 2.61 GAA and a .911 SV%. There is a good chance he posts numbers similar to that season in 2020-21.
Flames Will Help Markstrom
As for Markstrom, the 2019-20 season was the best of his career. While his 2.75 goals-against average (26th in league) doesn't look great by itself, it is a lot better when factored in with his .918 SV% (14th). As those two numbers paired together show, he faced a lot of rubber last season, finishing fifth in the entire league in shots against per 60 minutes (SA/60), averaging 33.4 a night.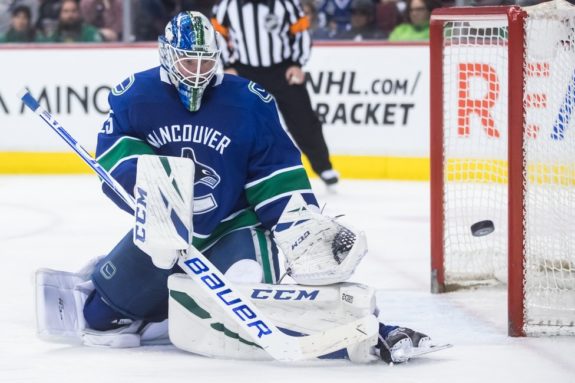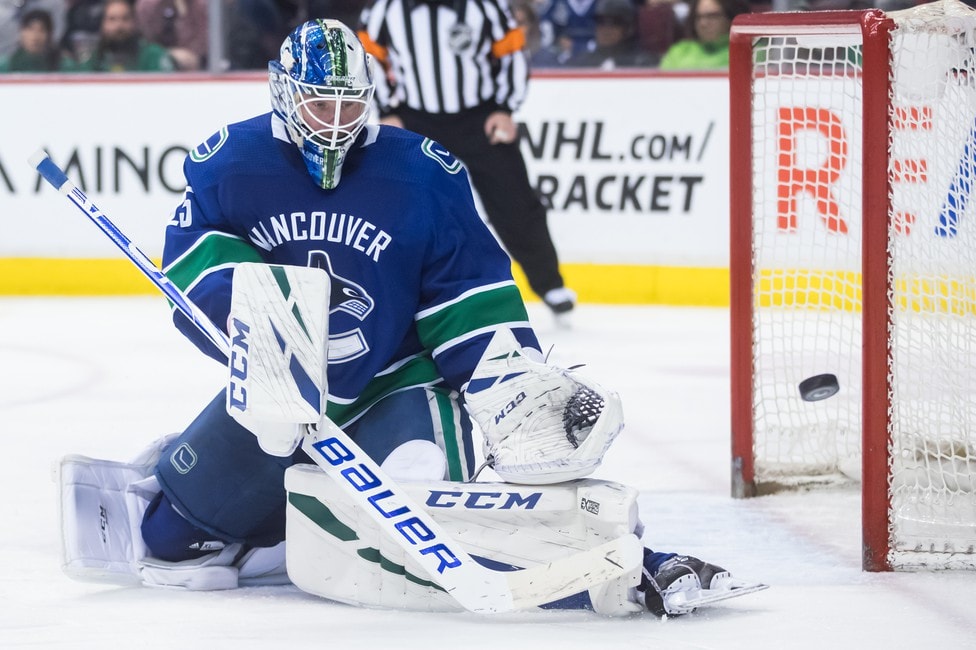 Proving how hard it was to play behind the Canucks last season was backup Thatcher Demko. The soon to be 25-year-old faced nearly an identical SA/60 at 32.3, but had much worse numbers despite being given favorable matchups, as he compiled a 3.06 GAA and a .905 SV%. This isn't meant to rag on the Canucks, who have a very talented young core group in players like Elias Petterson and Quinn Hughes, but is to show just how important Markstrom was to the Canucks success last season.
The Flames and Canucks actually didn't rank far apart in shots given up per game, as the Canucks finished 28th averaging 33.3, while the Flames came in 24th at 32.4. The big difference between the two, however, were the types of shots being given up. For example, teams on average gave up 1,447 scoring chances against last season. The Flames were slightly above that mark at 1,493, however the Canucks were way above at 1,557.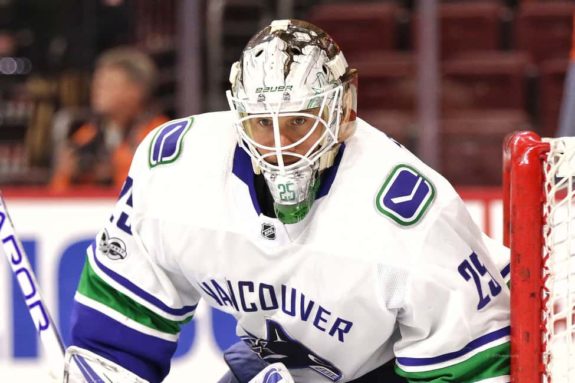 To put it simply, Markstrom was able to make up for the Canucks defensive issues in a big way last season, which is why many thought he should have been a candidate for the Vezina Trophy. Though the Flames lost numerous defencemen via free agency, they still have a solid backend that should make things easier on the 30-year-old. That, along with having an extremely competent backup in Rittich, could set the stage for Markstrom to have an even better season than his career year in 2019-20.
Top Notch Duo
Given the Flames' struggles in the postseason over the years, all signs point to this being their last season to make some noise. If this core is to stay intact, a deep playoff run is needed. While bounce-back years from players like Johnny Gaudreau and Sean Monahan will be needed for that to happen, there is no doubt this is the best goalie duo the Flames have had in quite some time.
---
---