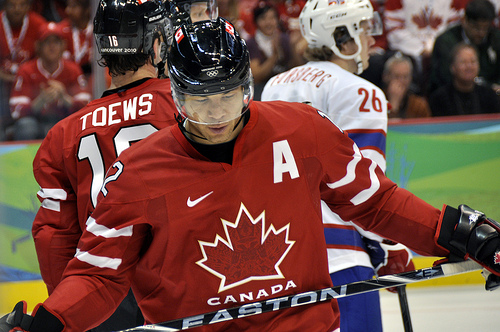 CALGARY-Jarome Iginla, Miikka Kiprusoff and Niklas Hagman started their night wearing shiny new Olympic medals only to finish it with the same old albatross hanging from their necks.
The applause for the two Finns and the long ovation for Iginla, who made perhaps the most famous Canadian pass since Gretzky to Lemieux in 1987, transformed into third-period boos as the Calgary Flames were blanked at home yet again.
Niklas Backstrom stopped a combination of 29 twine-seeking missiles, roofed wristers, bouncing biscuits and rolling nubbers to earn his second shutout of the season and 4-0 victory for the visiting Minnesota Wild.
"You never know what to expect when you come out from a break," Backstrom, who played behind Kiprusoff for Finland, told the Associated Press. "We got off to a good start and played a really solid team game tonight."
Backstrom has allowed just two goals in three meetings with the Flames this season, posting a .974 save percentage in those contests.
Calgary's effort was again marred by bad bounces, tightly-held twigs and, above all, turnovers.  Despite an eight-shot advantage and several stretches in which play was confined to the Minnesota zone, the Flames were blown away on the scoreboard.
Three early turnovers led to three odd-man rushes in transition and all three times Minnesota scored.  A late-game defensive zone scramble led to the fourth goal for the Wild, who were nothing if not opportunistic.
"I think we've made too many mistakes and we've given up too many odd man rushes," assistant coach Dave Lowry told Rogers Sportsnet.  "We've had periods where we've carried the play and then we make a mistake at a critical time.  That's cost us."
Kiprusoff, whose 17-for-21 save tally appeared unimpressive, was hung out to dry for the most part.  He stopped several solid chances and shone brightly early in the contest stopping three outstanding bids in the first five minutes of play.
Backstrom responded with strong play of his own turning aside a wraparound attempt by Rene Bourque and stoning Chris Higgins who seemed to spend the night with the puck caught in his skates, beyond his reach or heading wide of the net.  The fastidious Higgins has yet to score a goal as a Flame.
A Cam Barker blast gloved by Kiprusoff and a nifty give-and-go between Eric Nystrom and Curtis Glencross that was stoned by Backstrom were mixed between strong physical play during the scoreless portion of the opening frame.
Mark Giordano teed off on Cal Clutterbuck early and often.  He knocked him to the ice in the neutral zone in the first period and, in the second stanza, delivered a shoulder to his jaw to send Clutterbuck's head snapping backward.  Clutterbuck ended Giordano's 2008-2009 with a vicious hit, knocking him out for the Stanley Cup Playoffs.
An Ian White shot-pass for Eric Nystrom gave the Flames another excellent opportunity but the puck went just beyond the reach of the Flames forward as he skated in front of an open net.  It was Nystrom's second sterling chance in as many shifts and a fine bid for a follow-up to his first goal in 43 games against Anaheim.
Moments later, Marek Zidlicky collected a turnover in the Minnesota zone, sending Owen Nolan ahead of the play with Kyle Brodziak on his left wing against a single Calgary defender.  Brodziak drove wide and Nolan feathered a pass that the right-handed Brodziak one-timed home over Kiprusoff's right shoulder.
A late chance for Calgary in the first and several second-period bids by Giordano, Bourque, Jamal Mayers and Mikael Backlund were turned aside by Backstrom.  Despite dominating possession for 30 minutes, the Flames had only a one-goal deficit and a quickly depleting tank of gas to show for it.
Midway through the second period, Minnesota cracked the contest open like a coconut with two odd-man rush markers in less than four minutes.  Andrew Brunette keyed the first scoring play by stealing the puck and making a breakout pass that sent Antti Miettinen through the neutral zone with speed.  Miettinen's deft dish to Mikko Koivu set up a drop pass for Brunette who finished what he started with no resistance from the overwhelmed Kiprusoff.
Cam Barker collected another turnover and Brunette earned a first assist as his chip-out for Koivu led to a 2-on-1 break on which Koivu blasted a shot that dinged the intersection between the post and crossbar before searing the Calgary twine.
"It's always fun to play against Kiprusoff," Koivu, another Finnish Olympian, told the AP. "We're from the same hometown, I know him a little bit from skating with him in the summer. It's a great challenge for us always when we play against him."
Minnesota had another odd-man rush in the period, a 2-on-1 that was quelled when a lively wrist shot from Miettinen was met by Kiprusoff's blocker.
The Flames played a mostly lackluster third period, including an 0-for-2 performance on the only two power plays of the entire game for either side.  On a play emblematic of his own struggles and those of the Flames collectively, Higgins broke his stick on a shot an open net following a scramble in front of the Minnesota goal during a power play.
"You want to control the play but at the end of the day you have to score a few goals and gain momentum that way," Matt Stajan told the Calgary Herald. "The power play was terrible … bottom line is we have to be better as a whole."
Stajan again skated with Iginla and Hagman, but their momentum from February did not carry into March as the trio managed just one shot on goal in a combined 53:12 of ice time.
"We just played a bad hockey game," Stajan told the AP. "Nothing else you can really say. My line couldn't generate anything, gave up a lot of odd-man rushes and they capitalized."
Guillaume Latendresse nearly made it 4-0 but his transition to his backhand moving in on an open net sent the puck sailing wide.  He later fired a shot off a Shane Hnidy saucer pass and created a rebound for Martin Havlat, who scored the lone goal of the final frame.
The Flames also performed atrociously in the circle.  They could have widened their possession advantage and capitalized on offensive-zone draws gained by Minnesota's repeated icing of the puck, but Calgary won just 20 of 57 faceoffs.
With just 38 points remaining for the taking, the Flames' window is narrowing by the moment.  The trade deadline has passed and now Calgary finds out if it mistook activity for achievement or the Flames solidified themselves as contenders.
"We did all we can in terms of our roster in the past five or six weeks.  Now it's up to the players and coaches to turn it up a notch," general manager Darryl Sutter told Rogers Sportsnet.