It's been just about a month since the NHL season began and it seems like that bright shiny star of hope that started the Florida Panthers' season is slowly fading. Sitting in a familiar place in the standings–7th in the Atlantic Division–it appears on paper that nothing has changed. However, if you look a little more closely, it's really not as bad as it seems. Except in some ways maybe it's even worse.
With a record of 5-4-4, for a total of 14 points, they have played fewer games than most other teams in the league. So although the numbers are somewhat grim, they have as many as three games in-hand (Calgary, San Jose and a few others have already played 17) in which to make up both wins and points. They've also lost four games in overtime, which shows a lot of promise, and goaltender Roberto Luongo has done an amazing job keeping it close. Yet no matter how much you play with the numbers, they aren't really adding up to winning.
Where Are The Scorers?
The problem is that it always goes back to the same thing: Scoring. What the Panthers have lacked, still lack and will continue to lack until someone figures this out, is scorers. There are no true scorers on this team. Everyone has a role, a position they are technically skilled at, but when you look at the actual numbers, you'll find something interesting: not only is no one really leading in scoring, barely anyone is scoring at all. Only two players have three goals (Brandon Pirri and Scottie Upshall), and overall, the team leaders in points (Aaron Ekblad and Jussi Jokinen) have only amassed eight and seven points respectively. Meanwhile, Tyler Seguin (Dallas) and Rick Nash (New York Rangers) have each scored 12 goals, so together these two players have scored as many goals as the entire Panthers team.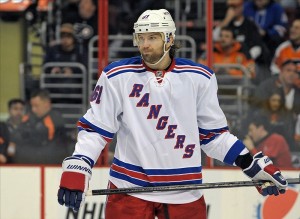 If you look at a team like the Dallas Stars, who has racked up the same number of points in one extra game (14), their top scorers have 19 and 14 points respectively (Seguin and Jason Spezza). So a team who, depending upon your interpretation of the numbers, is even worse than the Panthers still has scoring. The question then becomes is the problem as simple as the team needing scorers or is it more deep-rooted?
Prospective superstar Jonathan Huberdeau has been spectacularly underwhelming with just two points in 10 games, and 19-year-old Aleksander Barkov has been equally disappointing. If the future of the Panthers lies in the hands of some of their rising stars, there is definitely something amiss.
Breaking It Down…
It's no secret that the team has been losing money for years, yet management didn't hesitate to give a $25M deal to a player like Dave Bolland who has never scored more than 19 goals in his NHL career. The two Stanley Cups under his belt notwithstanding, he appears overpaid, he's been on the injured reserve list for several weeks and hasn't acquired so much as a penalty minute to date even though he did play four games at the beginning of the season. Almost a month later, he's still earning $25M while watching from the stands. Injuries are unavoidable, so there's no one to blame for that part, but the off-season free agent disasters extend far beyond injuries.
Bringing in a player like Willie Mitchell is yet another strange off-season move that has people puzzled. He too is a player who, despite winning two Stanley Cups with the L.A. Kings, is not producing much of anything (just two points in all 13 games). Making him the Captain is equally confusing. Though a solid defenseman who protects his team and typically racks up the penalty minutes, he's done none of that this year and, to be honest, this guy is a stranger who hasn't given fans anything to sink their teeth into. Team veterans Brian Campbell and Scottie Upshall might have been far better choices to wear the "C," both from a position of power on the ice and popularity with the public. Mitchell, unfortunately, is proving to have neither.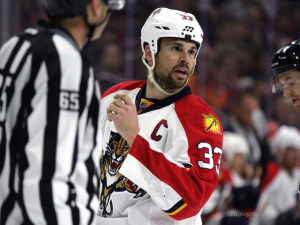 The acquisition of Jussi Jokinen cannot by any stretch of the imagination be considered "bad." He's a solid player who's known for his strength in the shootout and leadership on the ice. Unfortunately, despite showing up every night, he can't do it alone and it shows. His single goal and six assists have him second in highest total points so far, but it's not helping them win.
Defensive Dynamics
On the other hand, the defense is somehow keeping scores relatively low and four overtime losses with scoring as low as it's been speaks volumes as to what's happening on the defensive side of things. A good portion of the points are coming from the defensive end instead of the offense, which somewhat explains a record that's not nearly as bad as it could be based on lack of scoring.
From rookie Aaron Ekblad (1-7) to veteran Brian Campbell (0-3) to Russian phenom Dmitry Kulikov (0-4), the defense has just as many points as the team's star forwards and while this would normally be an amazing factor on any team, it's simply not going to cut it with the Cats. Despite their best efforts, not to mention the awesomeness of Roberto Luongo between the pipes, this team cannot continue to play a defensive game. All the defense in the world is not going to put points on the board, and without points, there are generally very few wins.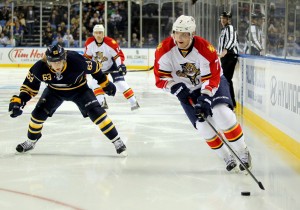 It Doesn't Have To Be The End
Looking at this from a business perspective, the argument that "no one wants to play in Florida" is only partly accurate. Although this is not currently a winning team, and therefore not a top choice for many players, for $25M there were better players available, and there are many perks to living in South Florida. From the weather to the cost of living, it seems unrealistic to assume that no one wants to play in Florida. Roberto Luongo did–not once, but twice–and frankly, who wouldn't want to play with Luongo at the helm? Regardless of the reasons, the end result is that this is a team with a huge amount of potential in the coming years, but almost nothing keeping them alive right now.
On Columbus Day, October 13, 2014, the Panthers broke a record for low attendance with just 7,311 in an arena that holds more than 17,000. Fans are showing their displeasure in both the decisions being made and the on-ice results in the worst way possible: Not going to the games. Names and faces change, scoring is low, excitement is non-existent and their perpetual 7th place ranking in the division standings is getting old. Yet nothing changes. Management continues to bring in new people instead of building up the ones they've got, spending money on players who do not seem to be producing, and allowing the rumor mill to scare off the already waning fan base.
At what point does someone say "enough"? Yes, fans can be fickle, especially in cities that are not what might be considered "hockey towns." But it feels like the time has come to make something happen. This team is too good to be so bad, and the bottom line is that the fans will come back if you just give them a little something to root for. There's enough young talent to keep this team going for years. Between Ekblad, Erik Gudbranson, Kulikov, Jimmy Hayes and several others, this is a team with 11 players that are 24 years old or younger–there is so much they could be accomplishing.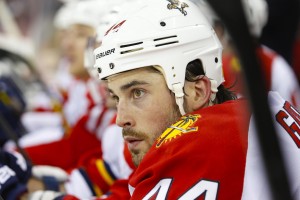 It's time to stop changing coaches and captains, stop looking for the early draft picks, and start working on players that put points on the board, their hearts on the ice, and give the fans something to look forward to. Without more solid performances, there are no fans. Without fans, there is no team, and if the rumors are to be believed, this could happen sooner rather than later. Look around, South Florida–there's work to be done.
I'm a born and bred South Floridian who's been lucky enough to wander the U.S. a bit, broadening both my life and writing horizons. I've been writing since I was old enough to form letters, and don't plan to stop any time soon. I have a Bachelor of Science in Communications, two kids, a husband and a house in the suburbs of Atlanta. I worked in the music business for a decade, as a legal assistant for about as long, and was lucky enough to intern for the Manchester Monarchs in the mid-2000s. I like to think I'm well-rounded, but you be the judge.