Without any playoff action to look forward to in Philadelphia, there's plenty of finger pointing to go around. But instead of holding an array of tiring and unnecessary kangaroo courts, it's up to Flyers GM Ron Hextall to get the product out of this mess.
It won't be simple, however, as the salary cap continues to hamstring the team Hextall oversees from above. But that doesn't mean it's not possible.
Leverage
The Flyers may be 10 games away from their worst 82-game finish since the 2006-07 season, but there's plenty to look forward to. A vivacious pool of prospects that are on the brink of being NHL ready, a pair of first-round picks in the upcoming NHL Entry Draft, and a thorough GM who is committed to his vision are all talking points that take the sting out of a forgettable season.
With only four Flyers set to become unrestricted free agents at the conclusion of this wooden roller coaster ride of a season, the front office will enter June's draft with 10 draft picks. The trade that sent Braydon Coburn to Tampa Bay for Radko Gudas and a pair of picks arms the orange and black with four picks in the first three rounds.
With the acquired picks, the Flyers now have their own first-, fourth-, fifth-, sixth- and seventh-round picks, Chicago's second (Kimmo Timonen trade), San Jose's third (Tye McGinn trade), Columbus' fourth (Scott Hartnell trade) and now Tampa's first and third in 2015. — Dave Isaac, Courier Post
That's a stockpile of chips in plain sight of a cast of hungry NHL GM's.
Unfortunately for them, however, Hextall's pokerface is one that makes Kenny Rogers question whether he should, in fact, hold or fold. And given the deepness of this year's draft, those picks are all the more valuable.
So if teams in the salary cap era are built through the draft, why on earth would Hextall consider parting ways with any of them? After all, Hextall's plan is for the future over the here and now, right?
This is where the new Flyers GM must get a little greasy – although he was a goalie during his playing days. Common logic says the Flyers should continue to feed the pipeline below; and while there's much truth to that, it doesn't solve two problems: the present, as well as the future beyond next season.
What bothers me the most are the deep-rooted liabilities we're contractually committed to. Primarily the terms belonging to RJ Umberger and Vincent Lecavalier. — Michael DeNicola, Orange & Black Pack
It's no secret the Flyers are on the hook with Umberger and Lecavalier for a combined $9.1 million AAV until Umberger becomes an unrestricted free agent in 2018. Simply trading that type of production per cap hit (33 points combined) is not only unrealistic, but insulting to other NHL GM's.
That perspective, of course, is from the inside of the box. DeNicola also brought up an interesting scenario recently on Twitter, one that doesn't just leap out of the box, but plants both feet firmly on the ground outside of it.
Seems logical. If we can dump a bad contract w a 1st Rounder as incentive, & possibly collect a 2nd or 3rd in return? Presto.

— Mikey D, O&BP 🤙🏼🏴‍☠️ (@MikeyD_OandBP) March 13, 2015
Am I reading those tweets correctly? You're alright with the Flyers giving up a first-rounder in this year's draft just to shed cap space? Are you aware of what you could potentially be giving up?
Absolutely. DeNicola's rationale is not only brilliant, it's downright masterful.
Looking Beyond Next Season
Whether it's Umberger, Lecavalier, or even Andrew MacDonald, whose $5 million AAV won't stop making withdraws from Philly's cap space until 2020, packaging enticing draft picks is a canny way to manufacture a Get out of Jail Free card without having to hit the restart button, a la trading away the captain.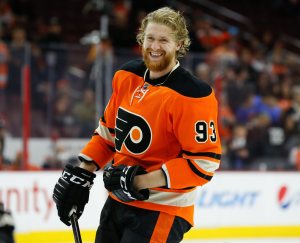 "There's only so much you can do," said Hextall. "There's no magic wand where you say, 'OK, here's a 25-year-old Brett Hull. Thank you very much.' It's not that easy."
No, it's not that easy, as we've observed the painful aftermath of Scott Hartnell's annulled AAV. If there were, in fact, a magic wand, the salary cap wouldn't exist in the first place – not in Philadelphia, anyway.
A move like this, although rich in sense, is a gamble nonetheless. It deviates, to a degree, from Hextall's prospect-oriented approach. But from another outlook, it walks hand-in-hand with it.
"We got some pieces, a lot of young prospects, a lot of picks," Hextall said after Mar. 3's trade deadline. "This is only the first part. We got to make them count. We got a lot of work to do. When you look at young players, young assets, we got a lot of them coming.
"That is what excites us when you try to build a top team for an extended period of time. We're on our way to that. Rome wasn't built in a day. Chicago took a long time to build. All the top teams take time to build in a salary cap world."
That's hardly a statement that leads anyone to believe Hextall is looking to toss aside Philly's draft picks as if they were burning a hole in his pocket. The ultimate goal, as stated, though, is making those picks "count." He didn't say how.
At the conclusion of next season, the contracts of Jakub Voracek, Sean Couturier, Brayden Schenn, and Michael Raffl will all expire. And with Voracek's impending mega-payday, the Flyers could use as much space as possible.
Fortunately, they'll have an added $7.1 million of cap space open with expiration dates on Nicklas Grossmann and Luke Schenn kicking in. But given the fact that Couturier and Raffl will be due for a healthy raise, cap space will remain a premium.
Just for fun, here's Voracek compared with the players closest to his cap hit pic.twitter.com/GWPcJbDWd1

— Bob Roberts (@BobRbrts) May 13, 2014
The patient approach may seem the safest, but even that isn't a guarantee. And with Claude Giroux in the prime of his career, the conservative strategy could potentially backfire, wasting the captain's best years.
As everyone knows, the Flyers have some major issues to address. Their defense remains in shambles, while their scoring is sporadic. Especially at five-on-five even-strength.
No one's feeling sorry for Philadelphia, though; not Garth Snow or Glen Sather in New York, and certainly not Jim Rutherford in Pittsburgh.
While patience is, in fact, a virtue, why prolong the agony of losing if it can be circumvented? It may not be easy, but anything worth having never is.