What a difference a year makes. Last year on this date, John Tavares and the New York Islanders were dead last in the Metropolitan Division with a 21-25-8 record. This year, the captain has led his team to the top of the division, returning from the All-Star break tied for most wins (31) in the league.
The top overall pick of the 2009 NHL Entry Draft hasn't done it alone, although his 45 points in 46 games have certainly helped. With the help of some friends, John Tavares is finally rewarding the patience of the Islanders organization and fans alike.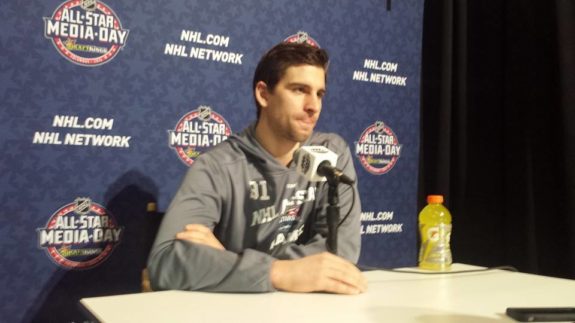 Same Player, Different Team
Despite appearing in the playoffs once in his previous five seasons, John Tavares has held up his end of the bargain. The Mississauga, Ontario native has scored 50 or more points in each of his past full seasons, while registering 28 goals and 19 assists in the 2013 lockout-shortened season.
"I think you always have the confidence," said Tavares during Saturday's All-Star Media Day. "I think I always believe in myself and believe in the work you put into your game, and the things you do to prepare."
The two-time All-Star became captain of the Islanders in that abbreviated season, leading the Isles to a 24-17-7 record, and the team's first playoff berth in five years.
Things didn't just fall into place for Tavares, though. The 6-1, 209-pound center is a student of the game, priding himself on preparation and team synergy.
"Every game I make sure I try to do everything I can to feel as best I can and feel as prepared as I can be to know there's no excuses to playing at the level I know I can play at," added Tavares.
At 24, the one-time 81-point scorer is yet to reach the prime of his career. And with the presence of both new and familiar faces on Long Island, John Tavares could become even more famous than he already is.
"I think just as a team, we're playing tough and playing hard to match up against," Tavares said. "I think with all the contributions from every line, all the D that are in the lineup, and both goalies. I think we've been able to go at teams at waves at times, and just keep, you know, going hard, and that eventually lets us break through, whether we're down or we're tied, or even we have a lead. We just continue to go at teams and wear them down, and I think it's just been hard to match up against."
On Saturday's All-Star Media Day in Columbus, Tavares spoke in depth about his coach, his teammates, and his soon to be old stomping grounds, Nassau Coliseum.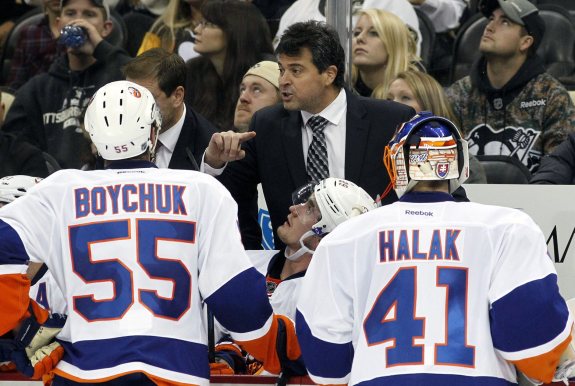 Jack the Kidder
It's rough being a coach in the NHL. You have to either have an incredibly nimble sense of humor, or skin made of carbon steel. Fortunately for Isles head coach Jack Capuano, he has both.
Last season, the 48-year-old Cranston, Rhode Island native survived a disappointing 79-point season, finishing the final 16 games with a 10-4-2 record.
With the additions of Johnny Boychuk, Nick Leddy, Mikhail Grabovski, Nikolay Kulemin, and Jaroslav Halak, Capuano is finally showing what he can do with a cast to support his star captain in Tavares.
"It's great for Jack," Tavares said. "I think his coaching staff as well, have done a great job."
How good of a job have they done up to the All-Star break? Consider New York's offensive firepower for starters.
Through the Isles' first 46 games, only the Tampa Bay Lightning have scored more goals than New York's 145. That's even more impressive, given the fact that Tavares is the only skater to reach 20 goals – 21, to be exact.
Isles coach Jack Capuano has his team T-2nd overall in NHL standings. 6th-longest tenured head coach in the league–overlooked, underrated.

— Jack Michaels (@EdmontonJack) January 3, 2015
"They really challenged us into the summer and into training camp about the way we wanted to approach things," said Tavares. "The expectation from them, and how hard we have to work and challenge each other each and every day, and you have to earn that opportunity and that ice time, and your role within the team, they really pushed us that way."
That's not to say Capuano and his staff have ran a boot camp. The fifth-year coach has found an even keel to keep his squad easy and loose, and one that can play from both ahead and behind.
The Islanders lead the NHL with a 14-5-0 record when allowing the first score of the tilt, and aren't drastically different when actually scoring first, with a 17-9-1 mark.
"He's always been a guy that knows the in and outs of the game, I think, as a 'systems' guy, a guy that watches the game a lot," Tavares said. "I think he has a really great handle on that. Certainly, I think he's got a really great pulse for our group, pushing us."
Should the Isles pick up where they left off heading into the All-Star break, Capuano could, and should, go from the hot seat to the head of the pack for the Jack Adams Award – a contrast from last season that only the best sense of humor could appreciate.
"We got some coaches that got some good sense of humor, and certainly crack us up, and certainly, that's always needed once in a while," said Tavares with a smile.
https://twitter.com/NYRangersZone/status/555184638969135104
Capuano's turnaround from a season ago isn't all that uncommon throughout the league. But for the leader of a franchise that's drifted into futility, qualifying for the post-season twice in the last nine seasons, it's an achievement that deserves recognition.
"For sure, it's great to see him handle our group so well," added Tavares. "He's done a great job of feeling our team out and he's always been good that way."
The 'Johnny' Duo
With the offense shored up, the addition of defenseman Johnny Boychuk has solidified New York's blue line, adding 22 points and a plus-15 rating. But when Islanders GM Garth Snow traded for the likable defender, the former goalie was well aware of the risk involved.
Along with acquiring the figure that's popular to with his teammates and fans alike, the Isles went all-out, knowing that Boychuk was in the final year of his three-year, $10.1 million contract. And given his outspoken love for the city of Boston, the danger of seeing him walk after the season is one that has yet to go away.
"Johnny's quite the character," said a smiling Tavares. "He's an awesome guy."
Whether Boychuk chooses to stay or go, Tavares and the rest of his teammates are utilizing their time with the 31-year-old veteran, modeling themselves after an experienced winner that's well-liked.
"He's really fit in tremendously," added Tavares. "I think it's no secret, on the ice, what he brings, but certainly even in the locker room. Just a happy-go-lucky kind of guy, always a smile on his face, win or lose, and I think that kind of attitude has been good for us – seeing a guy who's been through a whole lot with some pretty good teams.
"Obviously, it's what we want to do. He brings some of that to the group and you can certainly see that rub off on some of the guys."
In addition to his production on the ice, Boychuk has already paid dividends to a team that's changing their losing culture right before our eyes.
"Sometimes it's not really what he says, but I remember a couple times, you know, we lose two, three in a row a couple times earlier in the year, and you just see his attitude and his focus… it doesn't change. There's no panic, there's no real nervousness or hesitation in his game.
"It's just the same, you know, it's over with, we got to focus on the next one, and that kind of confidence is key. Especially for a team like us, that is still growing and maturing. We still have a lot of young players and certainly, that's been a big impact."
While the star captain is grateful to have Boychuk as a teammate, he'd unquestionably prefer his new blue liner to stay beyond the current season.
"Yes, certainly do for sure," said Tavares when asked if he hopes to see the veteran defenseman stick around. "Obviously, we've had a lot of success so far this year, and we hope to continue that, and hopefully that helps him believe in what we're doing, and I hope he enjoys Long Island and the benefits of being in New York."
Keeping the former Bruin may not be that easy, though. Boychuk is due for a big pay day in the upcoming summer, while the Isles are currently operating with $3.191 million of available cap space.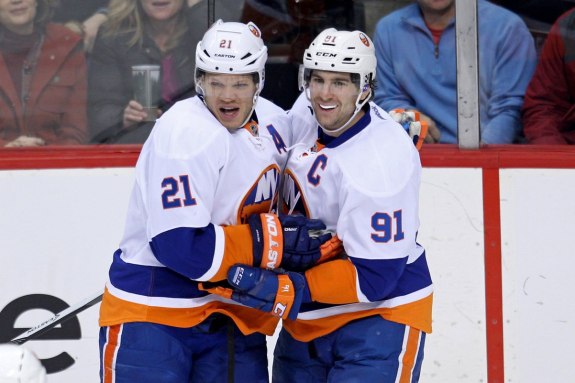 Kyle Okpo-'so Good'
Although Tavares stands as the team's leading scorer with 45 points, linemate Kyle Okposo's contrasting style has undeniably benefited the team captain.
"Kyle's obviously a different style player I think than myself," said Tavares.
The Isles will miss Okposo and his 44 points now for up to eight weeks, after being sidelined with an upper-body injury.
It's a significant blow that Tavares acknowledged when praising his teammate last week.
With Okposo out 2 months, it's time for Tavares to carry this team on his back #isles

— Earl (@EarlTSB) January 27, 2015
"When he's strong along the walls and in the corners, moving his feet well and taking pucks to the net, you really see how much ice that opens up for myself, and my other winger, and definitely has a tremendous shot," added Tavares. 
"He can really finish plays off really well, and he's got a very underrated hockey sense, I believe too. He makes great little plays and does a lot of little things well away from the puck that contributes to the team, defensively, to help get it back so we can create opportunities."
This Barn's For You
Since 1972, the Islanders have called Nassau Coliseum home. And despite the team's move to Brooklyn next season, Tavares and company have used the old confines to their advantage.
"Certainly, I think when you play at home, with the kind of atmosphere we've had from our fans, and the way they've kind of bought into our team, you can see us really feed off it, shift after shift, and game after game, when they bring that kind of emotion and passion to the rink. Especially in an old barn like that," said Tavares.
"It's really been a lot of fun, and we try to use it to our advantage, for sure."
Isles now doing the "Yes! Yes! Yes!" motion when doing the stick salute.

— Ted Starkey (@TedStarkey) January 19, 2015
What others see as an old run-down facility, Nassau Coliseum has worked to the Islanders' advantage. From being familiar with the ice conditions, to the fans creating a hostile environment for visiting opponents, the Isles will leave behind facets of the historic arena that simply cannot be duplicated.
"You can hear them in the locker room, before the game and going into warm up." Tavares said. "You can hear them get the 'Let's go Islanders' chants going already. Certainly, an old building like that, that low ceiling, and really, it's one big bowl… the passion, I think, is going to be there (in Brooklyn), but that advantage of an old building, definitely, I don't think you're going to see that in Brooklyn.
"Just how loud it gets in there, and certainly the way you kind of are able to feed off that because it's such a smaller building. All those old ones seem to have it, just that kind of echo kind of feeling in there."
The volume, of course, is anticipated to reach even higher levels when the New York Rangers stroll in. And with the turning of the tide this season, the Rangers could be in for a change of pace.
#Isles Captain @91Tavares did his best #YesYesYes chant with the foam finger on the #NHLAllStar red carpet. pic.twitter.com/gqJGd30FTm

— New York Islanders (@NYIslanders) January 24, 2015
"I think if you watched our game against the Rangers a couple weeks ago, there was quite a bit of Islander fans at the Garden," recalled Tavares. "It was a big win for us, and it'll be another big game as we're still really tight in the standings. Certainly, the way we've been filling the barn this year, certainly I think it'll be tremendous Islander support, and I wouldn't want to be a Ranger coming into that barn, that's for sure."
As with any winning team in professional sports, the Islanders fan base is about to grow beyond New York. John Tavares, of course, will stick to what he's been doing. Indeed, patience is a virtue.